Black Mirror Striking Vipers Episode Explained
Black Mirror's Striking Vipers Episode Has Left Us With a LOT of Questions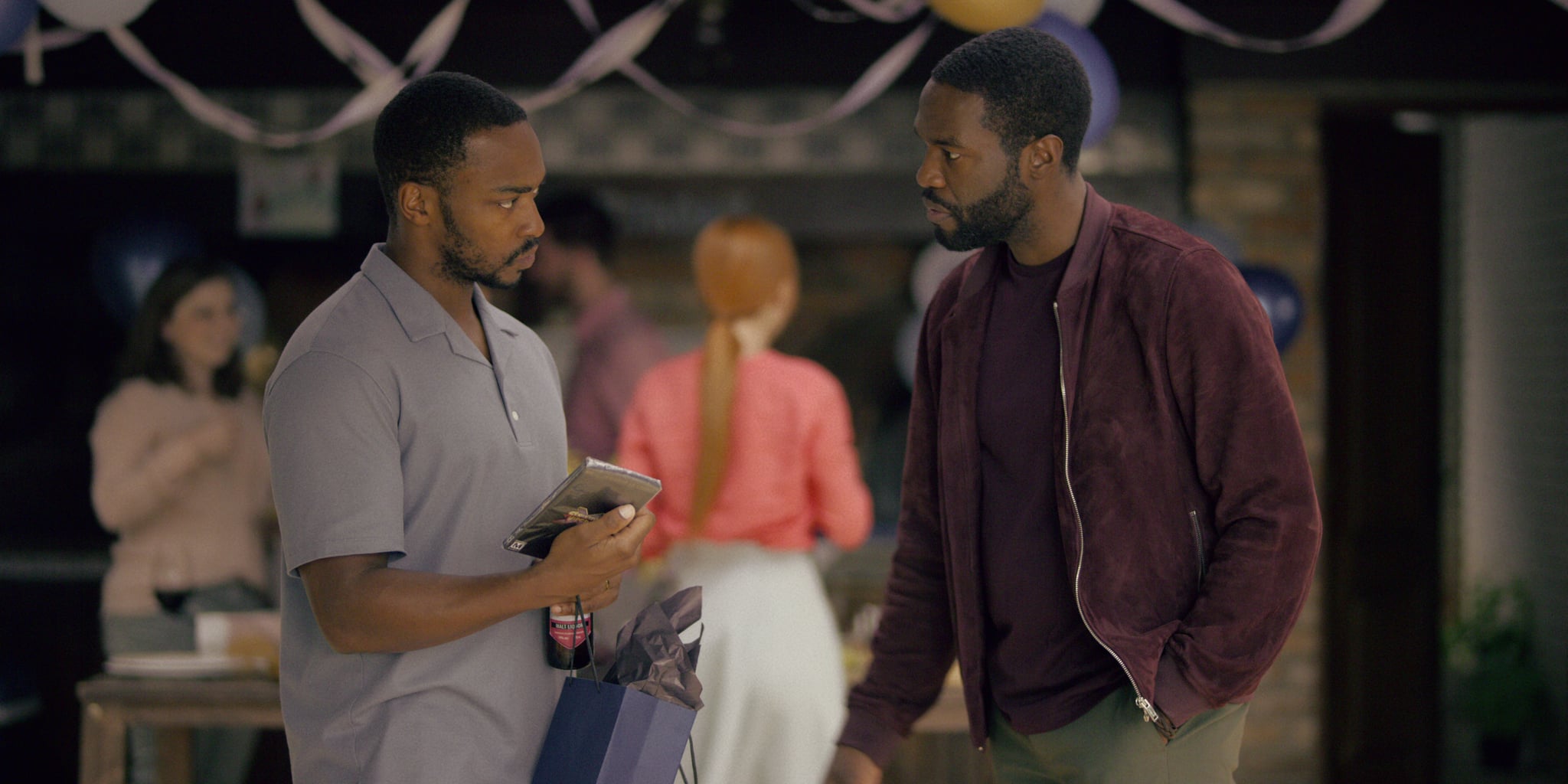 Warning: SO many spoilers ahead for the fifth season of Black Mirror!
Netflix dropped the fifth season of Black Mirror, and, understandably, viewers are abuzz about what exactly they watched. The first of three episodes kicks off with a virtual reality game that might as well be a trippy version of The Sims, which takes an unexpected turn and gives the term "gamer" a whole new meaning.
The episode starts with Danny (Anthony Mackie) and Theo (Nicole Beharie) at a club, two roommates who just hooked up, and they're doing role play of pretending to be strangers (an important fact to remember!) when they meet their third roommate Karl (Yahya Abdul-Mateen II) and his girlfriend. Fast-forward 11 years, and we see Danny and Theo married, and during Danny's birthday party, Karl gifts him a virtual reality version of a game they used to play called "Striking Vipers." What's noteworthy about the VR set is that instead of a headset, it's a disc that immediately immobilizes the characters' physical bodies once they're in the game — fans of the show may remember this disc from older episodes "USS Callister" and "The Entire History of You."
Danny as Lance and Karl as Roxette begin fighting until they suddenly find themselves kissing. A kiss turns into sex until they become addicted to the game and to each other's virtual characters. Though it's somewhat implied that Danny and Karl are rethinking their sexual identities, they don't really have any meaningful conversations about what their virtual relationship means for their real identities. After all, Karl likes the feeling of having intercourse in a virtual woman's body, but viewers can only speculate whether or not he has ever thought of transitioning. Soon, Danny begins to favor a virtual Roxette over his wife, who is trying to get pregnant again, and when she begins to suspect something is wrong on their wedding anniversary, Danny decides to quit cold turkey.
However, seven months later when Karl re-enters his life and tries to convince him to return to the game, things get real when Karl declares his love for Danny — in the game. A flustered Danny decides to meet Karl IRL and kisses him to see whether or not their virtual feelings have any weight in the real world, but neither feels anything from the kiss. After a scuffle that causes both to be picked up by the police, Danny ends up confessing everything to Theo (off-screen) and the episode ends with Theo giving Danny a free pass to spend his birthday having virtual reality sex with Karl while she goes out to meet a stranger. "Not One Minute More" by Earl Grant croons in the background as the episode fades out, and rightfully so; the lyrics, "I'll only love you till there's only night/And the sun gives no light" speaks volumes about the trio's new dynamic.
There's a lot to unpack in "Striking Vipers"; for Danny, the game helps him revert to a simpler time when he didn't have responsibilities, he and Theo weren't having fertility issues, and he didn't have knee problems. The episode as a whole also comments on the dangers of technology — in typical Black Mirror fashion — by pushing the parameters of virtual reality in such an exaggerated way. We have two estranged friends who connect on a physical and emotional level through a game that creates a safe space for them to exist without any responsibilities, yet they barely have to interact in person (ring a bell?); on the other hand, the game disengages them from reality in ways that people in real life are experiencing, with increased dependency on electronics and social media.
That the VR disc causes a loss of bodily control and the show doesn't explain the connection between the disc and the neurological system are terrifying on their own because Danny and Karl are essentially letting themselves be controlled by technology. This poses the question of how much of the VR sex stems from their repressed desires and how much of it stems from some unseen manipulation from the game's creators.
The ramifications of Danny and Karl's actions are murky and force viewers to challenge whether or not Danny is cheating on Theo if nothing is technically happening (newsflash: it's still emotional cheating). It's safe to say, we'll probably stick to playing XBox for the foreseeable future.