Chris Sullivan Interview About This Is Us
This Is Us Star Chris Sullivan Knows Exactly What Toby and Kate's Wedding Would Be Like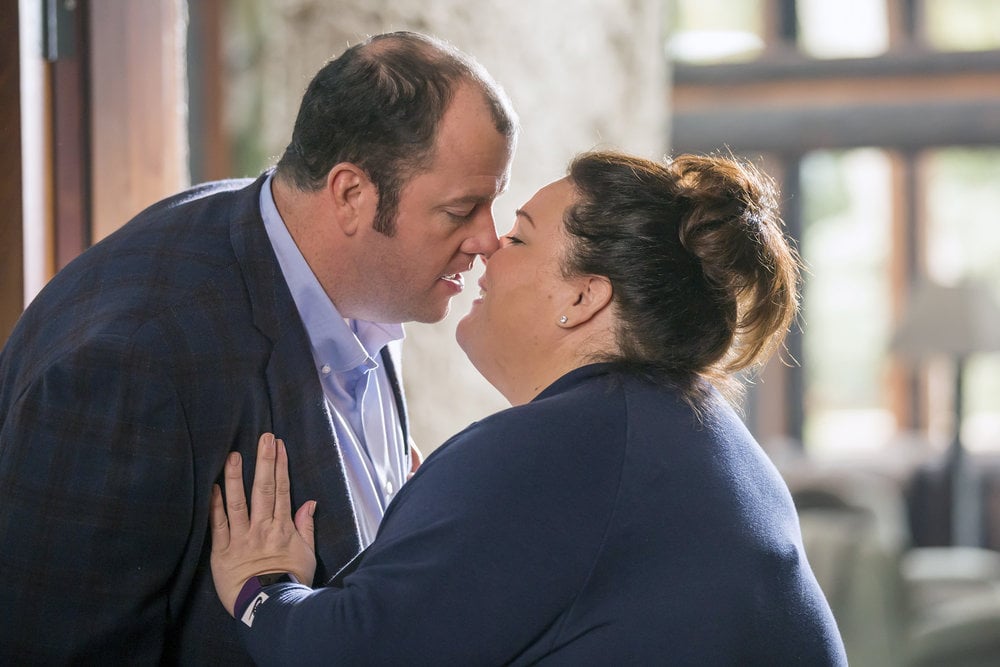 If you're a fan of This Is Us, I'll go ahead and assume you have some opinions about Toby. The somewhat divisive character, played by actor Chris Sullivan, has had a roller coaster of a courtship with Kate (Chrissy Metz), full of grand gestures that some might consider a little too pushy at times. Before the NBC drama's season one finale in March, there were theories, think pieces, and write-ups concerning every facet of Toby and Kate's relationship, so we decided to go right to the source to get the lowdown on what the future holds for the couple by chatting with Sullivan himself.
POPSUGAR: Toby and Kate's relationship is such a focal point of This Is Us, and while some fans are rooting for them, others see Toby as a little too pushy. How do you view his behavior?
Chris Sullivan: I think the process of courtship is an interesting dance that we all do, and we all do differently. Some of us do it well, some of us do it poorly, some of us push boundaries, some of us don't push hard enough. The only real judgment of somebody's process is whether or not it works, or whether or not it's sincere, or honest. I think regardless of whether or not he pushes things too far sometimes, or makes an inappropriate joke, that you're getting an honest person behaving in a way that is real, and that is surface-level. Even though it might be divisive for some people, it is what it is. It's not untrue. I think divisive is OK! I think the job of any piece of art is not to be one thing or the other; it's to raise questions in the people who view it. As you view a painting, you the individual have a unique experience with this piece of art, and you have a reaction to it and emotions and thoughts that come up. You might not even think it's art at all, while someone else does. That's the point. With all these different characters in the show, the question is: how do you relate to them? Or how do you not relate to them?
PS: Toby and Kate aren't married yet, but do you see their relationship as the real deal?
CS: I hope so. The people who land on the side of "Oh, I wish I had a Toby" or "I wish my relationship was like that," you have to see past the courtship of it. Infatuation and lust and the fun and games of early courtship have to be evolved past, overtaken by vulnerability and serious questions. It has to be overtaken by honesty if you're gonna get to something that lasts. At the end of season one, we start to see them kind of starting to do that, and I think that's a good sign. I hope they continue.
PS: If they do get married, what do you see a wedding between them looking like?
CS: I imagine it would be colorful. I imagine there will be music, and lots of dancing, and I think it would be a pretty joyous occasion. Except, of course, someone will have to carry the urn down the aisle.
PS: One of the things that Toby is always pushing Kate to talk about is Jack's death. There have been so many crazy theories going around about how he might actually die. Have they told you how it really happens?
CS: I may or may not know how Jack dies [laughs]. I'd like to think it's all an elaborate ruse and he's hiding in Cuba. I wouldn't theorize, but it is an interesting distraction. As we do these creative endeavors, to spend too much time focusing on the logistics of the storyline . . . as long as we're paying attention to the emotional ramifications of the story and hopefully answering the questions the show poses for us, I think it's a sign of people's interest in the story that we're telling. That's always a good thing.
PS: You and Chrissy Metz always look like you're having such a good time together in real life as well as on screen. Does that make it easier to have those difficult scenes together?
CS: We are always having so much fun. We established a trust in each other very early on that allows us to kind of let go and have as much fun as we can. Regardless of the excellent writing, the excellent storytelling, and the excellent direction, we have to be enjoying ourselves. People can see that, even in scenes that aren't necessarily full of laughter.