Everything We Know About Criminal Minds Season 15
The Final Season of Criminal Minds Is Approaching, and Here's What to Expect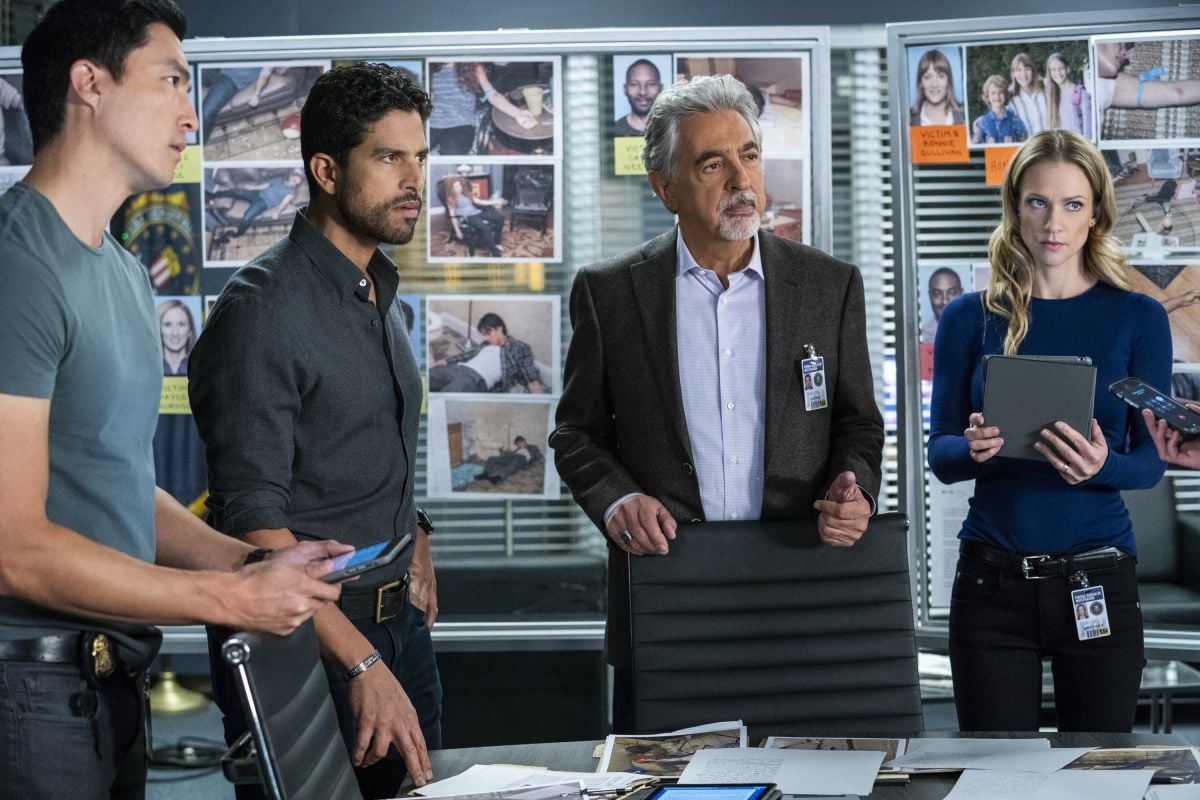 Criminal Minds is returning for its 15th season, which will be — as most Criminal Minds fans know — its last. Seeing as we were introduced to the many memorable members of the FBI's Behavioral Analysis Unit nearly 14 years ago (the series premiered on CBS in September 2005, if you can believe it), it's not going to be easy to say goodbye. With that said, we do know that the series will be going out with a bang, featuring some exciting guest stars and a (hopefully) satisfying end for all. Here's everything we know so far about the last season.
Who Is Returning For Season 15 of Criminal Minds?
All of your favorite current cast members will be included in the 15th and final season, including series vets David Rossi (Joe Mantegna), Spencer Reid (Matthew Gray Gubler), Emily Prentiss (Paget Brewster), Jennifer "J.J." Jareau (A.J. Cook), and Penelope Garcia (Kirsten Vangsness). The cast photos shot for the July/August issue of CBS' Watch! Magazine also include Tara Lewis (Aisha Tyler), Luke Alvez (Adam Rodriguez), and Matt Simmons (Daniel Henney).
Who Will Guest Star on Season 15 of Criminal Minds?
Joining the cast is Hallmark Channel star Rachel Leigh Cook, who will play Spencer Reid's love interest, Max, a "quirky, kind-hearted, candid woman" who will no doubt instigate a love triangle between her, Reid, and J.J. (who very recently confessed her love to Reid).
You can also expect to see some familiar faces from past seasons returning. In an interview with Parade, Gubler revealed Jane Lynch, who plays Reid's mother, Diana, will make an appearance this season. As Gubler cryptically said, "I see a happy ending in store for Reid, which is something that we're all looking forward to, including with his mom."
But as far as other guest stars — such as Aaron Hotchner (Thomas Gibson), Derek Morgan (Shemar Moore), or Jason Gideon (Mandy Patinkin) — we'll just have to wait and see. In an interview with Deadline, executive producer Erica Messer spoke about the possibility of including old favorites in the final season. "I am very hopeful that we can honor all of those characters who have been beloved and with this team, with the audience for years," she said, though she didn't reveal any more than that.
When Does Season 15 of Criminal Minds Take Place?
Though the 14th season ended with J.J.'s unexpected confession, viewers won't be brought right back to that scene at the beginning of season 15. Instead, there will be a time gap of six months between the two seasons' storylines. "We kick off the final 10 with a two-parter, basically," Messer explained of the 10-episode final season. "Whether they're aired at the same time or not is unclear, but it's a two-hour story. The emotional journey of our heroes [picks] up about six months after this finale has aired, and chasing the Chameleon."
What Will the Story Be For Season 15 of Criminal Minds?
We know that the chase for Everett "Chameleon" Lynch — the bad guy that was introduced at the end of season 14 that Rossi is hell-bent on taking down — will continue this season. As Messer explained, she loved actor Michael Mosley's character so much that she felt he would be a "worthy adversary" for both Rossi and the rest of the cast. She went on to say, "We pick up with Rossi's obsession in catching him in the final ten, and then that will play throughout, which is, you know, not a usual thing for us."
Not much else has been revealed — except for the fact that the final season will also feature a few surprising personal stories from the characters — though we do know that the series finale will be a "tear-jerker." "I think in honoring the series and saying goodbye, it's probably going to feel like a little bit of a eulogy," Messer told Dateline. Though don't worry about her killing off any of your favorite characters — she has no plans to say goodbye to anyone for good. "These people are family and friends to us at this point," Messer said. " . . . I know a lot of shows, when they find out it's going to be over, then characters are killed off or something like that. That's not my instinct . . . So the jet won't crash, I can tell you that."
When Will Season 15 of Criminal Minds Premiere?
The 15th season of Criminal Minds is being held for a midseason premiere and will start with a two-hour episode on Jan. 8, 2020. The finale will air Feb. 19.