Will Thomas Gibson Be in Criminal Minds Season 15?
As Much as We Want Thomas Gibson Back on Criminal Minds' Last Season, It's Unlikely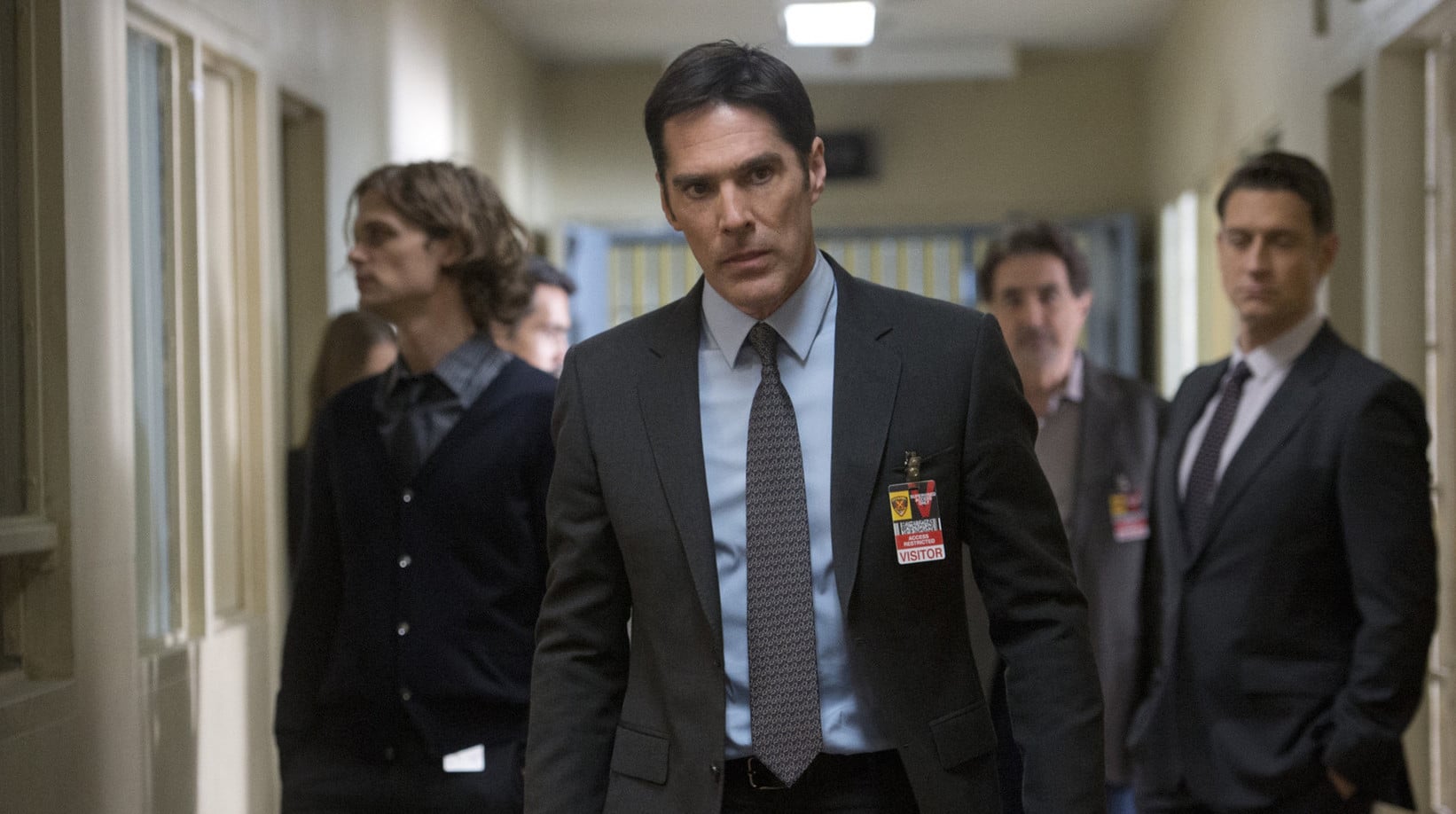 In a perfect world, all of our favorite characters from Criminal Minds would be reunited for one last hurrah in its 15th and final season. After all, the show is ending — don't we deserve to say goodbye to everyone who made it so awesome? It does sound as though executive producer Erica Messer is doing everything in her power to make her dreams come true. In a January 2019 interview with Deadline, Messer spoke about the possibility of including old favorites in the final season, saying, "I am very hopeful that we can honor all of those characters who have been beloved and with this team, with the audience for years." What she didn't say, and what we're still wondering, is which of those characters will we actually see.
Based on the cast photos shot for the July/August issue of CBS's Watch! Magazine, we know that all of our favorite series vets will be reprising their roles, including David Rossi (Joe Mantegna), Spencer Reid (Matthew Gray Gubler), Emily Prentiss (Paget Brewster), Jennifer "J.J." Jareau (A.J. Cook), Penelope Garcia (Kirsten Vangsness), Tara Lewis (Aisha Tyler), Luke Alvez (Adam Rodriguez), and Matt Simmons (Daniel Henney). We also know that Hallmark Channel star Rachael Leigh Cook will be joining the cast as Spencer Reid's love interest, Max, and that Jane Lynch is set to make an appearance this season as Reid's mother, Diana. Best of all, there's a chance that we may even see Shemar Moore return as fan favorite Derek Morgan.
But what about Thomas Gibson, who played Supervisory Special Agent Aaron "Hotch" Hotchner up until season 11 of the long-running series? Yes, Hotch did appear in the first two episodes of season 12, but then he vanished on "special assignment," and it was later revealed that he was put into witness protection after Peter Lewis (aka Mr. Scratch) began stalking Hotch's son, Jack. Hotch resigned from his position, and after Lewis's death, he still chose to leave the Behavioral Analysis Unit behind for good to be a full-time father. Though fans were happy to see Emily Prentiss fill his shoes, no one was happy to say goodbye to Hotch without much closure.
When asked by TV Line whether fans can expect to see Gibson make a cameo in the final season, Messer remained vague. "What I'd love to do is honor the history of the series in some way that is satisfying for all of us, and I don't know exactly what that will be," she said. "As we're closing a chapter on the series, I want to be sure that we're honoring all of those people who were here and the lives that we've all been invested in for so long." Is that yes? Is that a no? To us, it sounds like a hard maybe, but we wouldn't recommend holding your breath. For one, Gibson's exit from the show was anything but peaceful, so we're not sure how easily he'd even be able to make a return. Add to that that Hotch's storyline may not have been totally satisfying, but it still feels complete. As Prentiss noted when she took Hotch's old position, there will always be "another Scratch," and the Hotchners have "lost enough," so we may have seen the last of Hotch and Jack for good.