The Crown Season 2 Details
6 Details About Season 2 of The Crown That Will Make You Royally Excited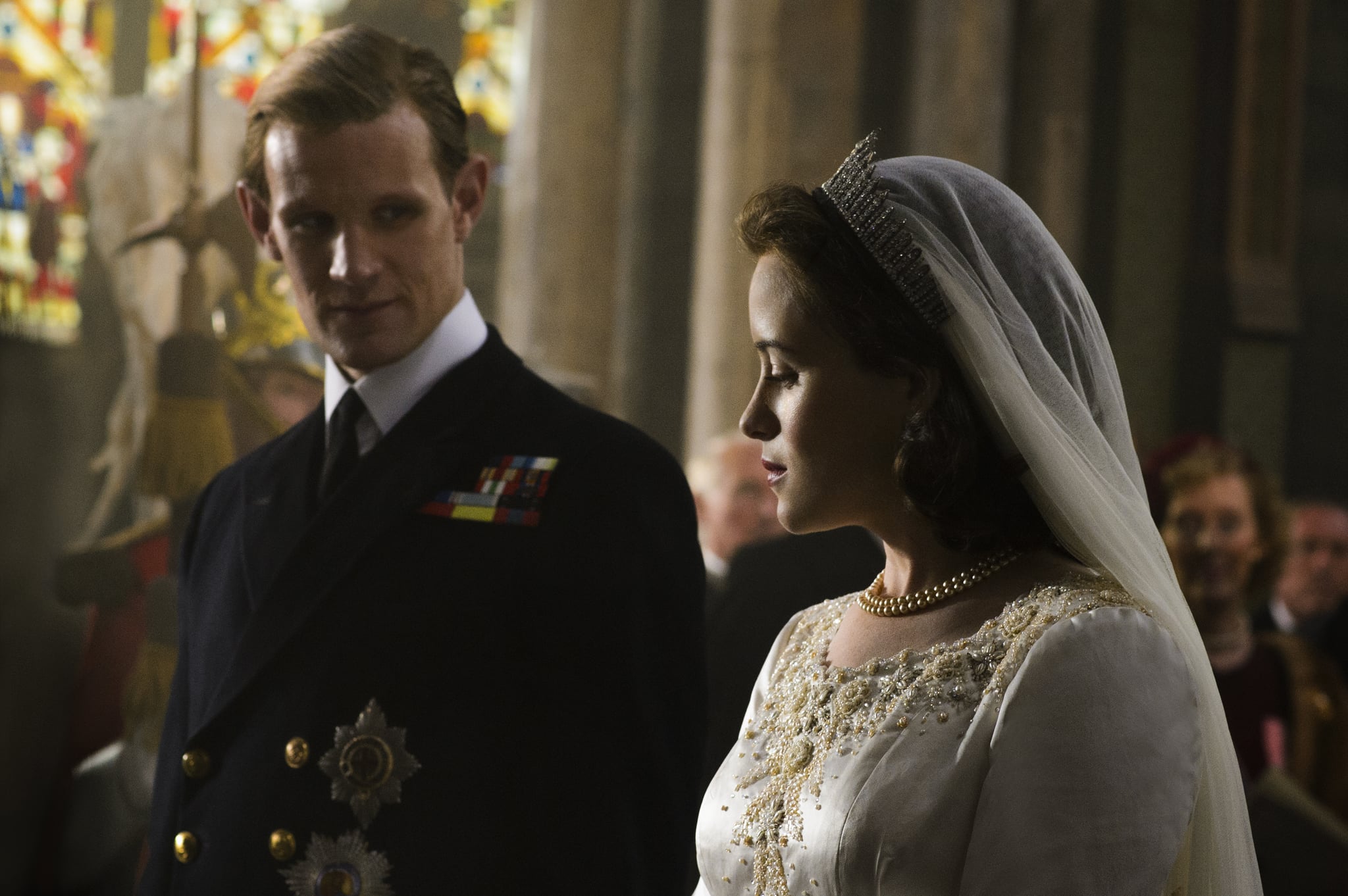 It didn't take long for audiences to get swept up in The Crown, Netflix's decadent dramatization of Queen Elizabeth II's first few years on the throne, and it's pretty obvious why. Although there are a few things in the hit series that didn't actually happen, it still captures the essence of what it was like for the young royal to take over for her father, King George VI, after his shocking death in 1952. With season one in the bag (which reportedly came at a $130 million price tag), it's time to look forward: what do we know about season two?
The Main Cast
Lead actress Claire Foy took home multiple best actress trophies this award season for her spot-on, layered performance as the queen, so it should come as no surprise that she's signed on for season two. She and costar Matt Smith, who plays Elizabeth's husband Prince Philip, are already halfway through filming the next 10 episodes of the show, though they'll be recast for seasons three and four due to the amount of time those seasons will span. "I feel that when we reach 1963-64 we've gone as far as we can go with Claire Foy without having to do silly things in terms of makeup to make her look older," creator Peter Morgan told Screendaily in February. "She can't help the fact she's as young as she is, and if we were to go further forward we'd probably need to think about the issue of recasting everybody and so those conversations are happening now and I couldn't tell you where we'll come out."
Vanessa Kirby (Princess Margaret), Jeremy Northam (Anthony Eden), and Victoria Hamilton (the Queen Mother) are also set to return, although John Lithgow (whose portrayal of Winston Churchill earned him a few awards of his own) will likely not make an appearance due to his character's resignation as prime minister. Foy admitted how upset she is about not having him on set during a recent chat with Vulture. "It's awful!" she said "Me and Matt [Smith] did a Skype chat the other day and John was there on the end in LA. It was so amazing just to see his face! I just love and miss him so much. But saying that, I can't be unfaithful. I do have some amazing new prime ministers — Jeremy Northam, who plays Anthony Eden, and then Harold Macmillan — so I'm a very lucky girl."
The Guest Stars
New additions to the cast include Michael C. Hall as US President John F. Kennedy, whom the show's creators describe as "a natural leader and excellent public speaker who does not take kindly to being upstaged by anyone, especially his wife." Quarry actress Jodi Balfour plays the wife in question, Jackie Kennedy, who is "a seemingly natural First Lady, but whose charming exterior of confidence and glamour hides a shy woman who loathes public life." Joining Hall and Balfour is Matthew Goode, who's set to play Antony-Armstrong Jones, the Earl of Snowdon (aka Princess Margaret's future husband).
The Timeline
The second installment of the show will pick up with the monarch where season one left off, in 1955. We'll get to see how she tackles global events like the 1956 Suez Crisis, as well as matters of the royal family, like young Charles's education, the birth of Prince Andrew (born 1960), and Princess Margaret's marriage to Antony Armstrong-Jones. Morgan also revealed that season two will cover John F. Kennedy and Jackie Kennedy's visit to Buckingham Palace and that it will conclude just as Britain is on the cusp of electing Harold Wilson as prime minister (and right about the time when JFK was assassinated).
The Story
Season two will kick off with soldiers in Her Majesty's Armed Forces fighting an illegal war in Egypt, and conclude during the scandalous downfall of Prime Minister Harold Macmillan. While speaking at the Royal Television Society's "The Crown: Deconstructing the Coronation" event in London in March, Morgan noted that the focus of season two will not be heavily on Elizabeth. "Its soul is about Prince Philip's complexity," he said. "He's a strong flavor. I find him extraordinarily interesting — his childhood, again, you couldn't make it up. The soul of season two is about his complexity."
Not to be outdone by her sister's husband, Princess Margaret's adventures through royal politics will also be heavily featured. Kirby told Vanity Fair that her relationship with Snowdon is "exciting, dangerous, volatile, and dysfunctional" and that he "starts this whole trail of a more bohemian life outside. Margaret was best friends with Elizabeth Taylor, and she had loads of American actress friends and singers. You see these two worlds collide — hers and Tony's, who is a member of the public and was a creative, liberal, dark horse. Meanwhile, she is this epitome of the establishment." In between the ups and downs of their roller-coaster relationship, they'll presumably find time to wed (in 1960) and welcome their two children, David and Sarah, in 1961 and 1964, respectively.
The Teaser Trailer
Queen Elizabeth II has some troubles ahead of her.
The Premiere Date
Season two will hit Netflix on Friday, Dec. 8.