Four Weddings and a Funeral Sequel Red Nose Day Video
Lily James and Alicia Vikander are Joining the Four Weddings and a Funeral Red Nose Day Sequel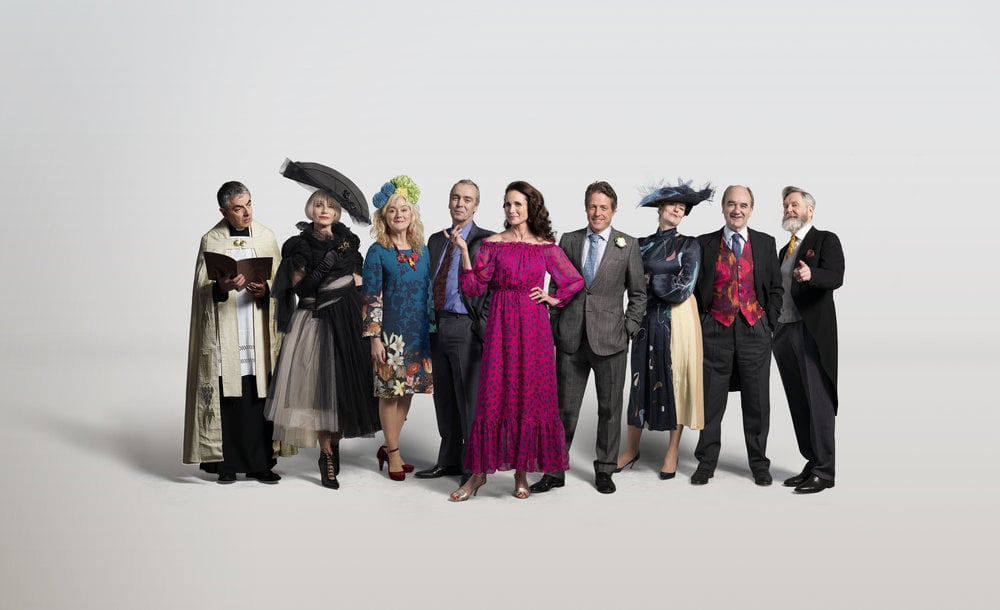 It was first announced back in December 2018 that rom-com favorite Four Weddings and a Funeral would be getting a minisequel, à la the 2017 the Love Actually "sequel," courtesy of Red Nose Day. Titled One Red Nose Day and a Wedding, the short film will reunite the cast of the classic film 25 years after it was first released. And now, we also have a trailer.
Original cast members Hugh Grant (Charles), Andie MacDowell (Carrie), Kristin Scott Thomas (Fiona), John Hannah (Matthew), Rowan Atkinson (Father Gerald), James Fleet (Tom), and more are all present, and the trailer also teases some unexpected special guests at "the wedding of the year." Those newcomers have now been revealed to be Lily James and Alicia Vikander, who are rumored to play the couple getting married this time around. We'd previously gotten a glimpse of the main cast in the reunion photo released in early February, so now we're more excited than ever.
Red Nose Day cofounder and the film's original writer, Richard Curtis, wrote the follow-up especially for 2019's Red Nose Day, which is also seeing the return of director Mike Newell. Watch the trailer ahead before One Red Nose Day and a Wedding airs exclusively as part of NBC's Red Nose Day Special on Thursday, May 23.