Funny Game of Thrones Cave Paintings Reactions
16 People Who Are Still Laughing at Those Lame Cave Paintings in Game of Thrones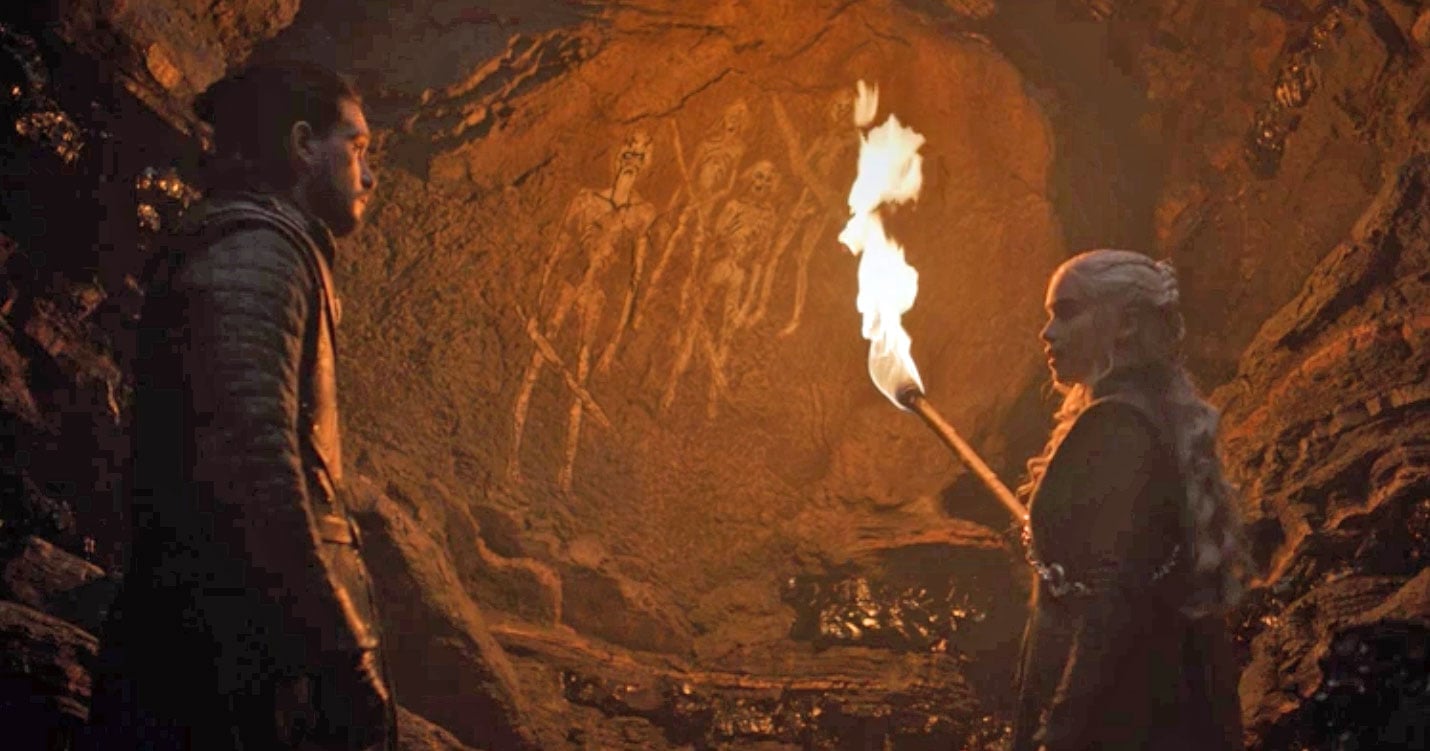 Every now and then, Game of Thrones hits pause on all of the poisoning, throat slitting, and soldiers being charred alive by dragon fire-ing to give fans a few lighter moments. The most recent one comes courtesy of a sexual-tension-laden scene in season seven's fourth episode, "The Spoils of War," involving Jon Snow (Kit Harington) and Daenerys Targaryen (Emilia Clarke).
Jon pulls Dany into the cave on Dragonstone where they're mining dragonglass to show her some ancient drawings he found, supposedly made by the Children of the Forest and the First Men. The drawings show the two groups working together centuries earlier to fight the White Walkers, and Jon points out that the two of them need to do the same if they want to stand a chance against the Night's King's impending army.
The drawings (very conveniently) convince Dany to join his cause, but Twitter could not get enough of how silly the paintings look. Why do the paintings go from rudimentary swirls to hyperrealistic sketches of White Walkers? Is Bob Ross descended from the Children of the Forest? Did Jon scurry down there and draw those himself real quick? Check out the most hilarious reactions from Game of Thrones fans below.
- Jon was in that cave drawing up stories on the walls before Daenerys came in #GameOfThrones 😂 pic.twitter.com/RvfQgrUjIw

— Jetlagged Alcoholic (@Evil_Grin_Emoji) August 7, 2017
Funny how the drawing of the walkers in the cave were a totally diff style than the rest. #GameofThrones

— Alex T. (@atankco) August 7, 2017
They cut the scene where Jon is secretly drawing in the cave for 4 hours. #GameOfThrones

— tiny stabber (@kateemick) August 7, 2017
*Jon Snow, hiding paint brushes* hey guys I found these cave paintings

— Victoria Aveyard🇺🇸 (@VictoriaAveyard) August 7, 2017
The way #JonSnow looks whenever he's trying to convince people of the threat in the north #GameOfThones pic.twitter.com/HBAFzENlY5

— jo (@wonderwharff) August 7, 2017
What Jon wanted to show me in the cave...#GameofThrones pic.twitter.com/B5WuC8z6Kd

— Daenerys Targaryen (@Daenerys) August 7, 2017
Cave drawing progression - circles, lines, dots, arcs, stick people, perfectly drawn White Walkers. #GameOfThrones #onlyflawinepisode

— Michelle McElmury (@MichelleLee_Mc) August 7, 2017
Jon Snow before he brought Danaerys into that cave. #GameOfThrones pic.twitter.com/xAzWK0RWy0

— Abbey Titcomb (@abbey_titcomb) August 7, 2017
Jon, the night before Dany came down to that cave. #gameofthrones pic.twitter.com/GEioRiLFbb

— Tessa Wilson (@tessacwilson) August 7, 2017
— Mister (@PostMark) August 7, 2017
Jon Snow before Dany entered the cave#GameOfThrones #ThronesYall pic.twitter.com/kGCKEzmpix

— Carolina Villegas (@Caritolwf) August 8, 2017
When Jon snow asks you to go into a cave, you say yes. 50/50 you get oral or a sweet art show. #GameOfThrones pic.twitter.com/z1hdyCBwKo

— Khal Joego (@Joemagician42) August 7, 2017
The Children of the Forest drawing the White Walkers in the Dragonstone cave#GameOfThrones pic.twitter.com/vsupXC9up4

— John McGonigal (@jmcgonigal9) August 7, 2017
Lmao @ Jon Snow drawing the White Walkers in chalk on the cave walls. #GameOfThrones

— The Low-Cal Calzone (@FarMoreBadass) August 7, 2017
Didn't realize Jon was such a good cave painting artist (Come on man, we all know you drew them) #gameofthrones 😬

— JONATHAN BARTLETT (@seejbdraw) August 7, 2017
D: Hey, look, someone signed these cave paintings.
J: Who would sign a cave painting?
D: Ben
J: Ben who?
D: Ben D. Knee.#GameOfThrones

— Alan Bush (@alanbush) August 7, 2017