How Did Patrick Come Out on Schitt's Creek Season 5?
Schitt's Creek: Patrick's Coming Out Episode Has Fans Sharing Their Own Beautiful Stories
One of the things I most admire about Schitt's Creek is showrunner and star Dan Levy's continued dedication to making sure the show's titular small town is homophobia-free. While deep and important issues are explored in the comedy from time to time, there's a lightness to Schitt's Creek that makes me excited to watch every week.
Part of that comes from knowing that, while the characters can be oblivious and selfish, and the jokes as razor-sharp as the heel of one of Moira's 7-inch designer boots, I never have to worry about seeing Levy's David be bullied or persecuted for being pansexual. This is a series you can watch with the confidence that it won't leave you emotionally demolished at the end of its allotted half hour. Given how draining the world has been of late, visiting Schitt's Creek it's a welcome, joyous retreat.
"I have no patience for homophobia," he explained to Vulture in November. "As a result, it's been amazing to take that into the show. We show love and tolerance. If you put something like that out of the equation, you're saying that doesn't exist and shouldn't exist."
Levy's rosy outlook on the universe of his show, which he cocreated with father and fellow star Eugene Levy, has never been executed better than in season five's most recent episode, "Meet the Parents." In it, David discovers that his boyfriend, Patrick (Noah Reid), hasn't come out to his parents yet after already inviting them to town for Patrick's surprise birthday party. When Johnny lets slip to Marcy and Clint that their son is dating David, and that they're not merely business partners, they're overcome with shock and immediately retreat to their rooms at the inn. But as we discover later on in the episode, Clint and Marcy weren't upset to hear that Patrick is gay — they were crushed because their son didn't feel like he could talk to them about it.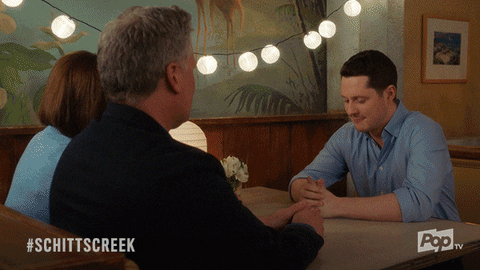 It's a wonderful way to upend the expected (and harmful) tradition of onscreen parents angrily disowning their kid after they come out, and the conversation Patrick eventually has with his parents about his sexuality is one of Schitt's Creek's biggest tearjerkers.
"That was the obstacle: Knowing that his parents cannot be against him coming out, what does that story look like?" Levy recalled to EW after the episode aired. "We landed on playing on the sort of common parental fears of feeling like they've done something wrong, but in actuality their fears are based on the fact that he didn't tell them, not that they have anything but love for their son. So the minute we knew that we had that kind of hook, things sort of fell into place."
After some expected hijinx, misunderstandings, and comments about David's confusing taste in clothes, Marcy and Clint are just thrilled to see Patrick so happy. And what could make Patrick happier than slow dancing with David and saying "I love you?" In Levy's conversation with EW, he added, "I think the way that we've handled sexuality on the show has been incredibly nonchalant, and that's been very deliberate so to not make the queer story lines stand out in any way, because we don't want them to. We want them to be presented with the same kind of casual ease that we present straight story lines."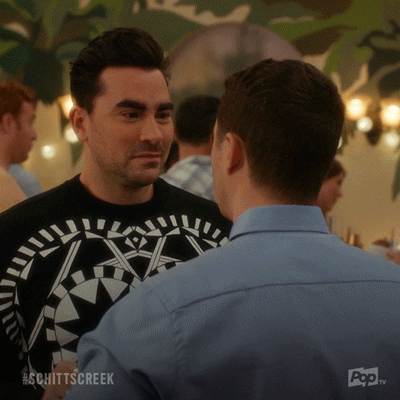 Despite the ease, comedy, and nonchalance with which the storyline is handled, the entire episode is still an important one for so many reasons. Unsurprisingly, it's already sparked an outpouring of love on social media from fans. See their beautiful responses to Patrick's storyline ahead.