John Goodman's Quotes About Dan in the Roseanne Reboot
John Goodman Had a "Silly" Reaction to Roseanne Bringing His Character Back to Life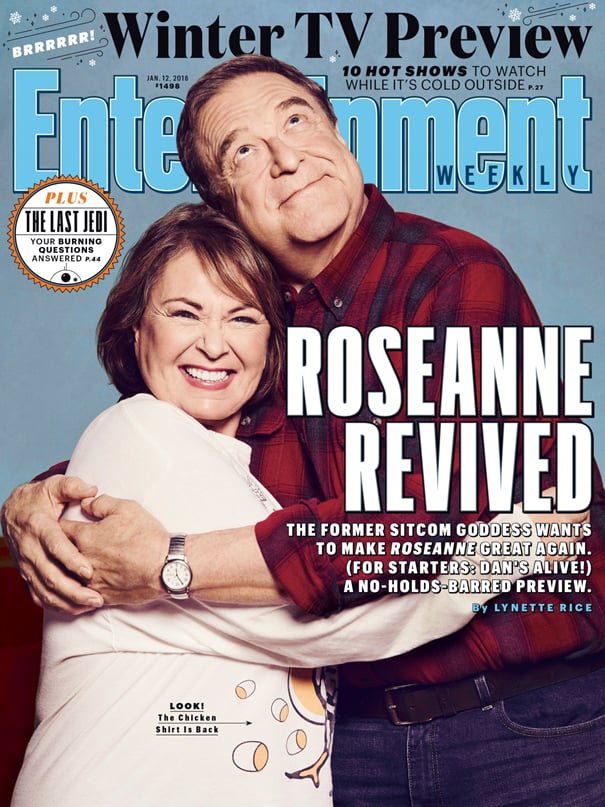 John Goodman is so thrilled to be back on Roseanne that he doesn't even mind the fact that his character on the long-running sitcom is, technically, dead. "I don't care," he said of Dan Conner's so-called death during an interview with Entertainment Weekly about the upcoming reboot. "I didn't care. It was irrelevant. It was just silly."
Although the Conner family patriarch was killed off in the sitcom's series finale in 1997, it appears the revival is going to cheekily ignore that creative decision. It's admittedly a smart move on their part, not only because Goodman has risen to A-list actor status over the two decades since the show ended, but also because seeing the original cast together again is too good to pass up.
"It was like we wrapped last week instead of 20 years ago," Goodman added. "The hair on my arms stands up. It's like if I was going to put my Boy Scouts uniform on again and it still fit."
Goodman isn't the only one thrilled to be back on the beloved comedy's iconic set. Roseanne Barr has dedicated herself to making the atmosphere of the show a pleasant one, perhaps making up for her notorious history of clashing with the Roseanne writers.
"I don't want to fight anymore," Barr told EW. "I don't have nothing to prove . . . I totally missed the process of collaborating and having my crew and my team and making my vision happen or whatever cornball sh*t they say. I just want it to be fun and a smooth ride."
Details about what exactly the new episodes of Roseanne will consist of have been scarce up until now, but the show's history of broaching real-world topics that families deal with every day — abortion, alcoholism, gay rights, and domestic violence — is definitely going to continue. The reboot will begin with Darlene (Sara Gilbert) moving back into her parents' home along with her two children, daughter Harris and son Mark, after separating from her husband, David (Johnny Galecki). Gilbert, who was a part of the show for its entire nine-year run, says that the reboot is the cast's "most emotional season yet."
"We were excited to put it on a network where people don't have to pay for it," Gilbert explained of the decision to stick with ABC. "There's nothing exclusive about it. This is a show for the Everyman and –woman in this country. We like the accessibility of a major network."
Roseanne is set to premiere on ABC on March 27.