Johnny Depp in Fantastic Beasts 2 Controversy
Fantastic Beasts Fans Are Outraged by Johnny Depp's Inclusion in the Sequel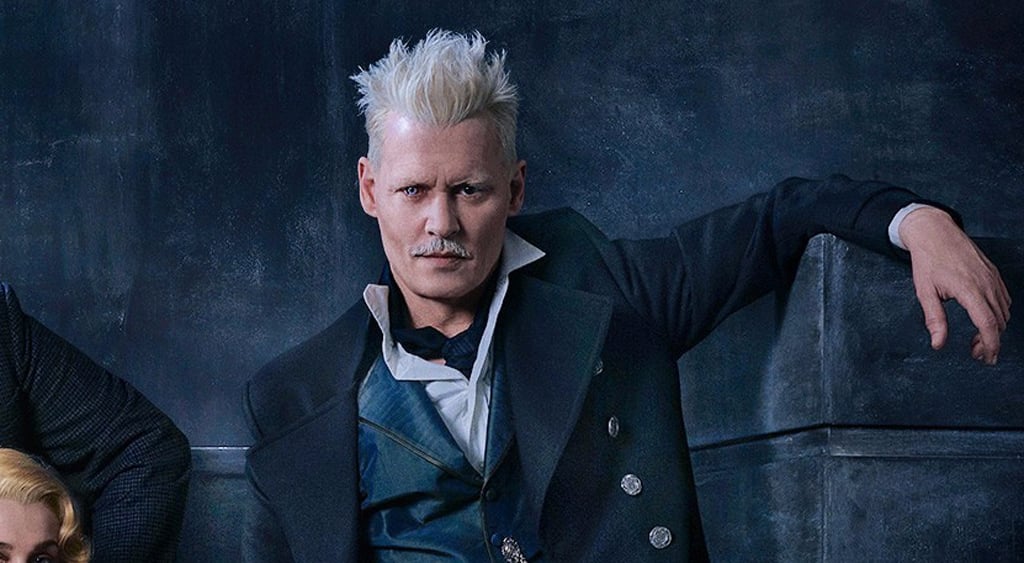 The sequel to Fantastic Beasts and Where to Find Them — the recently titled Fantastic Beasts: The Crimes of Grindelwald — has a problem that no amount of magic, movie or otherwise, is capable of fixing.
A gorgeous photo of the film's cast was recently released, and while the addition of a few new characters is exciting, one familiar face has loyal fans of J.K. Rowling's story outraged: Johnny Depp. His appearance in the promotional photo shouldn't come as a surprise to anyone who's seen the first movie; at the end of Fantastic Beasts, Colin Farrell's Graves is revealed to actually be the evil wizard Grindelwald in disguise, played by Depp. It's a shocking moment that kicks off the narrative for the next four films, which will follow the climactic clash between Grindelwald and a young Albus Dumbledore (Jude Law). In other words? Depp is going to be a part of this franchise for a long time, and fans are deeply unhappy for one very understandable reason.
In 2016, Depp was embroiled in a contentious divorce from Amber Heard that dragged on for months before ending with disturbing domestic abuse allegations. Heard alleged that Depp "violently attacked" her on a number of occasions and that during the "entirety" of their four-year relationship, Depp was both "verbally and physically abusive" to her. One of her close friends even came forward with a gut-wrenching essay about witnessing her abuse firsthand, and photos of Heard's bruised and battered face were also released. Depp contested the allegations, and following the settlement of their divorce, Heard withdrew her request for a domestic violence restraining order.
For many, the situation felt like the same old, same old as far as Hollywood is concerned — a man accused of brutal violence against a woman escapes from the fallout with his career unscathed and no punishment for his (alleged) actions. Depp and Heard's breakup happened only last year, but if it had occurred in a post-Harvey Weinstein Hollywood instead, would his career still be flourishing? Would he have gotten a role in a traditionally feel-good, family-friendly franchise like Fantastic Beasts? Sure, the allegations cast a nasty shadow over Depp's future film roles, but that hasn't stopped studios from casting him in everything from new Pirates of the Caribbean films to Murder on the Orient Express.
Plenty of fans of the series wasted no time in voicing similar opinions on Twitter following the release of the cast photo. From describing how betrayed they feel by his appearance in the Harry Potter universe to wondering how Rowling, a victim of domestic violence herself, would sign off on his role, the reactions were strong.
@FantasticBeasts , as an avid #HarryPotter fan it upsets me that you haven't recast #JohnnyDepp in light of the abuse accusations against him. It's hard to support something I love so much with an abuser involved. #FixIt pic.twitter.com/ZHJE3fUm3M

— ᵈᵘˡᵃ ᵖᵉᵉᵖ (@MYKLFSTR) November 16, 2017
Felt excited to see Jude Law on #FantasticBeasts2 poster then I saw Johnny Depp. pic.twitter.com/5KmpxxTlZC

— Courtney.... (@malenkykot) November 17, 2017
Johnny Depp is scum. Fact. #FantasticBeasts2 #JohnnyDepp

— Darren Hepburn (@Darrensphere) November 17, 2017
Man, I sure would be more excited for Fantastic Beasts II if a known abuser like Johnny Depp wasn't playing a main character in it.#FantasticBeasts2

— Martin Silk (@DandyandaClown) November 17, 2017
yeah uh I'm not about to pay to see an abuser playing an abuser@jk_rowling it's incredible that you've been so vocal about supporting women and somehow find it acceptable to keep Johnny Depp in your movie. this lets us all down.

— Kirstyn Hippe (@KirstynHippe) November 16, 2017
everytime I remember Johnny Depp is part of the Harry Potter world now I feel betrayed #FantasticBeasts

— zabela saw justice league 🙅🏼‍♀️ (@ameliawpond) November 16, 2017
I️'m excited for the new #FantasticBeasts sequel but how have we not cancelled Johnny Depp yet?? The man beat his wife! HE 👏🏼 IS 👏🏼 GARBAGE. #FantasticBeasts2

— Elizabeth L. Garcia (@lizzylynngarcia) November 16, 2017
Raise your hand if you would literally rather see the cartoon dog from Coco play Grindelwald instead of Johnny Depp #FantasticBeasts2 pic.twitter.com/dhLkg0Vcnr

— Kelsea Stahler (@KelseaStahler) November 16, 2017
gellert grindelwald was a feared dark wizard who did a lot of bad things but his ultimate crime remains being johnny depp https://t.co/7cfpehrZUq

— Kristen Bolden (@kboldens) November 16, 2017
I remember seeing the Grindelwald reveal in the cinema and wishing another actor was playing him anyway. People are being held accountable in Hollywood for sexual assault (rightly so), but Johnny Depp isn't being held accountable for other abuse? 🤷🏼‍♀️ https://t.co/9FPcFNH9FI

— Taneika (@TaneikaReads) November 16, 2017
Like Kevin Spacey being replaced with Christopher Plummer, can we get Johnny Depp CGI'd out of the film?! #notmygrindelwald

— Gabie T (@gabietanj) November 16, 2017
I'd be more psyched for the Fantastic Beasts sequel if Johnny Depp wasn't a part of it. I'm still pissed about that and how betrayed I felt watching the first one.

— Danielle Hendrickson (@BluesyThoughts) November 15, 2017
Casting aside Colin Farrell for Johnny Depp has been the biggest misstep in #HarryPotter universe since Cursed Child was released. #FantasticBeasts pic.twitter.com/Ork46t6d1c

— Kevin (@Caoimhin89) November 16, 2017
Literally nobody asked for Johnny Depp to be in the new Fantastic Beasts movie please just use Colin Farrel nobody will be mad.

— Austin Greis (@Draco_Mouth_Toy) November 16, 2017
The real crime of Grindelwald is not recasting Johnny Depp 🙄 https://t.co/gVfaREPhNa

— bethany malfoy👻🕷 (@FanPotterhead) November 16, 2017
Fortunately someone had a brilliant idea about how to solve the issue:
#FantasticBeasts2 opening scene:
Johnny Depp takes off his mask.
It's Idris Elba.

— Beth Elderkin (@BethElderkin) November 16, 2017