Kingsman the Golden Circle Plot Details
The Kingsman Sequel Is About to Blow the First Film Out of the Water
Back in 2014, Kingsman: The Secret Service blazed into theaters and became a surprise smash hit. With the introduction of the dashing Taron Egerton and the undeniable bravado of Colin Firth, it should really have come as no surprise. On the same token, it should also come as no surprise that there's a sequel on the horizon. Called Kingsman: The Golden Circle, the follow-up film looks pretty epic. The new red band trailer teases even more action and gives us another look at the return of Colin Firth. During a recent press presentation in London, I saw the entire first act of the film. That's 40 minutes of footage! Sit down, children, it's time to tell you what I know.
1. Taron Egerton Looks as Handsome as Ever
This one's kind of a no-brainer, but still bears mentioning. Taron Egerton is back to his hunky ways. In the newest trailer, he's dressing like a proper gentleman, he's still dating that Swedish princess, and his action skills are next level. And yet, there's still quite a bit of that plucky "Eggsy" that made him so lovable in the first place.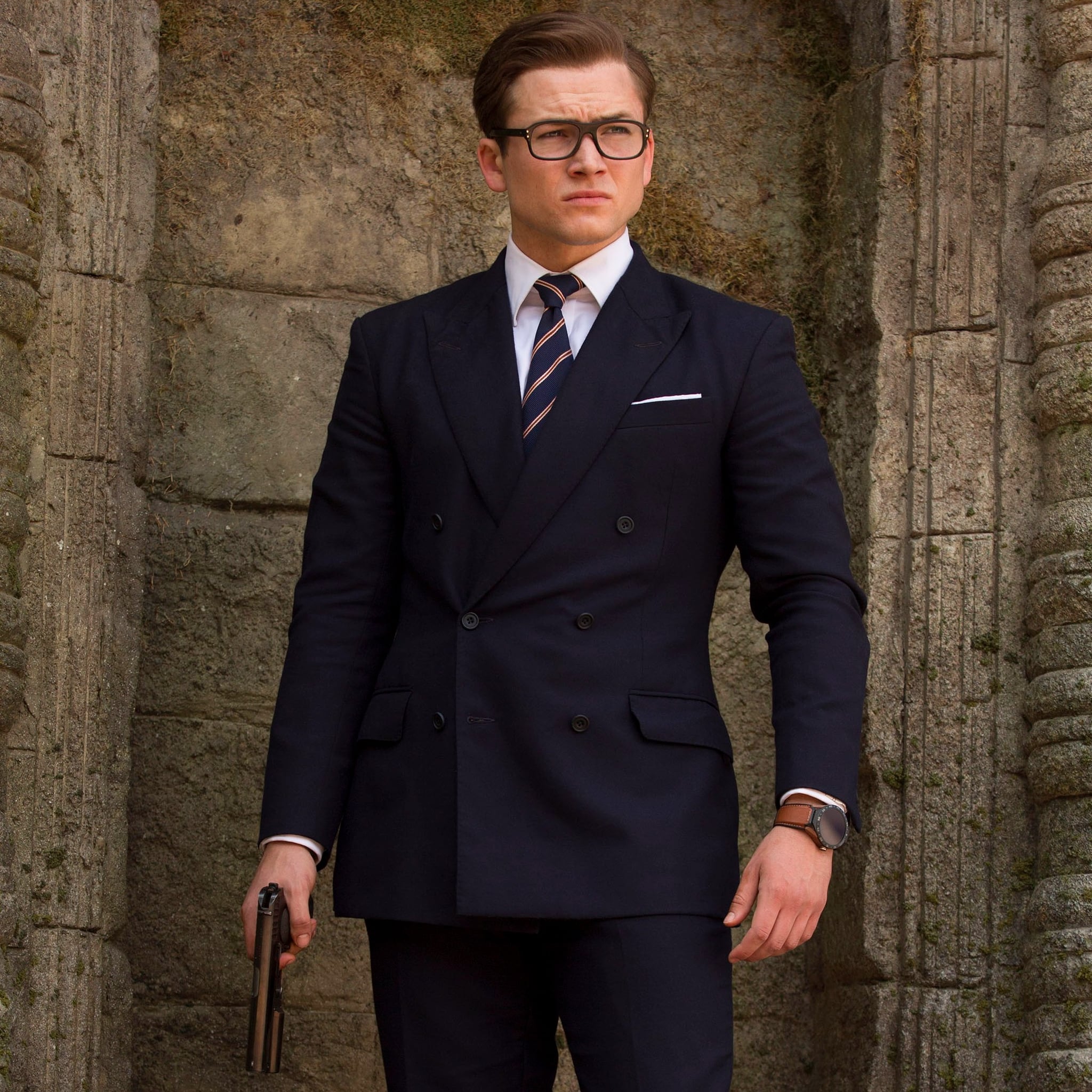 2. Julianne Moore Is a Brilliant, Terrifying Villain
Moore is stepping into the film as a manically cheerful woman named Poppy. Poppy runs a secret international drug cartel and seems to be one of the most venerable forces in her industry. She has a 1950s-themed lair on top of a mountain in some tropical forest region in Central or South America, and we were living for every single second of her scenes. We don't want to give too much away, but let's just say she hates being betrayed, and she can cook up a pretty mean cheeseburger.
3. There Will Be Blood, and Lots of It
There's already quite a bit of action in the film's first act. The film opens on an epic, dangerous car chase through the streets of London. It's nearly 10 minutes of wild choreography that will leave your head spinning and your heart racing. In the scenes that follow, there's an especially grisly death with a very unexpected weapon. And, well, there are also a LOT of explosions that may as well spell out deep tragedies for Eggsy. Things are going to get dark.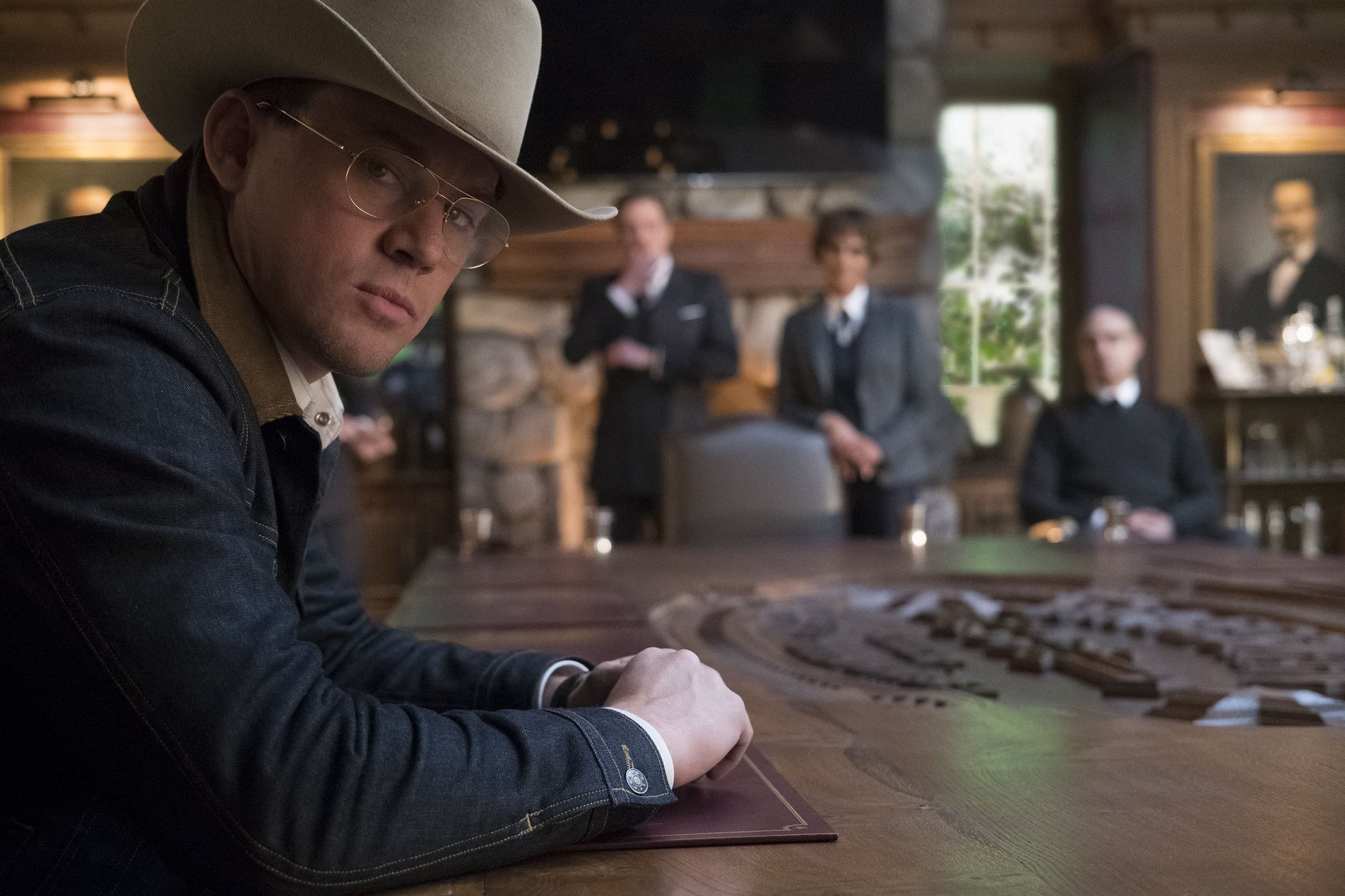 4. Get Ready For the American Answer to the Kingsman
That's right. The Statesman are about to enter the picture, and they seem to embody everything about America that the Kingsman embody about England. We're not exactly talking about beer and American flags and mullets and fanny packs. Think about the America ruled by cowboys, where pioneers wore their fanciest boots, boot-cut jeans, bolo ties, and sassy cowboy hats. We get a good glimpse of the Statesmen (with Channing Tatum and Jeff Bridges at the helm!) in the newest trailer, so get amped.
5. There Will More Than Likely Be a Third Movie
After screening the footage, director Matthew Vaughn sat down to answer a few questions about the film. That's when he admitted he already has plans for a third movie and knows exactly how it would play out. 20th Century Fox hasn't necessarily greenlit another movie, but if Golden Circle does as well as Secret Service did, it's pretty much a go.