Maksim Chmerkovskiy Interview About Dancing With the Stars
Maksim Chmerkovskiy on Dancing With His Brother Val: "It's Not Competition When It's Family"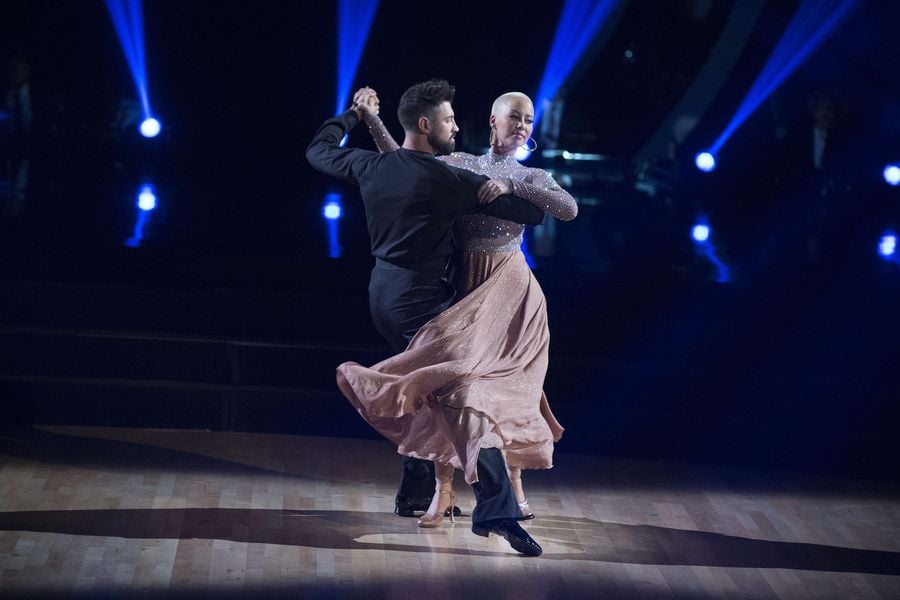 Image Source: ABC
Maksim Chmerkovskiy is definitely keeping busy on Dancing With the Stars this season. Aside from heating up the dance floor with his partner Amber Rose, the Ukrainian native has also been planning the arrival of his first child with his fiancée and fellow DWTS pro Peta Murgatroyd. We had a chance to sit down with the dancer and he told us all about this current season, what it's like competing against his brother Val, and whether or not he wants his son to take up ballroom dancing.
POPSUGAR: You and Amber have been doing so well on Dancing With the Stars. Why do you think you two will win the competition?
Maksim Chmerkovskiy: We're one of the few couples in this competition that can actually show growth week after week. Everyone is working super hard, but some people come in with some sort of — I'm not going to say dance experience — but with whatever comfort level they have and that allows them to come out with performances in week one that dictate where they go from there. We came out week one very, very timid. Very unclear, and it was a bit confusing to the audience who was like, "Wait, this couple looks like they should be getting nines from the beginning." But that wasn't the case. We weren't that couple, and we're still not, but to people who have been watching the show, even if they're not fans of Amber and Mak, they have seen a clear improvement. Now people are tuning in to see how different Amber will be next time, and that's what's going to get us to the top.
PS: If you and Amber make it to the finale, what other two couples would you like to compete against?
MC: Val [Chmerkovskiy] and Laurie [Hernandez] are definitely front runners. And to be honest with you, it would probably be between Calvin Johnson [and Lindsay Arnold] and James [Hinchcliffe] and Sharna [Burgess]. Calvin has the ability to be the same character as Jerry Rice was, who may not have been the best dancer, but was just super friendly and a workaholic who puts in 100 percent. Lindsay is doing a great job getting steps out of him. On the other hand, James and Sharna are just winning the hearts of millions of women and men out there with the story of perseverance. Just last year, he had a metal piece go through his hips and leg, and now a year and a half later, he's on Dancing With the Stars. I don't care who you are, but if you've ever had any sort of break or fracture, you know how hard it is to recover. If Sharna figures out what makes him the best, I think they have a huge chance of winning. Like I said, Val and Laurie are just front runners. There's nothing this girl can't do. There's nothing he cannot throw at her. Val certainly has the weapons to use to win this competition.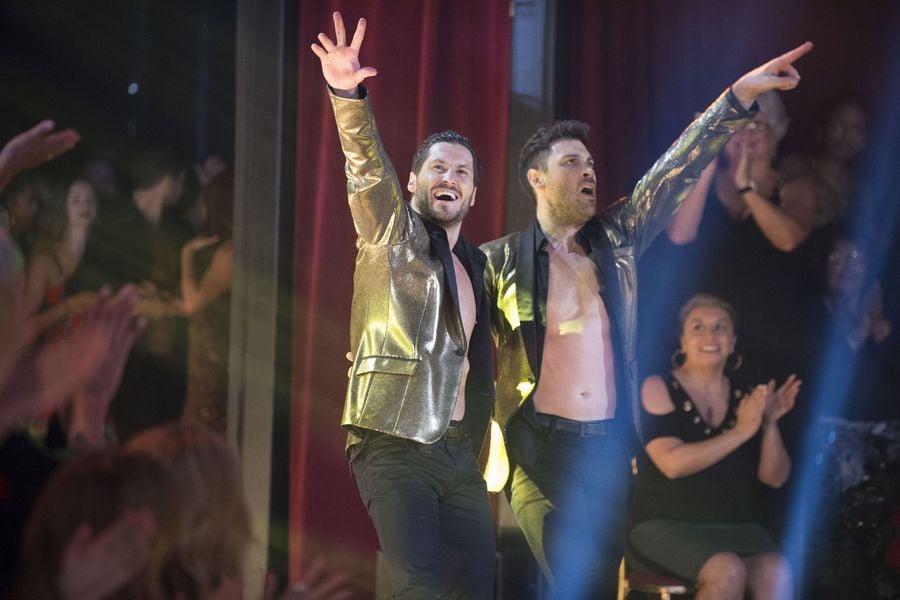 Image Source: ABC
PS: What is it like being on the show with your brother? Are you two competitive?
MC: We drag everything into the same pot. It's not competition when it's family. We've been that way our entire lives. You know, the Klitschko brothers once said that although they compete in the same place, they would never fight each other. It's kind of a similar situation; we don't really compete. If we were the last two couples standing, at this point it wouldn't matter who wins. Obviously, it would matter to Laurie and Amber, but definitely not to Val and me.
PS: On the topic of family, you're also expecting a son with your fiancée, Peta Murgatroyd. What are you most looking forward to about being a dad?
MC: Just having this other person that you can speak at and they cannot run away. I'm kidding! I look forward to doing, hopefully, as good as my parents did, and just trying to make an incredible person out of this little human. I want to be a good role model. It's just a lot of responsibility, but I've had experience in educating children, so I know the process and what it consists of. I just never experienced changing a diaper. But hey, if our parents did it when they were 19 and dirt broke, I think we can do it.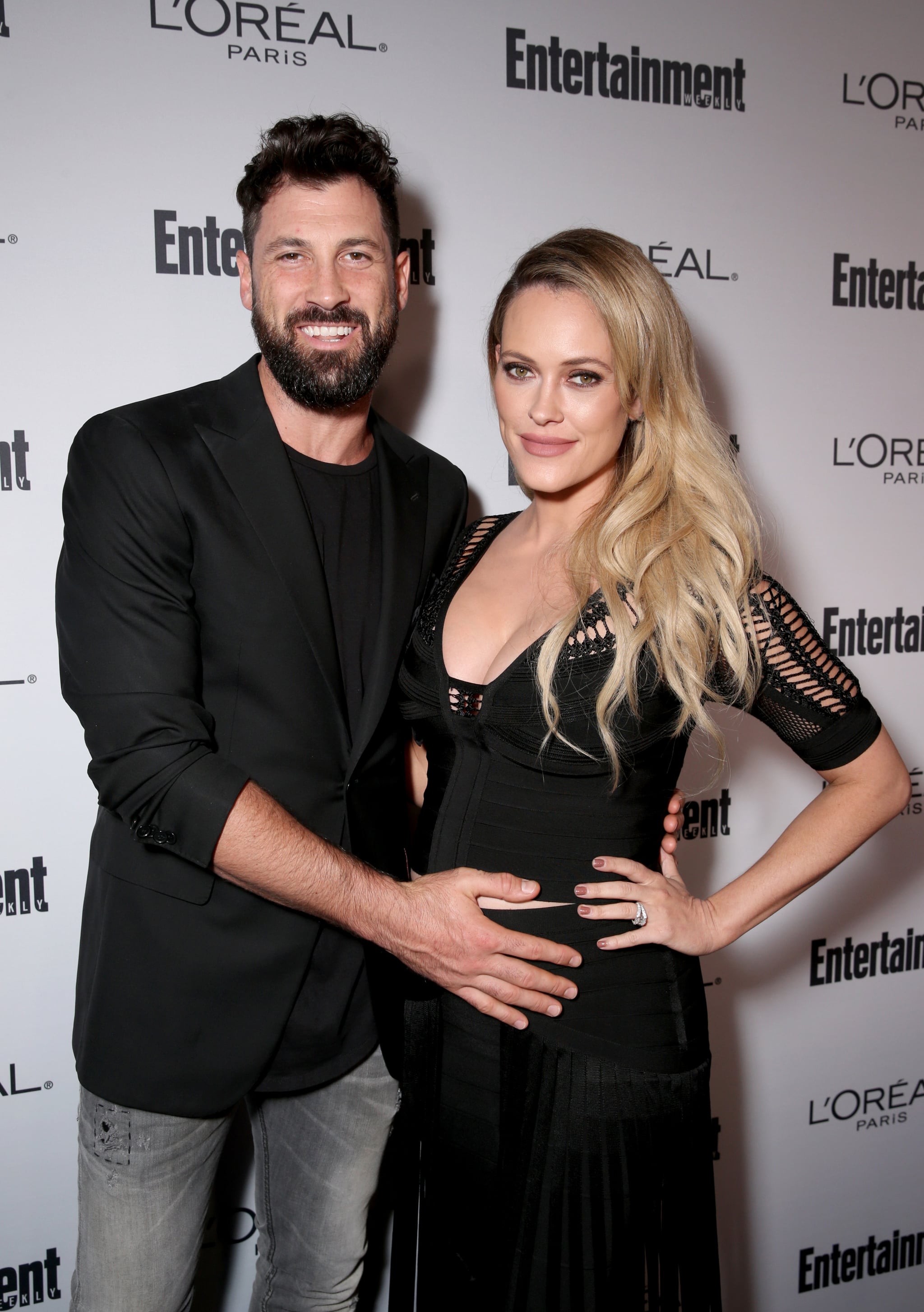 Image Source: Getty / Todd Williamson
PS: Why do you think Peta will be a great mom?
MC: Because she's the best woman I know, after my mom. I have a lot of respect for what she's going through with this pregnancy. I think there's a reason it takes nine months to go through this process because that's the time it takes to get into parent mode. We're lucky that we got pregnant in the place in life where we are right now, whereas some people get pregnant and it's all of a sudden a huge burden. Through all the struggles that Peta is going through with her pregnancy, that's what makes me 100 percent sure that she's going to be an incredible mother. I cannot wait to be incredible parents with her and have that joint adventure.
PS: Do you secretly hope your baby will pick up dancing?
MC: I do not, no. For me, it was literally swimming and track and field to begin with. It helps that I got a couple inches on Val in height, so I want the same for my son. Between Peta and I, he's going to be a tall kid. I will say though, that I want him to experience ballroom dancing solely because of the close proximity to the opposite sex. I want him to experience what it's like not to have that personal space and not be shook by it. I want him to be a gentleman. I want him to open doors for girls. I want him to carry their bag. I want him to bring flowers to a lady. I want him to be a well rounded, educated, and athletic person.