Maren Morris "Kingdom of One" Game of Thrones Song
Game of Thrones: How Many Clues Can You Find in Maren Morris's New Song About Season 8?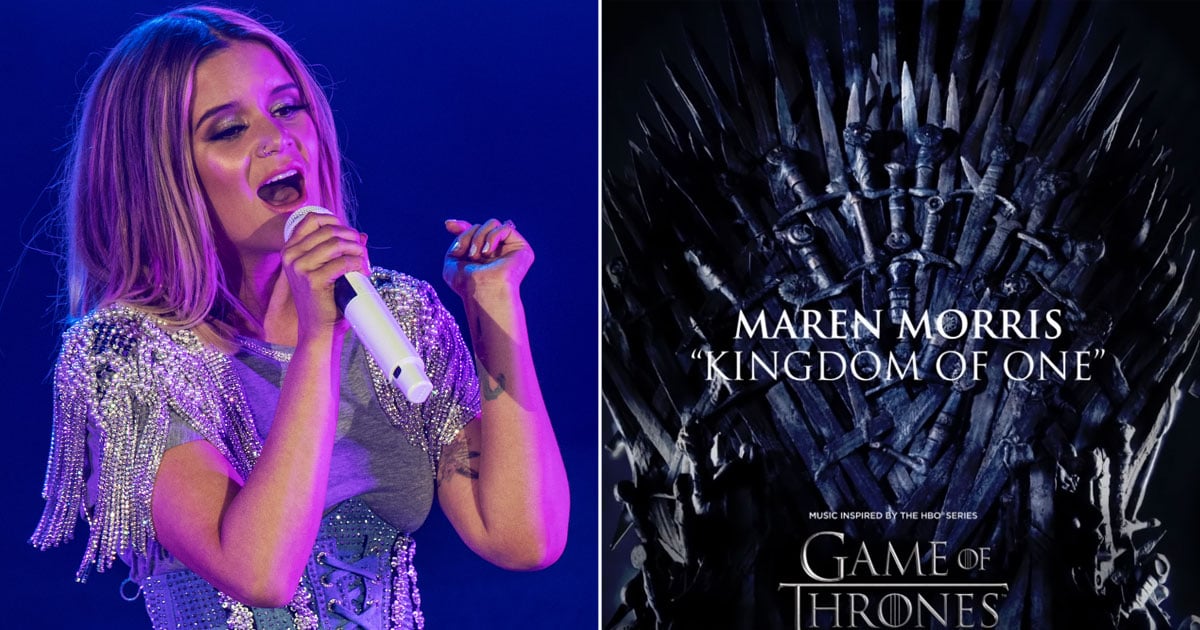 Over the course of the past seven seasons of Game of Thrones, the music has consisted of a gorgeous, haunting score composed by musical genius Ramin Djawadi. Tracks like the show's pounding main theme and the chilling season six finale score, "Light of the Seven," have now reached icon status. But with the final season of the HBO fantasy series on the cusp of its premiere, the network decided to mark the occasion by getting A-list artists like SZA, Ellie Goulding, Maren Morris, The Weeknd, and more to record brand new original songs for an epic season eight soundtrack.
Columbia Records and HBO announced in early April that the album, For The Throne, will debut on April 26. But with the eighth season's premiere just days away, we've been blessed with a special treat in the form of Morris's song from the album, titled "Kingdom of One." The ballad is stunning — to be fair, Maren Morris's voice could make even the "Itsy Bitsy Spider" sound like a Grammy contender, let's be real — and features lyrics that hint at sacrificing everything you love for ambition, "cold nights" that "take your life," and other relevant themes that make sense in the context of the show. Perhaps the most telling is the chorus, though:
"So you wanna play God? Come on
Is that all you got? Come on
Would you sell your soul? Burn it all
Everything that you love
Finally become second to none
In a kingdom of one"
Pretty ominous, no? Listen to the song in full ahead to see if you can pick up on any clues about season eight, then keep reading to get all the lyrics.
Maren Morris "Kingdom of One" Lyrics
[Verse 1]
First light, a sacrifice
Bird's eye, saw the signs
Cold nights will take your life
Reach out and touch your faith
Give up on everything
To carry the world on a string

[Pre-Chorus]
All you can give, all you can beg
All that you longed for, nothing compares
When nothing is sacred, no one is safe

[Chorus]
So you wanna play God? Come on
Is that all you got? Come on
Would you sell your soul? Burn it all
Everything that you love
Finally become second to none
In a kingdom of one

[Verse 2]
Dig down, far below
Lost souls, feed the crows
Hell's fire keeps you warm

[Pre-Chorus]
All you can give, all you can beg
Look to your heart, but nothing is there
When nothing is sacred, no one is safe

[Chorus]
So you wanna play God? Come on
Is that all you got? Come on
Would you sell your soul? Burn it all
Everything that you love
Finally become second to none
In a kingdom of one
In a kingdom of one

[Bridge]
Come on
Come on
Come on
Come on

[Chorus]
So you wanna play God? Come on
Is that all you got? Come on
Would you sell your soul? Burn it all
Everything that you love
Ash to ash, dust to dust
Everything in God above
Shed a tear, shed your blood
No, you cannot give enough
Finally become second to none
In a kingdom of one