Nymeria Scene in Game of Thrones Reactions
Game of Thrones Broke Everyone's Hearts Last Night With This Emotional Arya Scene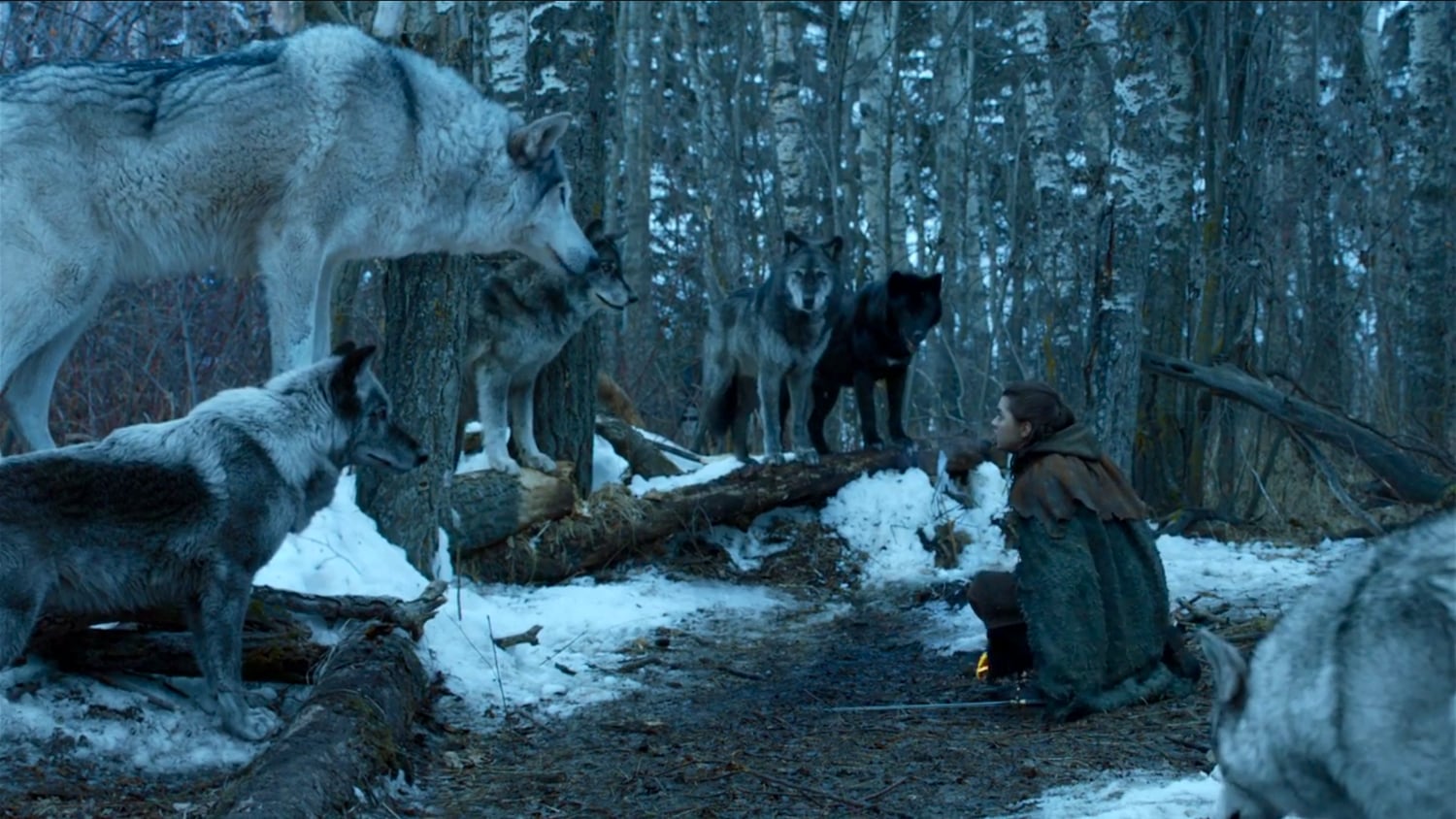 Warning: spoilers for Game of Thrones below!
Of all the characters in Game of Thrones, Arya has had the most action-packed season seven so far. After savagely killing off multiple generations of the Frey family and getting to hang out with Ed Sheeran in the season premiere, the young assassin heads North in episode two on her way to reunite with Sansa and Jon at Winterfell. Along the way, she not only bumps into her old pal Hot Pie, but also has a bittersweet reunion with another character from season one: her long-lost direwolf, Nymeria.
Arya stops in the woods to make camp one night, and it doesn't take long before a large pack of wolves soon surrounds her and her horse. Leading the wolf pack? A massive gray and white wolf that Arya immediately recognizes as Nymeria, whom she had to release into the wild back in season one after the young direwolf attacked Joffrey. She asks Nymeria to join her on her journey back home to Winterfell, but Nymeria turns her back on Arya and leaves. Arya looks at her former companion with a sad smile, saying, "That's not you."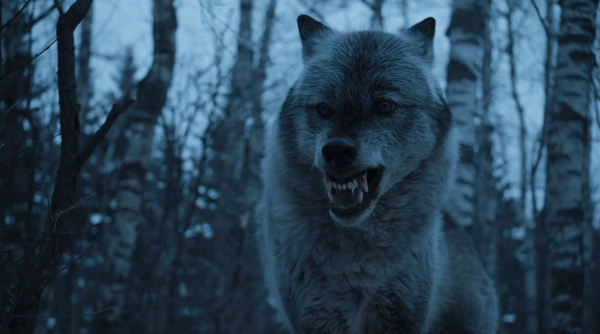 It's easily one of the saddest moments to be featured in Game of Thrones thus far, and fans didn't take long to tweet out their emotional reactions (both sad and hilarious) to Arya and Nymeria figuratively ripping their hearts out.
That moment with Arya and Nymeria #GameOfThrones pic.twitter.com/2OY5VG7QQv

— Homero Rodriguez (@YoQuieroHomero) July 24, 2017
Nymeria and Arya being reunited just for her to leave again has me like #GoTS7 pic.twitter.com/V2t6IG8fXk

— cara (@capncara) July 24, 2017
This Arya and Nymeria scene breaks my heart 💔 #GameOfThrones pic.twitter.com/mMHY42jcJH

— ♓Evol #228♓ (@NativeBeautii) July 24, 2017
Arya held her hand out and her wolf was like #ThronesYall pic.twitter.com/CxueIW5mEe

— Matthew A. Cherry (@MatthewACherry) July 24, 2017
Nymeria heard about her brothers getting murked in these streets and told Arya, "Girl, Bye!" #ThronesYall pic.twitter.com/DvMptwDE4A

— Catered by Ichiraku Ramen (@Midwest_KZ) July 24, 2017
Arya: "It's me, Arya."

Nymeria: "New phone, who dis. #GameOfThrones #GotS7

— GoT Things (@GoTthings_) July 24, 2017
WHEN I SAID I WANTED A NYMERIA ARYA REUNION I DID NOT MEAN RIP MY HEART OUT!! #GameOfThones7

— liz (@lizthegrace_) July 24, 2017
It was definitely Nymeria but she's different now. She has changed, the same way Arya changed.. pic.twitter.com/mbpLHvYnMZ

— Game of Photos (@gamofphoto) July 24, 2017
Arya: Nymeria! I'm headed north, I'm going home. Come with me.
Nymeria: *pulls off face* A wolf has no name. #GoTS7

— Jer Wallis (@Belom3) July 24, 2017
Nymeria to Arya: #ThronesYall #GameOfThrones pic.twitter.com/FIfCcRQap3

— PBF (@This_Here_Girl) July 24, 2017
me when nymeria and arya finally reunite pic.twitter.com/RglNEaVSjc

— beyy (@dracvryn) July 23, 2017
can we talk about Arya and Nymeria scene? #ThronesYall #GameOfThrones pic.twitter.com/03GaW0zVim

— Bookish Heaven ⚜ (@bookish_heaven) July 24, 2017
Why did Nymeria pie Arya 🤦🏼‍♀️🤦🏼‍♀️🤦🏼‍♀️🤦🏼‍♀️ #GoT #GameOfThrones pic.twitter.com/gr7ZTrfWOQ

— Jordan Hart (@jordanjanehart) July 24, 2017