President Obama Asks About Jon Snow on Game of Thrones
Game of Thrones: Not Even President Obama Can Bring Jon Snow Back to Life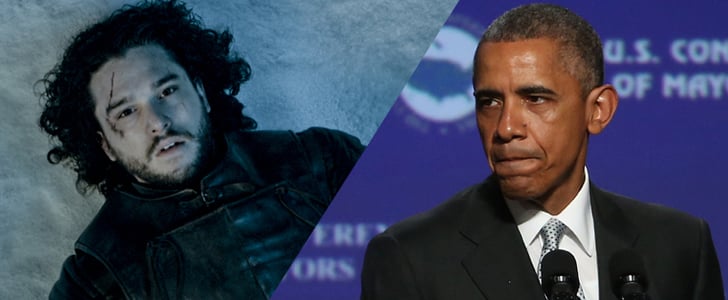 If you were heartbroken when you watched Game of Thrones's season five finale, in which Jon Snow appears to die, imagine how President Obama felt. During the show's Comic-Con panel, director David Nutter told an amusing anecdote about his encounter with the president (whose favorite episode is "The Red Wedding," in case you were wondering).
"About three weeks ago, our No. 1 fan, the president of the United States, shook my hand, looked at me, put his hand on my shoulder and said, 'You didn't kill Jon Snow, did you?' I didn't know, without being sent off to Guantanamo, what the answer was. I said, 'Mr. President, Jon Snow is deader than dead.'"
If the president can't bring Jon Snow back, then all hope is lost — unless one of these theories is correct, of course! Until we find out for good, let's just count on the things we know for sure about season six.