Scandal Series Finale Details
Scandal: Everything You Need to Know About the Series Finale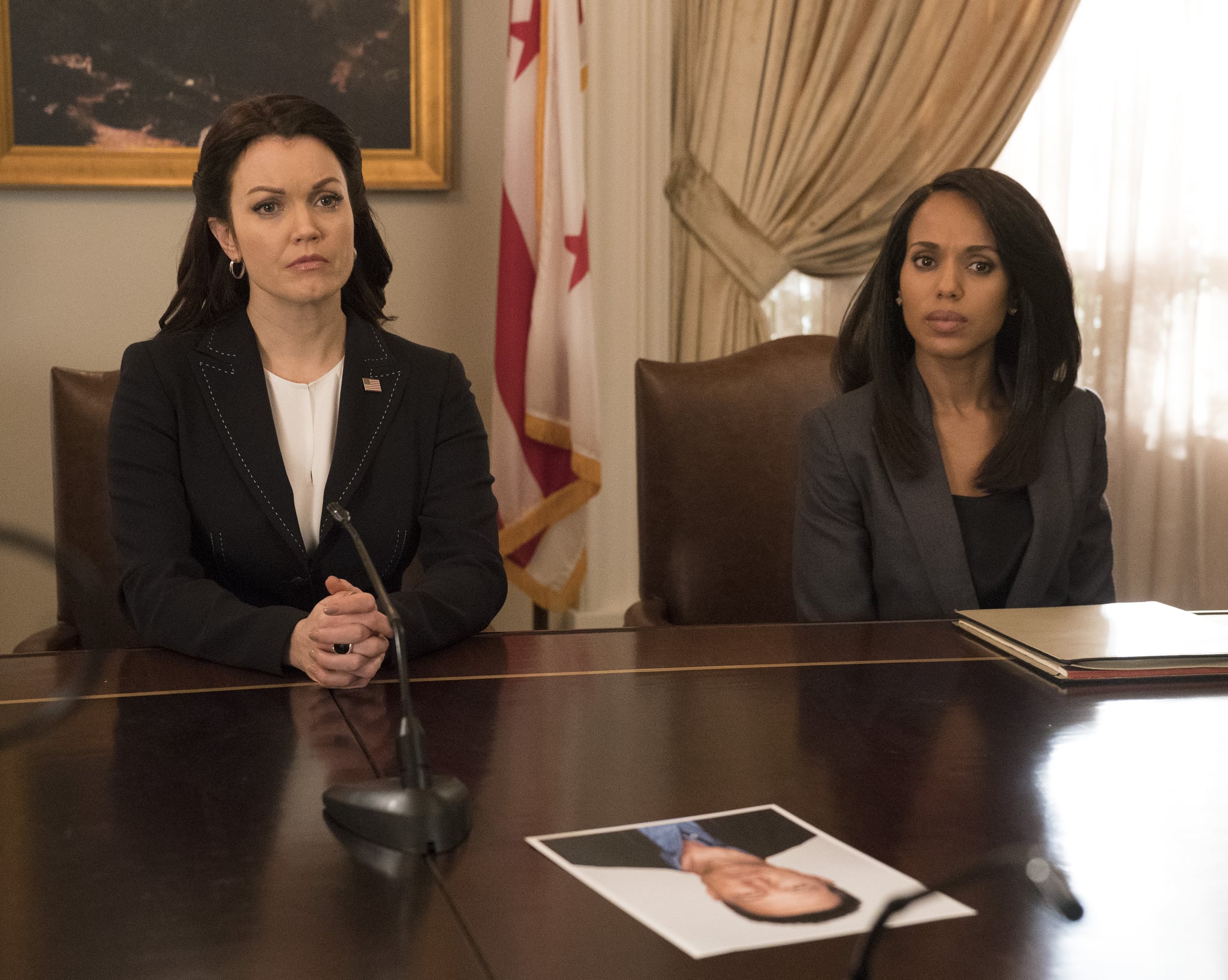 Scandal officially ends on April 19 with its seventh season finale. That's right. After that Thursday, we'll no longer see Gladiators patching up political crises, secret organizations turning old friends into enemies, or steamy encounters between Olivia and Fitz. Everything will be handled by then. Before we get too nostalgic, though, here are all of the details that you should know before Olivia Pope's biggest Washington showdown.
"White Hats On, Gladiators Running Full Speed Over a Cliff"
Television maven Shonda Rhimes previously spoke on how the Scandal family will tackle their final episode together."We are going to handle the end the way we like to handle the important things in our Scandal family: all together, white hats on, gladiators running full speed over a cliff," Rhimes indicated in a statement.
She's likely just talking about the cast and crew, but let's consider how this framework might apply to the show's actual plot. Right now, the common enemy appears to be Vice President Cyrus Beene, who's so power-hungry that he staged his own plane-hijacking. At the same time, it might be Jake Ballard, who we last see cutting off his relationship with his wife in the most dramatic fashion possible. If the Gladiators are running full speed with their white hats on, though, we might need to look out for an even bigger and scarier enemy than these two combined. Maybe even Jake and Cyrus will put on their white hats again for a chance at redemption.
Someone Will Die
ABC recently released an emotional retrospective video that shows the cast looking back on the show and speculating what will happen in the finale. In the video, we get a glimpse of the Gladiators standing around a casket. Everyone looks sad, especially Abby, who's profusely crying. This makes me suspect that David or someone once very close to her, perhaps Fitz or Cyrus, has died.
Then again, I can't imagine the funeral of a high-profile politician being that small, unless the video editor purposefully selected angles where we can only see Huck, Abby, Olivia, and Quinn. The small gathering makes me suspect that the person in the casket may be a low-profile Gladiator like Marcus or Charlie. Having said that, the funeral could just be a red herring to get us all flustered!
We Probably Won't See Much of Papa Pope . . . Until the Very End
Papa Pope probably isn't going back to his dinosaur bones permanently. We haven't seen much of Eli since his involvements with Quinn but we might soon see him again now that things are going down in Washington.
In an interview with Hollywood Life, Joe Morton, who plays Olivia's father, discussed his character's role in the finale. "I think you're just going to get a smattering of him until towards the end, at which point lots of things are going to happen that are quite surprising and quite mind-blowing," he said. "I think he decides to finally to get involved in a way that he hopes could rectify the situation."
I'm wary, of course, since Eli trying to help in the past consisted of keeping Quinn and her kid semi-hostages.
We'll Finally Know Who Olivia Ends Up With
Who will live happily ever after? "The only human that's guaranteed to have a happy ending at the end of Scandal is Shonda Rhimes," Kerry Washington aptly remarked in the retrospective featurette. In the retrospective, we see Jake giving Olivia a platonic, consolatory hug at a funeral. This makes me worry about Fitz, who's nowhere in sight. Our favorite political spinner has shared many a tryst with both the charismatic former POTUS and dashing Chief of Staff Jake Ballard. Will she be lounging on the beach with Jake once more or making jam with Fitz in some idyllic nook in Vermont?
I feel like Olivia has always had a softer spot for Fitz. Things have always been more cat-and-mouse between her and Jake. (I mean, we did see him putting a gun into his mouth and giving her the grip the last time they saw each other!) While Olivia and Fitz could very likely get together for good, I'd be happy to see her spinning cases on her own since we've seen how dysfunctional her relationships with Fitz and Jake can become.
Speaking of romance, I'm rooting for David and Abby to have a happy ending. Darby Stanchfield, who plays Abby, predicts that David and Abby will go into the sunset together. Costar Josh Malina, who plays David, has some doubts.
"Happy endings in the Scandal universe? We'll see," Malina ominously commented.
To see how all of these clues play out, fans will need to tune in to ABC on April 19 to see what happens to their favorite characters. Meanwhile, I'll be stocking up on red wine and popcorn to prepare myself.