Suits Season 7 Finale Details
Suits: What to Expect From the Highly Anticipated Season 7 Finale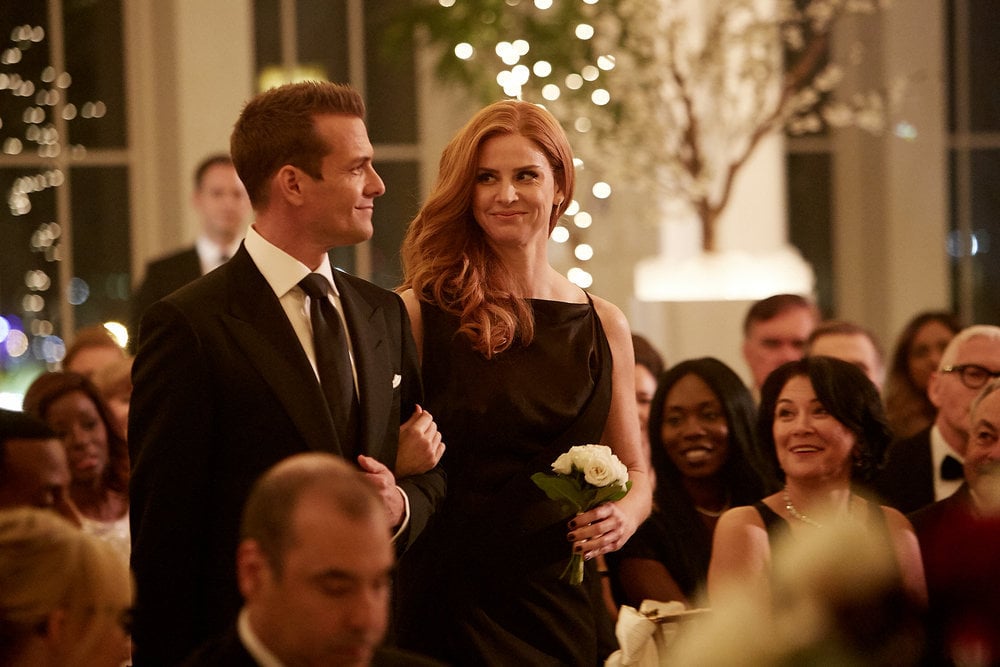 All good things must come to an end. And given the storm of publicity surrounding the engagement of Meghan Markle (aka Rachel Zane) to Prince Harry, we are very aware that a cable staple will be changing up a bit. So, farewell original Suits! As we await your finish, we wonder what will transpire!
There are plenty of guesses as to what the future will bring, and how Mike Ross and Rachel Zane will exit the show. We already know Katherine Heigl will be joining the cast, shaking things up a bit and ensuring that the other characters' storylines move along with the quick wit, law jargon, and drama that we all know and love.
But how will this central love story to the show close out? Spoiler alert: We already know there is a wedding, a second one, given that their first didn't play out. Thanks to interviews and pictures, we can safely assume that they finally do tie the knot indeed. (Unless it's a dream sequence, but considering the nature of this show, I would say, likely not.)
The best bet is they finally do get hitched, Rachel can practice law, and the couple who has dealt with an array of trials and tribulations — her struggles with completing her dream of becoming a lawyer, Mike's prison sentence, their canceled wedding, etc. — decide to lead a quieter life. Perhaps they move on from their Pearson Spector relationship, move out of New York City, and practice law pro bono or at a quieter firm in the suburbs, starting a family and living their happily ever after.
This is the most viable option; Mike has been practicing pro bono law, and given that he has once been a misguided kid taken in by Harvey (under somewhat illegal circumstances), he might want to pay it forward and help other kids out there who aren't living up to their potential. Then again, perhaps Rachel gets a big opportunity in another metropolis and instead of Mike ruling the roost, she finally gets the power position she has been working so hard to achieve.
Also, the two have had to struggle to stay together throughout the series, and they might feel that it is time to focus on family and each other. They've earned it.
As for the other characters, this season has given us a lot of insight into Louis's past, as well as his heart. The complexity in his layers of his humanity has come forth and the loss of a great love might force him to finally come to terms with a few things. Given his character development, perhaps we will see him face his fears and instead of dealing with his pain by aggression, he will follow a different path. A whole new Louis could be on the horizon!
Harvey and Donna will continue to anchor the show, so we probably won't see complete resolution with their storyline. Right now Harvey is in a committed relationship, but his kiss with Donna implies that his heart may be elsewhere. Since Donna has been his only version of a wife/support system, there is a strong sense of loyalty and love there, but the fact is that he's not available right now. The most likely scenario: these two will have a falling out, but will ultimately end up together. After all, with Mike and Rachel gone, we need a good love story on the show!
The Suits finale airs on April 25!