Taylor Swift's "New Year's Day" Lyrics
Taylor Swift's "New Year's Day" Lyrics Reveal So Much About the New Taylor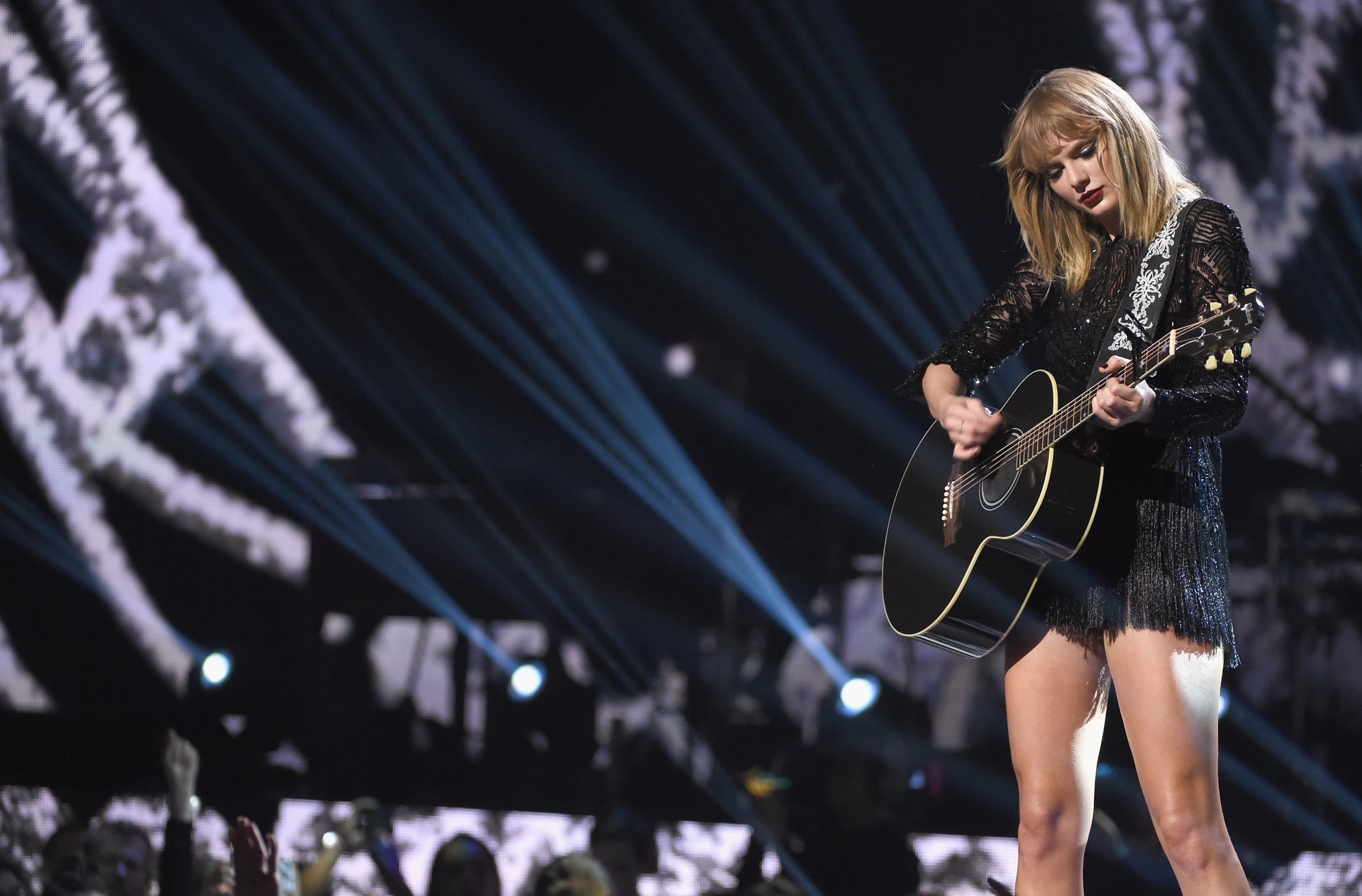 Taylor Swift's Reputation has finally arrived and it's glorious, but there's something extra special about the album's bittersweet final track, "New Year's Day." Thanks to Swift's special performance of her old-school anthem on The Tonight Show, "New Year's Day" may always be associated with Jimmy Fallon's mother now. However, as beautiful as the moment when Fallon and Swift embraced was, the song wasn't written as an ode to the comedian's late mother. If you want to know if there's a bigger meaning behind "New Year's Day," you don't have to look any further than the lyrics. The track is a standout not only because it has that "old Taylor" feel, but also because of its maturity.
"New Year's Day" reveals a Swift who is looking for lasting relationships. She's not interested in the fleeting moments of happiness that come when the ball drops as the old year fades away. Instead, she wants to surround herself with people who will be there after the party ends. New Year's Eve is full of romantic expectations and possibility, but New Year's Day is when people have to get back to reality. Swift's song highlights the importance of having people in your life who will stick around and help you clean up the mess once the party's over.
As the fourth single from Reputation, "New Year's Day" shows off yet another side of Swift. The beautiful song seems to close out this stage of Swift's journey as she embarks on a future where she focuses on the people in her life who won't run away when things get hard. Want to dig even deeper into the track? These lyrics are particularly meaningful:
"There's glitter on the floor after the party / Girls carrying their shoes down in the lobby." — In an interview with iHeartRadio, Swift revealed that the idea for the song came to her during a New Year's Eve party in London. These lines instantly bring to mind that somber feeling of a fun evening of celebration coming to an end, and they may even reflect what the singer witnessed as she rang in 2017.
"Candle wax and Polaroids on the hardwood floor." — Swift's previous album, 1989, relied heavily on Polaroid pictures for the cover art. With the imagery of discarded Polaroid pictures lying on the floor, this lyric might be another Easter egg about how Swift is growing as an artist and a person.
"I want your midnights / But I'll be cleaning up bottles with you on New Year's Day." — Several of the songs on Reputation appear to reference Swift's new boyfriend, Joe Alwyn, and "New Year's Day" doesn't get left out of the fun. This line seems to be about Alwyn and how Swift wants to share the little moments with him just as much as she wants them to have the big romantic moments.
"You squeeze my hand three times in the back of the taxi." — For some people, squeezing someone's hand three times means "I love you." While Swift hasn't opened up about the lyric, it touched Fallon greatly during her performance on The Tonight Show because his mother used to squeeze his hand three times.
"Please don't ever become a stranger / Whose laugh I could recognize anywhere." — It seems that Swift has had this line in mind for quite some time, and it ultimately ended up in "New Year's Day." In her iHeartRadio interview, she explained, "There are two lines in this song that I had been saving for a long time, for the right moment, and I had picked them for this song, and I'm really excited about them. The first one is, 'Please don't ever become a stranger whose laugh I could recognize anywhere.' And the other one is, 'Hold on to the memories, they will hold on to you.'"
If you want to delve into deeper into this stunning track then check out the full lyrics for "New Year's Day" below.
There's glitter on the floor after the party
Girls carrying their shoes down in the lobby
Candle wax and Polaroids on the hardwood floor
You and me from the night before, but
Don't read the last page
But I stay when you're lost, and I'm scared
And you're turning away
I want your midnights
But I'll be cleaning up bottles with you on New Year's Day
You squeeze my hand three times in the back of the taxi
I can tell that it's gonna be a long road
I'll be there if you're the toast of the town, babe
Or if you strike out and you're crawling home
Don't read the last page
But I stay when it's hard, or it's wrong
Or we're making mistakes
I want your midnights
But I'll be cleaning up bottles with you on New Year's Day
Hold on to the memories, they will hold on to you
Hold on to the memories, they will hold on to you
Hold on to the memories, they will hold on to you
And I will hold on to you
Please don't ever become a stranger
Whose laugh I could recognize anywhere
Please don't ever become a stranger
Whose laugh I could recognize anywhere
There's glitter on the floor after the party
Girls carrying their shoes down in the lobby
Candle wax and Polaroids on the hardwood floor
You and me forevermore
Don't read the last page
But I stay when it's hard, or it's wrong
Or we're making mistakes
I want your midnights
But I'll be cleaning up bottles with you on New Year's Day
Hold on to the memories, they will hold on to you
Hold on to the memories, they will hold on to you
Hold on to the memories, they will hold on to you
And I will hold on to you
Please don't ever become a stranger
To the memories, they will hold on to you
Whose laugh I could recognize anywhere
Hold on to the memories, they will hold on to you
Please don't ever become a stranger
Hold on to the memories, they will hold on to you
Whose laugh I could recognize anywhere
I will hold on to you