Tom Holland Went Undercover at High School For Spider-Man
Tom Holland Basically Pulled a Hannah Montana While Preparing to Play Spider-Man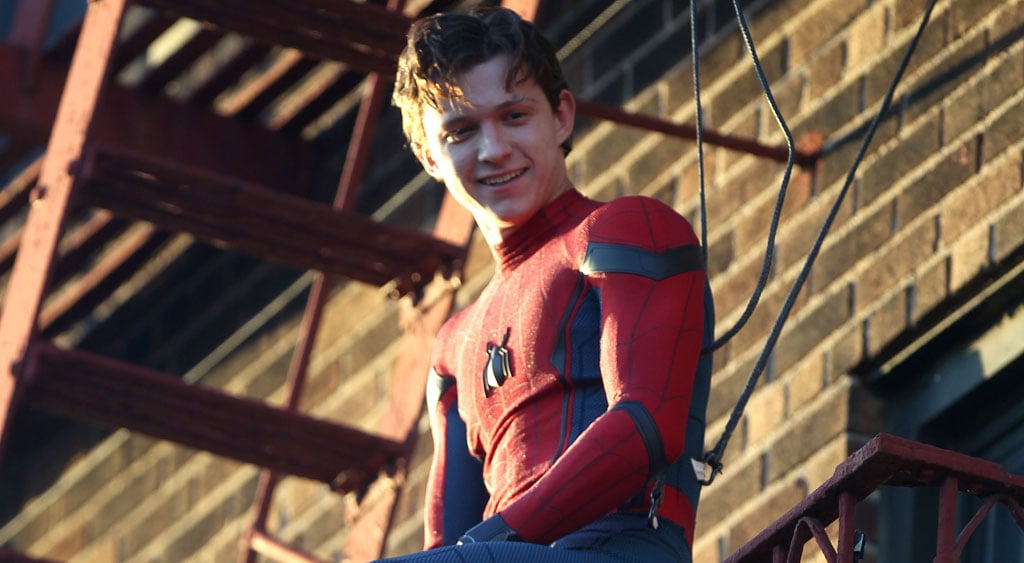 When it comes to concealing a famous identity, few are as skilled Peter Parker. The 15-year-old web-slinger is forced to balance his regular life and his crime-fighting alter-ego, which Tom Holland got a major taste of while preparing for Spider-Man: Homecoming. Since he's not a household name just yet, the 20-year-old British actor was sent undercover to a high school in NYC to prepare for the role, so he could experience what being an American student is really like. "I sent him to the Bronx High School of Science, because that's the kind of school that Peter Parker would go to," director Jon Watts revealed to POPSUGAR and a group of other journalists on the set last Summer. "He was so blown away by how hard the kids worked, how smart everyone was, and the thing he remarked on was just everyone was exhausted, and that's what I remember from high school."
Holland went all-in on the experience, too, donning a fake name and accent to blend in. "I am in no way a science student, and some of the teachers would call me up in front of the class and try and get me to do equations and stuff. It was so embarrassing," he recalled. "But it was actually really, really informative, because schools in London are so different. I would go to school every day in a suit and tie, it was just boys, and to be in a school where you can be free and let loose and be with girls was so different." The experiment only lasted for three days, and according to Holland, none of his classmates were ever the wiser. "I actually have videos on my phone of me interviewing people and asking them what they thought of the new Spider-Man in [Captain America:]Civil War, and they're like, 'Oh he's great! I love him!'" he said. "Some people were like, 'Nah, I don't love him,' and I'm standing right in front of them. It was really fun."
Even as the lead in Spider-Man: Homecoming and roles in Invincible and In the Heart of the Sea, he says that he doesn't "get recognized all that much." Whenever he's in his suit, however, Holland loves to make the day of his younger fans. "We went to a children's hospital in the suit [the other day], and that for me was perfect. To make these kids happy was incredible," he said. "The best is when they actually believe I'm Spider-Man and they're like, 'How do the webs work?' and I'll have to say, 'Oh, I don't have the suit on.' That for me is one of the best things about being Spider-Man, convincing little kids that I can actually do that sort of stuff." Now that Spider-Man: Homecoming has opened with an estimated $257 million worldwide, we have a feeling he won't stay unrecognizable for long.
Image Source: Getty / Steve Sands