The Vampire Diaries Cast Talks About Series Finale
The Vampire Diaries Cast Just Revealed a TON About the Finale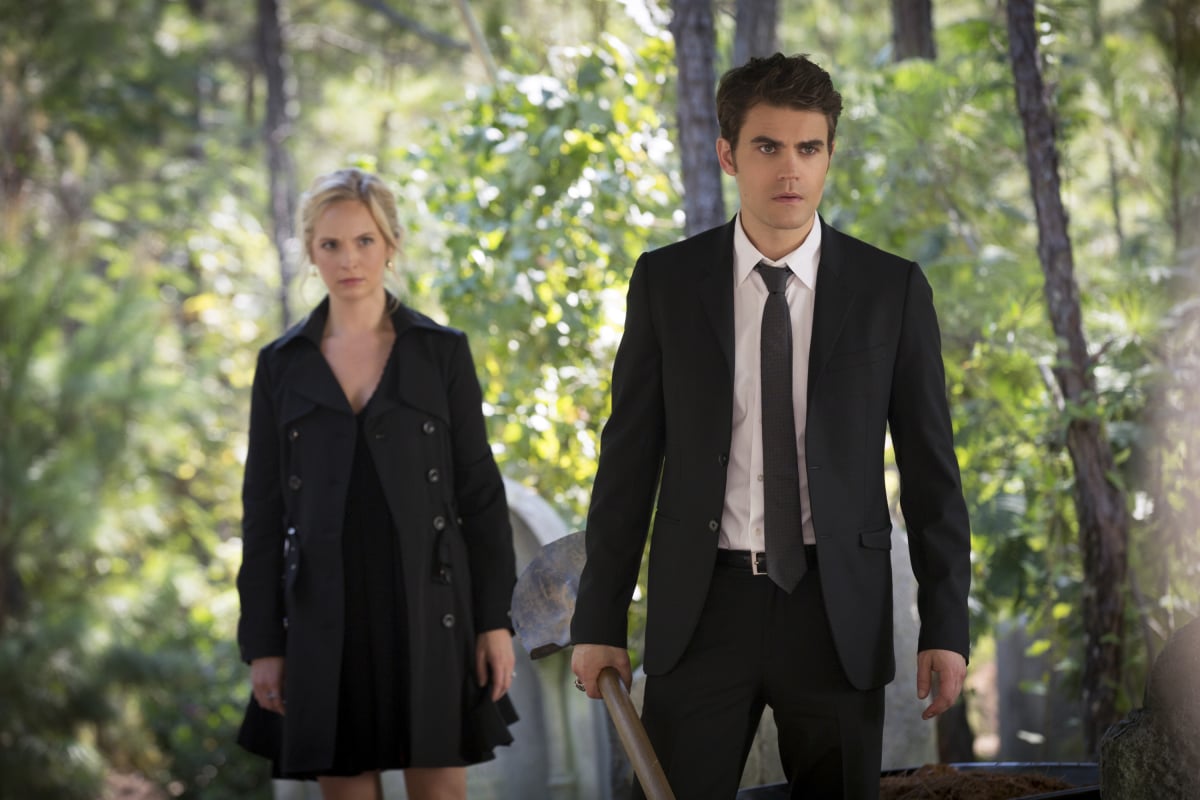 After eight seasons, the time has come for us to say goodbye to The Vampire Diaries forever. Ahead of the series finale, the show's stars Paul Wesley (Stefan), Candice King (Caroline), and showrunner Julie Plec spoke to the Huffington Post about everything from Nina Dobrev's much-anticipated return, that heartbreaking death, and the possibility of a spinoff. See some of their best quotes here, and then brush up on all the details about the series finale before it premieres on Friday.
Plec Wrote and Directed the Finale, So Expect a Lot of Tears
King admitted that the last day on set was incredibly emotional. "I knew that I needed to cry . . . a lot," she said. "And luckily Julie was directing and wrote the last episode and she's a crier, so it made me feel comfortable to cry as much as I did. To be able to all stand in the Salvatore House great room set and hold hands and put arms around each other and really say goodbye to the series was a powerful moment I'll never forget."
The Finale Will Offer Closure
"We wanted to accomplish both tying it in a bow and leaving it open-ended and give a sense of the future for each character ― whether they lived or died, understand where they were heading in their lives, and what they were feeling," Plec said. "The first half of the episode is the rollercoaster ride of resolution to season eight and the second half of the episode is the emotional rollercoaster of saying goodbye to all the characters." King added that she thinks the finale will give "fans of the series everything that they wanted."
There Will Be a Lot of Returning Characters
While a few TVD alum have already been confirmed for the finale, it sounds like there is bound to be many more returning faces. "It was a walk down memory lane," King teased. "I don't want to list people because I don't want to get in trouble! But yeah, you'll see a bunch of people in the finale."
Dobrev's Return Will Be Super Nostalgic
It sounds like Dobrev's return will give us some major flashbacks to season one. "I don't want to give away the sets because I don't know what I'm allowed to say — but I just remember we were like kids and our lives were completely different," Wesley said. "I had this surreal moment where I just looked at both of them [Dobrev and Ian Somerhalder] and I just thought, 'Oh, my goodness, we're doing a very similar scene to what we did eight years ago yet the way our brains are wired and our priorities have completely shifted."
Not Everyone Will Have a Happy Ending
While King said that all your questions about the main characters will be answered in the finale, she also teased that "not everyone always ends up with what they wanted." While Wesley said that Stefan is pretty loyal to Caroline, he also admitted that the newlyweds will have some trouble ahead. "There's going to be a variety of different things that test their relationship," he said. "Look, I don't want to give away too much but it's definitely going to be emotional, that's for sure."
There Might Be More Than 1 Death
Say it ain't so! While we already know that one main character will bite the dust in the finale, it sounds like there could be more than one death. "Look, there's definitely a death coming, and potentially multiple," Wesley teased. "Someone is dying, I'll tell you that right now. It is and it isn't surprising. We've had people die and come back to life, but there's no coming back [now]. This is the final episode, so whoever dies here is dead." Plec also teased that the finale will have a lot of heartbreak. "Like Elena says, 'Sometimes you have to feel pain in order to know that you're alive.' Those are some of her words from the finale and are certainly true of the finale itself."
The Last Shot Is Damon's Camaro
"I told everybody at the read-through that we would be saying goodbye to every set, every person, and every important prop along the way," Plec said. "Literally, the last shot of Damon's Camaro." Does this mean we'll see Elena and Damon ride off into the sunset, or will Stefan being driving away from Mystic Falls (with Mrs. Caroline Salvatore) after his brother dies?
What's Next
While there is always potential for characters to crossover to The Originals, it sounds like there won't be any more spinoffs, for now. "As far as this season and this series and this version of The Vampire Diaries, it's answered," King said. "You're finally not going to end the episode with a bunch of questions, you're going to get your answers." Plec also added that while she doesn't won't to exploit the franchise, she is very aware that there are plenty of opportunities for stories left to be told.