What Is Grey's Anatomy B-Team?
Grey's Anatomy Has a New Spinoff You Can Watch Right Now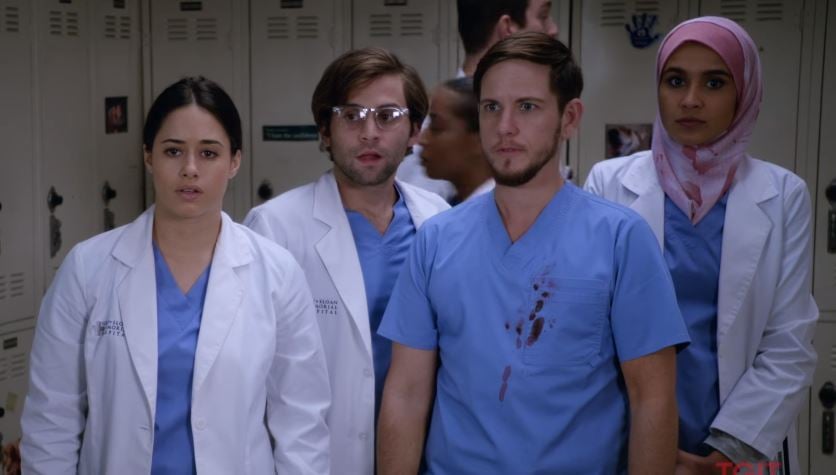 Grey's Anatomy fans, rejoice: B-Team is a new spinoff that you can stream right now for free! For every Harper Avery Award win and every steamy hookup, there's a clueless, bushy-tailed intern missing social cues and doing scut work, according to B-Team. Curious? You can watch the new digital-only series on ABC, YouTube, or Hulu.
The new six-episode web series consists of cheeky slice-of-life clips about the new interns introduced at the beginning of season 14. It's directed by Sarah Drew, who also plays April Kepner on Grey's, and features the six new interns as well as cameos from characters like Miranda Bailey. Sophia Taylor Ali stars as Dahlia, Jake Borelli as Levi (or "Glasses"), Alex Blue Davis as Casey, Jaicy Elliot as Taryn, Rushi Kota as Vik, and Jeanine Mason as Sam.
The entire web series unfolds on the interns' first day as surgeons, which takes place sometime after the intern mixer in the sixth episode of season 14. It's premised on the idea of a clean-up crew at Sloan Grey. In episode two of the series, Alex sadistically explains to Levi the duties of being on the B-Team: "If it's in a bedpan, you clean it. If it's in a barf bucket, you clean it. If it's blood, you clean it." Yikes, that doesn't sound fun.
So far, Grey's fans are most familiar with Sam, who shares a romantic history with DeLuca, and Levi, who notoriously drops his glasses into an open body cavity during surgery. We've yet to see more of the other interns in the parent series, so the vignettes give us some context to their personalities and quirks. Vik, for example, is suave, confident, and completely clueless about putting patients at ease, while Dahlia is hypercompetent but a little tone-deaf when it comes to navigating the politics between her superiors.
OK, so B-Team is kind of a fluff project. It's nothing like the scope of Private Practice or the firefighter spinoff that Shonda Rhimes has promised us. Ellen Pompeo does not share a deep monologue at the beginning and end of each episode. The web series launch is also a bit of a warning sign. Many years back, Scrubs launched a web series about its final batch of interns around the time that the parent series ended, so this new web series may be the beginning of the end of Grey's Anatomy. There's no definite correlation between Grey's and Scrubs, but we're still paranoid. For now, we'll take what B-Team has to offer — that is, light chuckles and whimsical mini plots that cleanse our palates for the weep-inducing drama that is Grey's.