Who Plays Okoye in Black Panther?
Danai Gurira Is an Ass-Kicking Revelation in Black Panther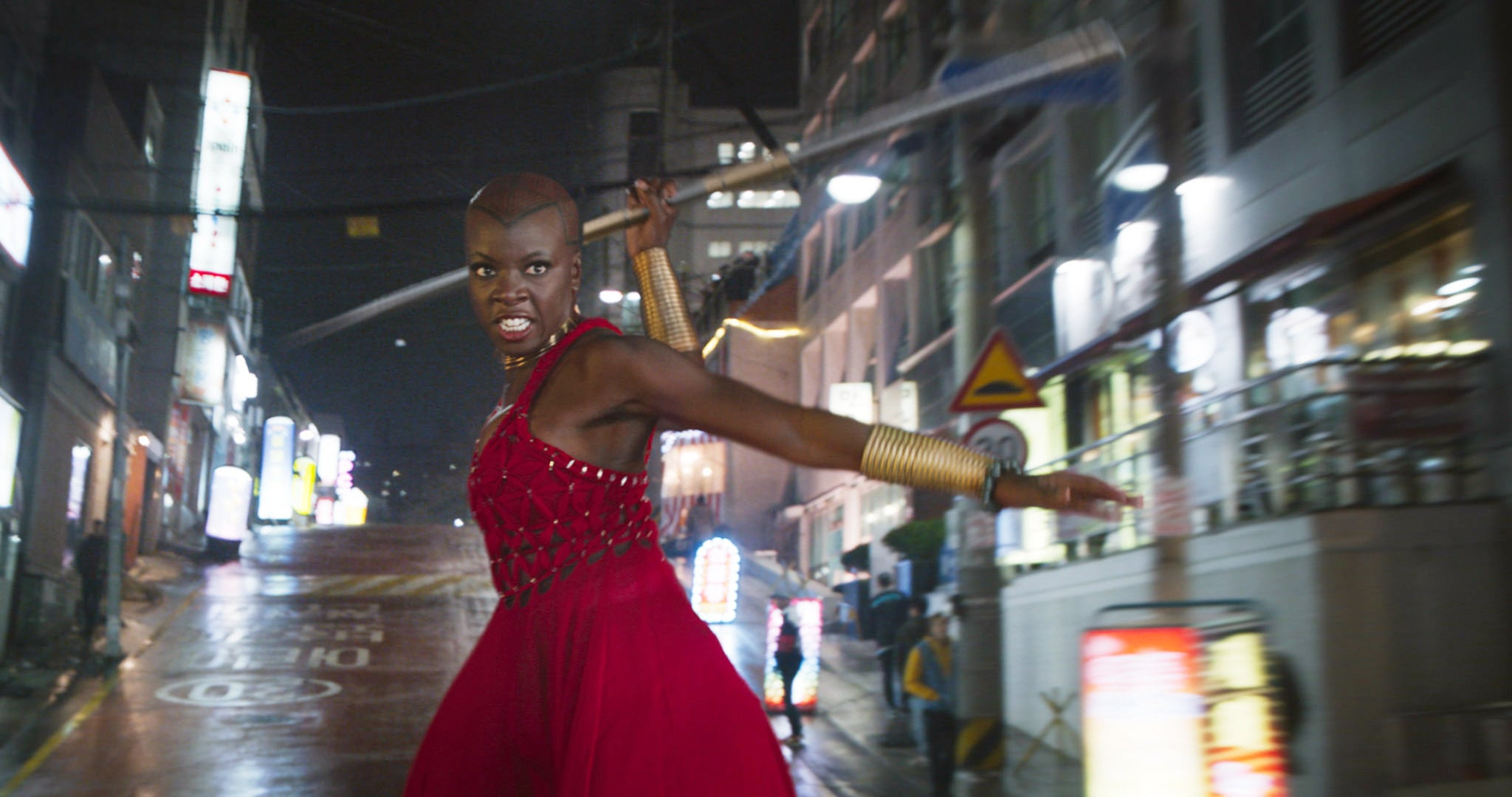 Image Source: Everett Collection
Let's cut to the chase: Danai Gurira is a f*cking badass. If you watch The Walking Dead, you've likely been aware of that fact ever since she first appeared on TV as the machete-wielding Michonne back in 2012. Due to all of her time spent chopping the heads off of zombies, we haven't been able to see her onscreen in much recently other than the 2017 Tupac biopic All Eyez on Me. Fortunately, her latest role as a warrior in Black Panther appears to be changing all that.
The Iowa-born and Zimbabwe-raised actress and playwright plays Okoye, one of the fiercest fighters in all of Wakanda and a close ally of King T'Challa's (aka the Black Panther himself). Getting to watch T'Challa (played by Chadwick Boseman) take on the superhero mantle passed down to him by his father is thrilling, to be sure, but it's even more exciting to see the women he surrounds himself with. For the first time, Marvel has presented us with a number of fully realized, fleshed-out female characters with agency, personalities, and power all of their own. Like costars Lupita Nyong'o and Letitia Wright — who play Nakia and Shuri, respectively — Gurira makes the absolute most out of her character, and it's a true pleasure to watch her work.
Okoye is a general in the Dora Milaje, Wakanda's all-female team of fierce warriors, and she frequently gets to take center stage throughout the film in some truly stunning action sequences. Early on in Black Panther, Okoye joins T'Challa and Nakia on a mission that quickly goes sour. While it later devolves into a high-speed chase between the Black Panther and his nemesis, the elaborate battle begins with a shot that, in all honesty, briefly took my breath away: Okoye sailing through the air in slow motion, razor-sharp vibranium spear at the ready as her red evening gown ripples around her in waves.
It's the kind of iconic moment typically reserved for the male superhero at the heart of the story, and it's not every day that we get to watch a woman (especially a woman of color) kick as much ass as Okoye does. But thanks to Gurira and Black Panther director Ryan Coogler, maybe it will be a more everyday occurrence from now on.

Image Source: Marvel
"I'm an African woman. I try to tell stories that — even as a playwright — give African women perspective they rarely get," Gurira told Global News during a recent interview. "To get to put a character like Okoye up on the big screen, what's better than that? It's very exciting to me to put an African female character on that platform."
A Black Panther sequel is still far off, but luckily we'll get to see Gurira do her thing yet again as Okoye in Avengers: Infinity War when it comes out on May 4.