Why Did Becca Send Jason Home on The Bachelorette?
Becca Breaks Down While Dumping Jason on The Bachelorette: "I Did to Him What Arie Did to Me"
Becca. Girl. Honey. Sister. Becca. How could you send Jason home? Gelled-hair and Zamboni Jason? "Best kisser ever" Jason?!
In Monday night's episode of The Bachelorette, Becca and her remaining trio — Jason, Blake, and Garrett — touched down for a steamy few days in Thailand. Becca's first day and evening (and following morning, heyooo) were spent with Blake, and overall their interaction went surprisingly well, despite a troubling preview of his deep insecurities about the competition. But it was during her second date, which she spent out and about with Jason at a flea market, that things went to sh*t seemingly out of nowhere when Becca halted their afternoon to go speak with producers privately, off to the side.
"I told him about the stonework [on the building], being like, 'We should get this for our house,'" Becca told a producer on the show about why she was freaking out. "But I can't picture that with him." She went on to repeat over and over how "weird" she felt and kept asking, "Why is this happening?" during a picture-perfect day with Jason. "I can't shake the feeling that something isn't right . . . I realized I can't see him in the future," she said.
Still, Becca decided to try to "get things back on track" with dinner later on before their presumed night together in the fantasy suite. Sadly, the same anxiety and frustration overtook her, and she stepped away from Jason once more because she needed "to breathe." When she returned, she gave Jason the harsh truth: she can't see him in her life. The 29-year-old banker remained a class act until the very end, telling Becca that he's "rooting for your happiness, and I hope you find it." Aw.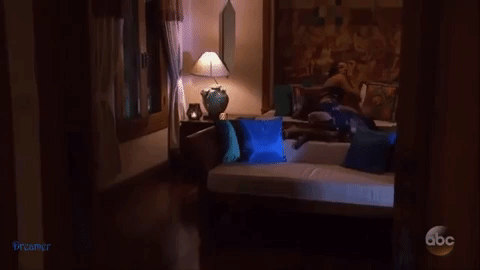 Although in the season preview highlight reel she says the opposite, Becca breaks down after leaving Jason, saying into her microphone that she "literally did to Jason what Arie did to me." There's a whole lot of sobbing going on, and hey — I'd be crying too if I just sent home the best kisser I'd ever met before spending the night with him in the fantasy suite. But I digress.
Luckily for both Becca and Jason, they each got an opportunity for closure when he showed up at her hotel room a few days later. "I don't want you to think that, because the other night it was so abrupt, that it was easy, because it wasn't . . . I felt terrible. Like, I was Arie," Becca told him. "Like, I completely blindsided you, but I couldn't give you that much of a reason other than how I felt. I don't want you to ever question your journey, because what we had was something so special." Jason not only totally forgave her but also gifted her with a large red scrapbook filled with photos of their time together that was most definitely not hastily thrown together by a Bachelorette intern moments before the taping.
As he walked out of the hotel, Becca concluded that he is "one of the best guys" she's ever met, and Twitter agrees. See some of Bachelor Nation's best reactions to Jason and Becca's final moments together ahead.