Every Spine-Tingling Detail We Have on American Horror Story: Cult
The return of American Horror Story is almost here, and hints and details about season seven have flown in earnest. Creator and executive producer Ryan Murphy appeared at the Television Critics Association's Winter press tour in January and gave up some small but important details — including the addition of two returning cast members! But it wasn't until July that he gave us a whole new wave of things to obsess over, including the official Cult title, even more new cast members, and a few terrifying clowns. Here's what we can expect for the next big installment of American Horror Story.
1. The First Hints
In an October 2016 cover story with Entertainment Weekly, Ryan Murphy slyly dropped some information on season seven. The idea apparently just came to him. "It comes to me as it always comes to me," he said. "I sit up in bed and I say 'That's it!' I have been mulling a couple of ideas, and I wasn't loving it. Then I was thinking of this other thing, and I literally sat up in bed and said 'That's it!' Whenever it happens it's such a relief because it's so much pressure."
So what, exactly, is the idea? Much like season six's "show-within-a-show" model, the next installment is "also a narratively strange idea," according to Murphy. He also said, "I've already started to call people saying, 'Put this on your calendar.' It's a good one."
2. The Theme
Murphy confirmed that the seventh season will handle the 2016 election as its main horror story, but will not feature Trump or Clinton as characters. The official title is American Horror Story: Cult, and will reportedly begin the day after the election. The imagery for the season has so far included a lot of clowns and bees, which connect to the ideology of a cult.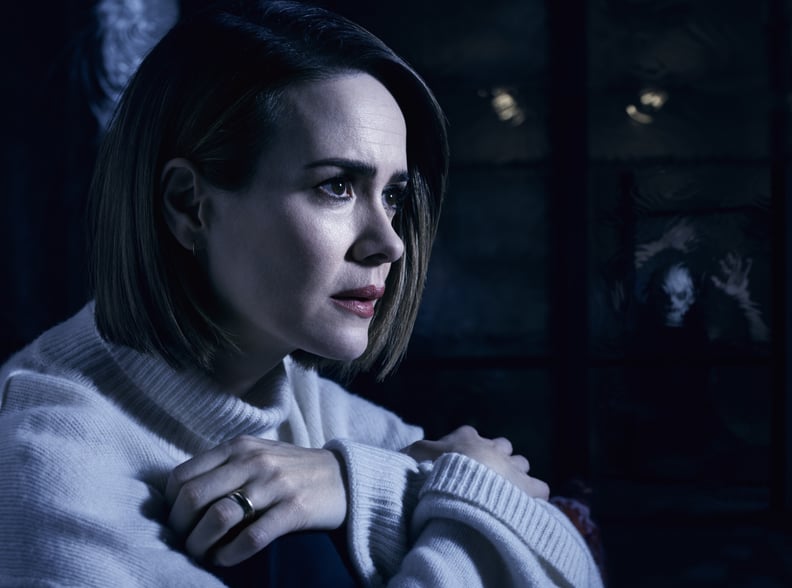 4. The Return of Twisty the Clown
A post shared by Ryan Murphy (@mrrpmurphy) on
John Carroll Lynch's Twisty the Clown is, hands down, one of the scariest creatures to ever come out of American Horror Story. He first appears in Freak Show and later dies after being stabbed by Edward Mordrake. Because Ryan Murphy clearly wants to make sure you never sleep again, he's bringing the character back for season seven. He announced the news with a photo on Instagram, which shows someone holding what looks like a comic about Twisty called Twisty: The Clown Chronicles, writing, "He's Baaaaaack."
5. The Teaser
The full-length trailer gives us a pretty good idea of what to expect, but in true AHS fashion, there have been dozens of other creepy teasers that will seriously give you the heebie-jeebies. We're seeing lots of clowns, too much cult-like worshiping, and a lot of tiny holes.
6. The Poster(s)
The first poster that was released gives us a pretty solid idea of what to expect and hints heavily at what is known as a hive mind. Just like the teasers, we've got a bunch of other unsettling posters as well.
7. The Other Clues
Any diehard AHS fan knows Murphy loves to weave tiny clues into the current season, and if you look at Roanoke, there's plenty of good fodder for what might work its way into next season. Roanoke left us with a mysteriously loose end about Lee's first daughter, Emily. We also have a theory that the next season could be about a shipwreck.
Oh, and just because AHS is supposedly tackling the election, it doesn't mean the aforementioned variables won't come in to play. After all, Murphy is famous for cramming multiple stories into a single season. Asylum may be the most prominent example of this: it handled demonic possession, aliens, serial killers (yes, more than one!), Anne Frank, and even weird, unseen monsters in the woods. And that was just one season.
All things considered, I'm tempted to say we won't see a shipwreck or Lee's lost daughter in the upcoming season. Both would be pretty wild/cool connections, but I'm not 100 percent sure they fit with everything else that's going on. But hey, this is Ryan Murphy. You never know for sure, right?
8. The Premiere Date
The first five seasons of the show had October premieres; Roanoke was the first season to be moved up to September. Cult seems to be following the new tradition and premiering on Sept. 5.