And Just Like That: What Happened to Mr. Big?
It's Time to Discuss That Shocking Mr. Big Twist in the And Just Like That... Premiere
Watch out! This post contains spoilers.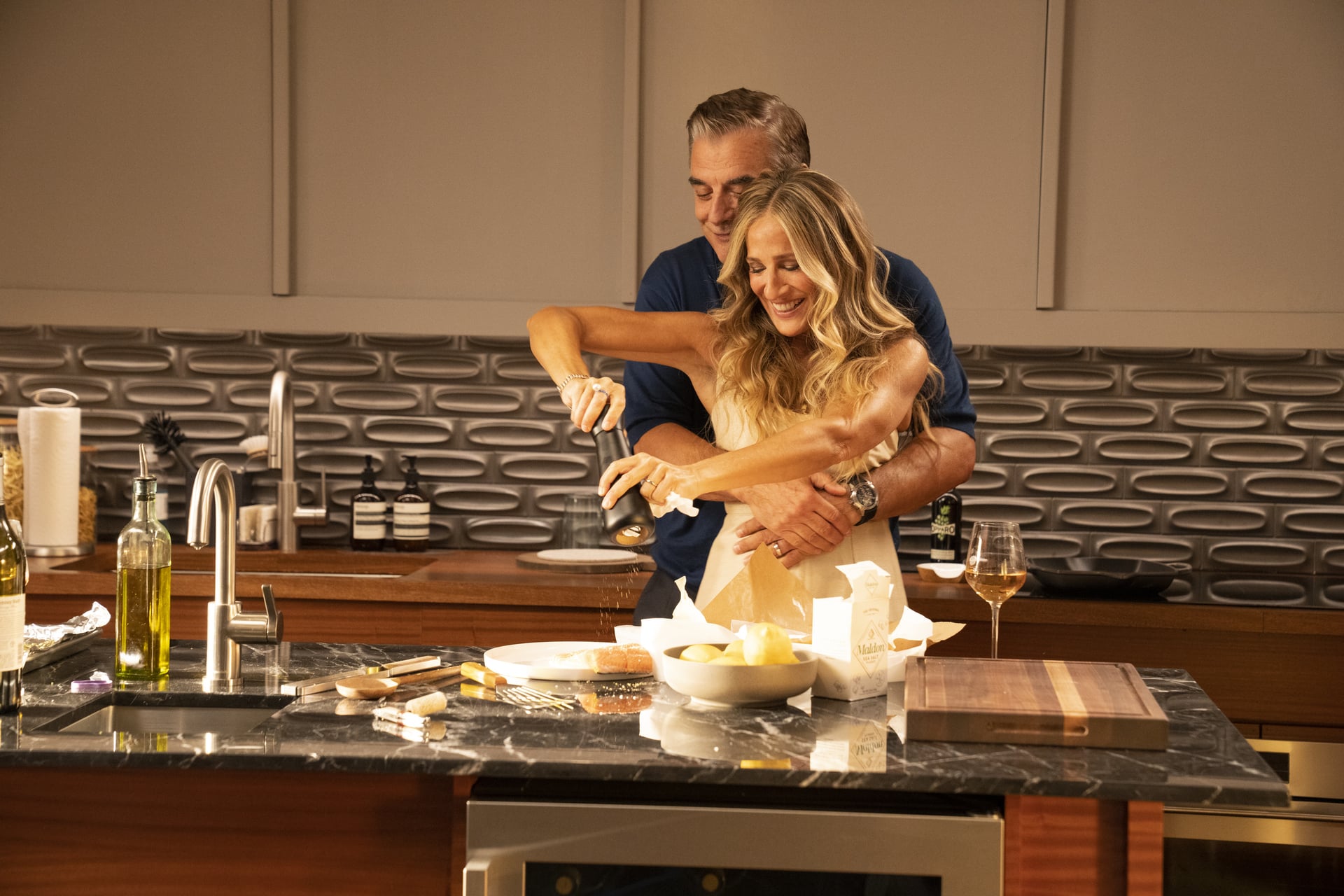 Image Source: Craig Blankenhorn / HBO Max
At long last, the Sex and the City reboot And Just Like That…is finally here! Created by Darren Star and based on the eponymous novel by Candace Bushnell, Sex and the City — the series had an incredibly successful six-season-long run from 1998 to 2004. The storylines were further revisited in two spinoff movies in 2008 and 2010. Now, the 10-part HBO Max revival follows Carrie (Sarah Jessica Parker), Miranda (Cynthia Nixon), and Charlotte (Kristin Davis) — yes, Samantha (Kim Cattrall) is noticeably absent — who are now navigating their personal and professional lives in their 50s. But amidst the frenzy of the much-anticipated return, one question needs to be addressed: what happens to Mr. Big in the revival?
Played by Chris Noth, John James Preston — lovingly dubbed Mr. Big by Carrie — has been Carrie's main love interest throughout the show's run. The two tie the knot in Sex and the City The Movie. However, they undergo their fair share of ups and downs in their marital life, as we witness in Sex and the City 2. Despite a turbulent snag in the form of Carrie kissing her ex-fiancé Aidan, Carrie and Mr. Big work out their differences by the end of the movie to live happily ever after. So, are Carrie and Mr. Big destined to make it through the revival as well? Let's find out.
What Happened to Mr. Big in the And Just Like That... Premiere?
The premiere episode of And Just Like That… sees Carrie and Mr. Big more in love, steadier, and stronger than ever as they rediscover each other's hobbies and quirks amid the COVID-19 pandemic lockdown. Carrie takes up an interest in cooking with Mr. Big, and he tells her all about the records that he loves while they dance away in the kitchen like teenagers at prom, clearly still as smitten with each other as ever. The two have overcome all of their issues and have settled into a blissful marital life. Unfortunately, however, their "happily ever after" is cut short.
After the premiere lulls the viewers into a false sense of calm, it pulls the rug out from under us in the episode's final moments. To attend Charlotte's daughter Lily's piano recital concert at the prestigious Manhattan School of Music, Carrie and Big postpone their drive up to the Hamptons by two days. Ever the homebody, Mr. Big decides to skip the show, as he has his 1000th Peleton bike ride that evening. When he comes off the intensive workout routine, he heads to the shower to freshen up. It's then that he feels a sudden ache in his left arm, dropping his phone on the floor while he sinks as well.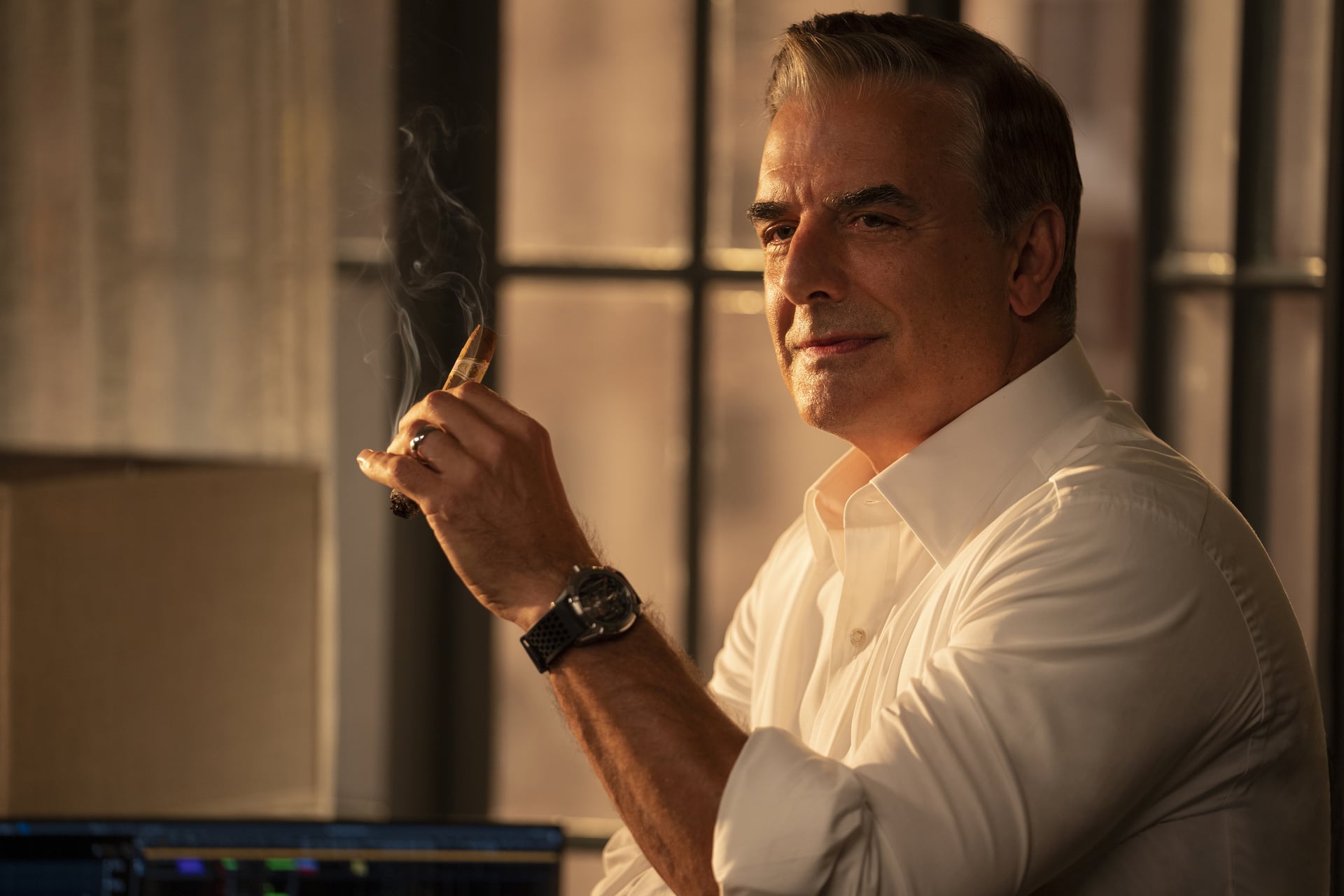 Image Source: Craig Blankenhorn / HBO Max
When Carrie makes it back home after the recital, she finds Mr. Big sitting in the shower with his back against the wall. As Carrie runs to him and takes him in her arms despondently, "And just like that," Carrie says in the voiceover, indicating that she might be retelling her life's story to someone (maybe on her new podcast), "Big died," as the credits roll.

How Did Mr. Big Die in And Just Like That...?
In season six of Sex and the City, it is revealed Big has a cardiac condition. At one point in the And Just Like That... premiere, Carrie jokingly refers to Big reaching for an emergency nitroglycerin pill. Unfortunately, while his regular cardio exercises on the Peleton were a prevention method, he still suffered a heart attack, as is revealed in episode two. And just like that, we lost one of the most prominent characters in the show besides Carrie, Miranda, Charlotte, and Samantha.

Chris Noth's Quotes About Mr. Big's Role in And Just Like That...
In a recent interview with the Guardian, Noth revealed that he wasn't necessarily keen to reprise his role for the reboot. But, eventually, he was able to work with the writer and director, Michael Patrick King, to land on a satisfying returning arc for Big, which convinced him to come on board for the revival. "It was a long conversation, it continued through the pandemic, and he took in a lot of my ideas, and we came up with a way for me to work into it," he said.
While Noth has yet to comment on Big's death, this statement suggests Big's storyline was well thought out before its execution. Maybe this storyline will help propel Carrie and her friends' stories forward over the next eight episodes of the series. Nevertheless, we're going to need way more than five to seven business days to come to terms with it fully!
Image Source: Craig Blankenhorn / HBO Max