Barchie Fans, It's Your Time — Betty and Archie Shared a Passionate Kiss on Riverdale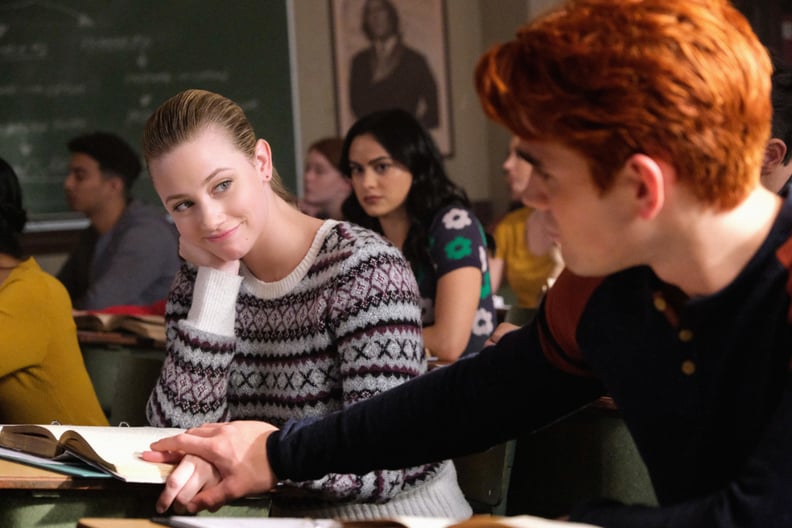 Well, folks, it happened. Betty and Archie shared a passionate smooch on Riverdale's April 15 musical episode. And I, a Bughead stan, am now required to tell you about it.
In the latest chapter — which came over a month after a jam-packed installment in which Betty and Jughead took down the Stonewall preppies — we see how Betty and Archie end up getting nice and cozy. Everything starts just fine between the investigative couple Betty and Jughead and the business-owning duo Archie and Veronica. But their relationships take a turn for the worse when they get into arguments. While Veronica is ticked off that Archie didn't tell her about Hiram's poor handling of his deteriorating health, Betty is annoyed that Jughead isn't taking his schoolwork as seriously as he should so that they can graduate together. Yes, there's trouble in paradise.
After a couple of screaming matches, Betty shows up to rehearse with Archie, who was planning to perform at the school's variety show. Oh, and he was going to sing alongside Betty, Jughead, and Veronica as the band The Archies (a nod to the comics). Obviously, their tiffs put a wrench in that early on, and when Betty comes to practice, she and Archie confide in each other. And since the episode's theme is Hedwig and the Angry Inch, they break out in a rendition of "The Origin of Love." A montage of their fondest memories plays and before you know it, all of that pent-up teen lust — I mean, chemistry — draws them together for a long kiss.
But things get even more awkward because after they plant one on each other, they both get apologies from Jughead and Veronica. The quartet goes on to perform "Midnight Radio" to end the episode, but Betty and Archie are conflicted about their romances. We can only imagine what sort of drama will unfold when Jughead and Veronica find out about Barchie's intimate jam session.
Earlier in the season, Betty and Archie had a fake canoodle in an attempt to trick the Stonewall kids, but there was clearly something between them. Now, we've finally seen them express their very real feelings for each other — and it looks like things are going to heat up next week. In a sneak peek, Betty and Archie are lying down together and Betty says, "Archie, why are we here?" to which Archie replies, "I don't know, but it's nice, right?" The storyline certainly isn't finished, so enjoy this while it lasts, Barchie devotees. Ahead, watch the kiss and see how #BarchieRising is taking over the Riverdale Twitter-sphere.
Betty and Archie Kiss on Riverdale's Hedwig Musical Episode
Reactions to Betty and Archie Kissing on Riverdale's Hedwig Musical Episode