Blackpink's "Shut Down" Music Video and Lyrics in English
Blackpink Have a Message For Their Haters in Their "Shut Down" Music Video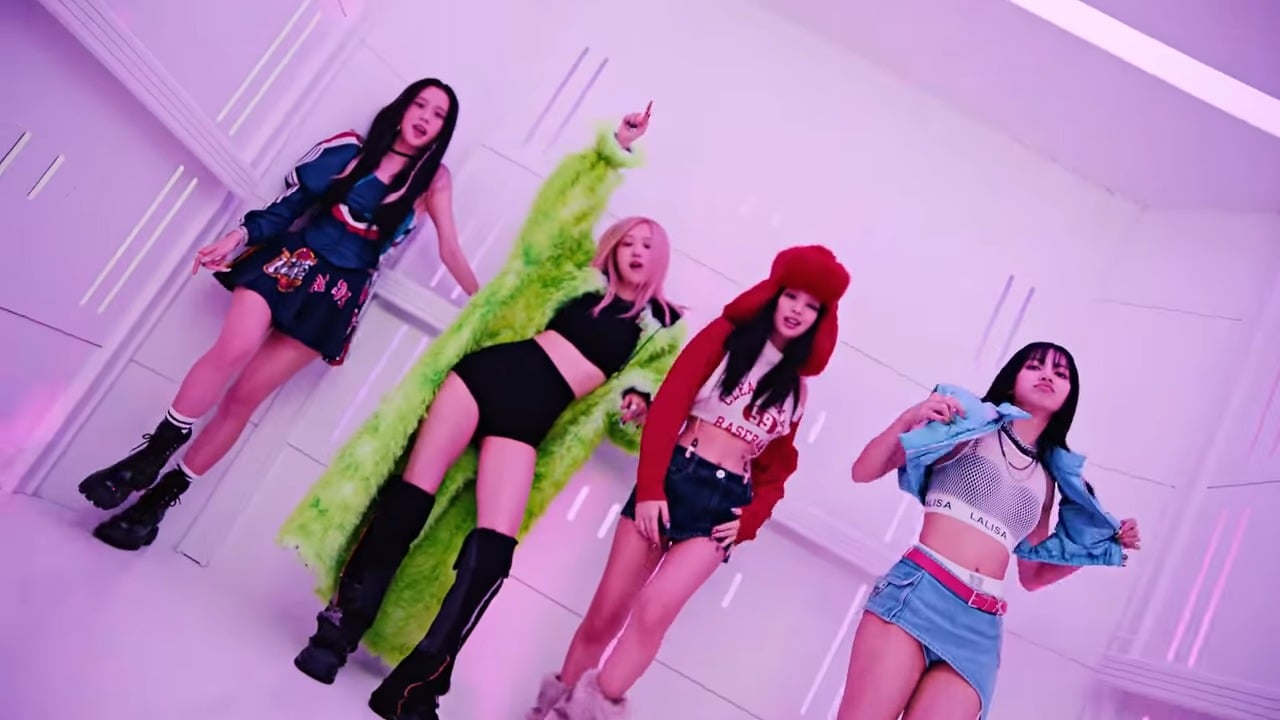 Step aside, haters, Blackpink have arrived to shut you down! "Shut Down," the lead single off their second full-length album, "Born Pink," is finally here, and Jennie, Lisa, Rosé, and Jisoo have no time for anyone who's praying for their downfall.
While Blackpink's last group release was their 2020 album "The Album," the girls reject the idea that their latest record is a "comeback," because they never left. Throughout the midtempo track, the girls deliver various warnings to haters that trying to drag them down is a waste of time. At one point, Jennie raps, "You don't wanna be on my bad side, that's right I'm slidin' through."
"Shut Down" is the follow-up to the girls' buzzy single "Pink Venom," which they performed live for the first time at the MTV Video Music Awards on Aug. 28. The girls took home the award for best meta performance as a group that night, while Lisa won best K-pop for her solo single "Lalisa."
Watch "Shut Down"'s flashy and fun music video below, then read the song's lyrics in English, according to the video's subtitles, to get the full message behind the track.
Blackpink's "Shut Down" Lyrics in English
INTRO
Blackpink in your area
Blackpink in your area
VERSE 1 (Jennie)
It's not a comeback since we've never left
Heads turning, careful you'll strain your neck
Pink ice drip drip drip freeze 'em on sight
Shut it down what what what what
(Lisa)
It's not a game since we've never lost
The leash on your neck is mine
Flooring the gas pedal we go two zero five
Shut it down uh uh uh uh
PRECHORUS (Jisoo)
Make it rain, don't trip, baby
Be humble, just sit, baby
(Rosé)
Praying for my downfall, many have tried, baby
Catch me when you hear my Lamborghini go vroom, vroom, vroom, vroom
CHORUS (Jennie)
When we pull up you know it's a shutdown
Pull down the shutter lock the door, shut down
Whip it whip it whip it whip it
Whip it whip it whip it whip it
(Rosé)
It's black and it's pink once the sun down
When we pull up you know it's a shutdown
Pull down the shutter lock the door, shut down
Whip it whip it whip it whip it
Whip it whip it whip it whip it
Keep watching me shut it down
VERSE 2 (Jennie)
You don't wanna be on my bad side that's right I'm slidin' through
Bunch of wannabes that wanna be me, me three if I was you
Been around the world, pearls on ya girl, VVS's we invested uh
Need a lesson see the necklace, see these dresses
We don't buy it we request it uh
(Lisa)
A rockstar, a popstar but rowdier
Say bye to the paparazzi, get my good side, I'll smile for ya
Know it ain't fair to ya, it's scarin' ya like what now
Blackpink in your area, the area been shut down. It's a shutdown
PRECHORUS (Jisoo)
You're looking at your next answer key, don't sleep baby
Flip it over it's the price tag, ain't cheap baby
(Lisa)
Stay in your own lane 'cause I'm 'bout to swerve
Catch me when you hear my Lamborghini go vroom, vroom, vroom, vroom
CHORUS (Lisa)
When we pull up you know it's a shutdown
Pull down the shutter lock the door, shut down
Whip it whip it whip it whip it
Whip it whip it whip it whip it
It's black and it's pink once the sun down
(Jisoo)
When we pull up you know it's a shutdown
Pull down the shutter lock the door, shut down
Whip it whip it whip it whip it
Whip it whip it whip it whip it
Keep watching me shut it down
OUTRO (ALL)
Shut it down Blackpink in your area
Shut it down woah woah woah woah
Shut it down Blackpink in your area
Keep talking we shut you down
Image Source: YouTube user BLACKPINK