Grey's Anatomy: Meredith Grey Last Episode
How "Grey's Anatomy" Says Goodbye to Ellen Pompeo's Meredith Grey
Watch out! This post contains spoilers.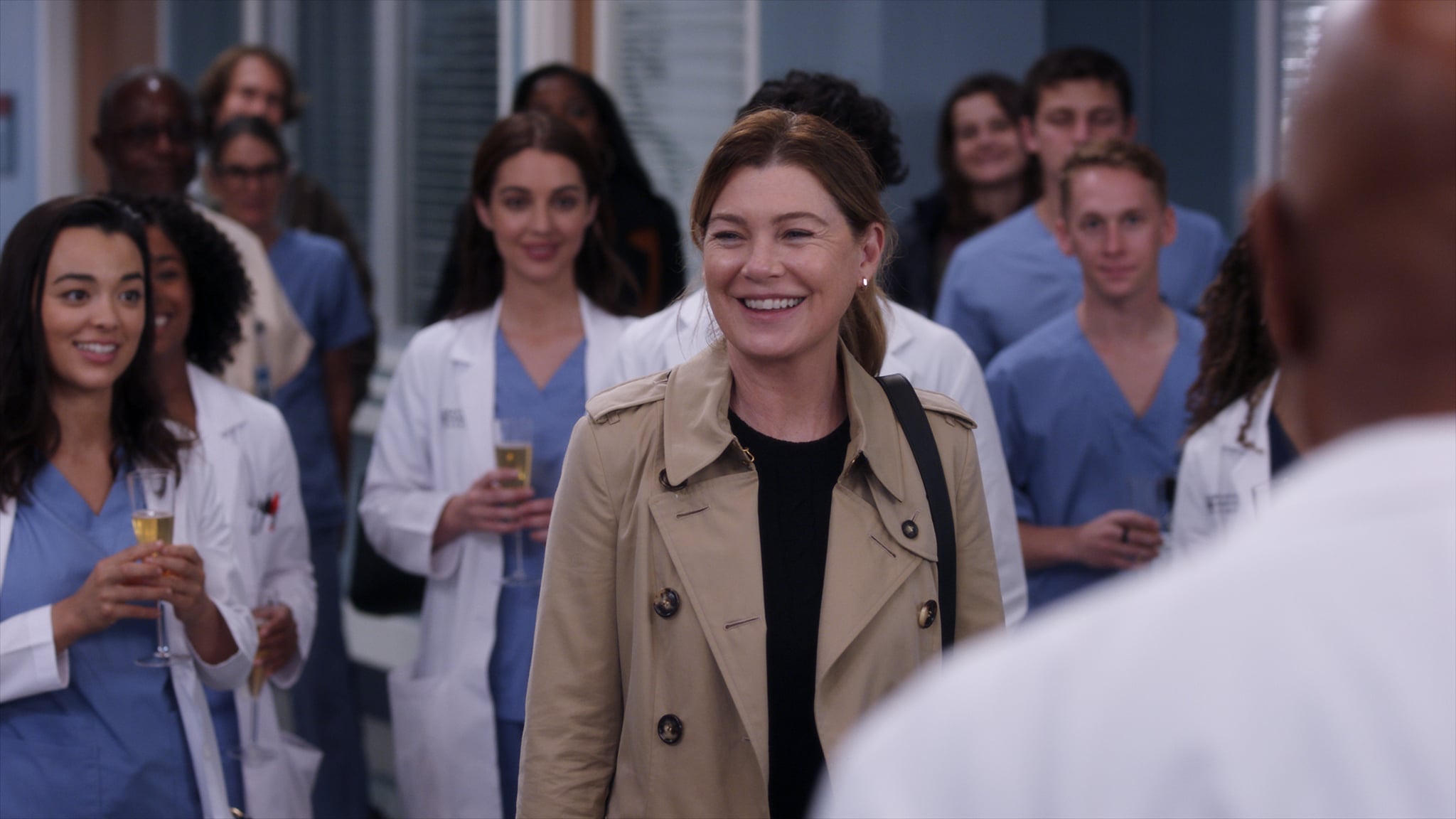 Image Source: ABC
It's officially the end of an era. Meredith Grey exited the doors of Grey Sloan Memorial Hospital for the last time as a series regular in the Feb. 23 episode of "Grey's Anatomy." Ellen Pompeo, who's played the beloved doctor since the medical drama started airing in 2005, previously announced in 2022 that she would be scaling back her role in season 19 of "Grey's Anatomy." It was later confirmed that, while she'll still be narrating every episode and continuing as an executive producer, Meredith will no longer appear in the show beyond the winter premiere and maybe, hopefully, guest spots.
Ahead of Pompeo's last appearance on the show, "Good Morning America" treated fans to a sneak peek at her final episode hours before its premiere. In the short clip, Meredith and her three children walk through the hospital, and she instructs the younger two, Derek and Ellis, to visit their daycare teachers with gifts. "Do you remember where you're going?" Meredith asks her little ones. "Mom, I'm not a baby," Derek responds. "Same, Mom," Ellis adds in the clip.
.@GMA EXCLUSIVE: Get a first look at Meredith Grey's farewell to Seattle as Ellen Pompeo leaves #GreysAnatomy. ❤️@greysabchttps://t.co/ZdBJcd2LB1 pic.twitter.com/05dmCHbmn3

— Good Morning America (@GMA) February 23, 2023
So how did "Grey's Anatomy" give Meredith the grand send-off she deserves? Read ahead for more.
How Did Meredith Say Goodbye in "Grey's Anatomy"?
Much of Meredith's final episode revolves around the tension in her and Nick's rocky relationship as she's still hurt that he didn't say "I love you" back to her earlier in the season. Meanwhile, Nick expresses that he's having a hard time processing Meredith's move. "I hate this day," he says after her last surgery, on Tessa, an author who has a pseudoaneurysm and dies on the table. "I hate everything about this day."
Meredith then tells him, "I want you in my life if you want to be in my life. But if I have to choose, I'm going to pick me. I pick my kids, and I pick what's best for us, and I'm not going to beg you to love me."
Toward the end of the episode, the hospital's staff throws a surprise goodbye party for Meredith, which includes a tearful toast from Bailey and Richard. "Once upon a time you were the bane of my existence," Bailey says. "But no, you grew up to become one of my greatest points of pride." Richard adds, "This place won't be the same without you."
Nick is notably absent from the party, but in true dramatic TV fashion, he realizes his mistake and races to the airport to catch Meredith before she leaves town. Once he figures out he won't make it in time, he calls her instead to finally tell her he loves her. However, Meredith says she can't hear him and promises to call again when she gets settled in Boston.
Before her death, Tessa, who was worried about not being able to finish her last book, smartly saved her final draft on a thumb drive and brought it to the hospital with her — which Meredith ends up taking with her to give to Tessa's publisher in Boston. In the episode's last scene, she's heard reciting a passage from the book to her kids as her plane takes her to her new life. "The end of my story is not any kind of ever after, because I'm still alive," Meredith reads. "I'm still here, and the sun still rises on my life."
According to Deadline, this marks the last time viewers will see Meredith until "Grey's Anatomy"'s season 19 finale.
What Has Ellen Pompeo Said About Her "Grey's Anatomy" Exit?
While for some, it's felt like a long goodbye to Meredith, Pompeo has been planting the seeds of a departure for some time. She penned a heartfelt goodbye to Dr. Grey last year, writing on Instagram, "I am eternally grateful and humbled by the love and support you have all shown me, Meredith GREY and the show for 19 seasons! Through it all . . . none of it . . . would have been possible without the best fans in the world. You all are RIDERS and you all have made the ride so fun and ICONIC!! I love you madly and appreciate you right back."
Next, Pompeo is set to star in a forthcoming Hulu show. Though a title is still not known, the true story–inspired eight-episode series centers on a Midwestern family who adopt who they think is an 8-year-old girl with a rare form of dwarfism. However, they soon question her real identity, throwing their own relationships into turmoil as they discover that she may not be exactly who she says she is.
Though Pompeo's Meredith is leaving "Grey's Anatomy," she'll never leave fans' hearts, nor will her impact ever be forgotten.
New episodes of "Grey's Anatomy" premiere every Thursday at 9 p.m. ET on ABC.