12 Times the Friends Cast Has Reunited Since the Show Ended
February 2013: Courteney Cox Guest Stars on Go On With Matthew Perry
For an episode of his comedy Go On in 2013, Perry reunited with his Friends flame Courteney Cox. While their onscreen date couldn't have gone worse, their behind-the-scenes reunion was much sweeter.
May 2013: Friends Reunion Skit on Ellen
As part of a skit for Jennifer Aniston's appearance on Ellen, she filmed a "surprise" reunion with Perry, Cox, and Lisa Kudrow, featuring Cox and Kudrow (and a surprise guest) trying to "sneak" out of Perry's house after a rendezvous.
August 2014: The Friends Ladies Appear on Jimmy Kimmel Live
During a 2014 episode of Jimmy Kimmel Live, Kimmel got Cox, Kudrow, and Aniston to participate in an impromptu "episode" of Friends, featuring a hilariously accurate replica set and a hilariously terrible fake script by Kimmel himself.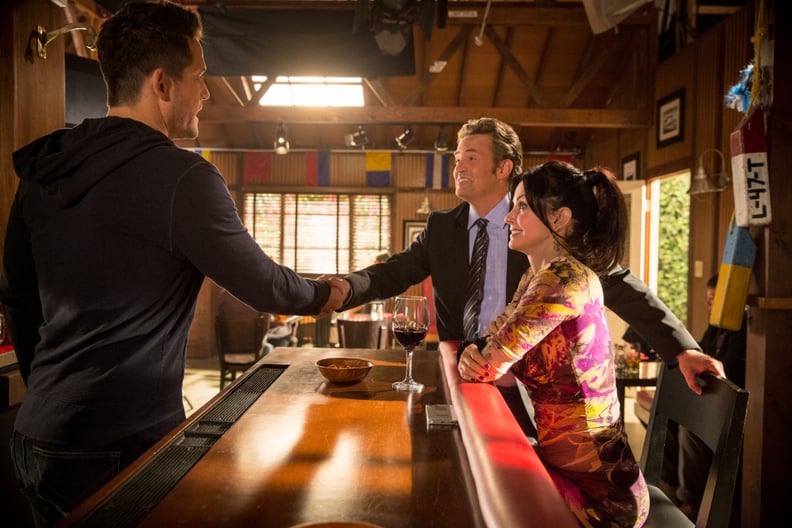 2009-2015: Several Friends Stars Appear on Cougar Town
Over the course of Cox's sitcom Cougar Town, she managed to bring back not one, but three of her former costars. Kudrow appeared first, as Dr. Amy Evans, a dermatologist who dates Jules's (Cox's) ex. The next season, Aniston popped up as Glenn, Jules's therapist. Finally, Perry came on board to play Sam, a brief love interest for Jules.
2015: David Schwimmer Guest Stars on Episodes
Matt LeBlanc's showbiz meta-comedy Episodes included plenty of nods to his time on Friends, but it really escalated during a fourth season episode, in which Schwimmer appeared to play a fictionalized version of himself.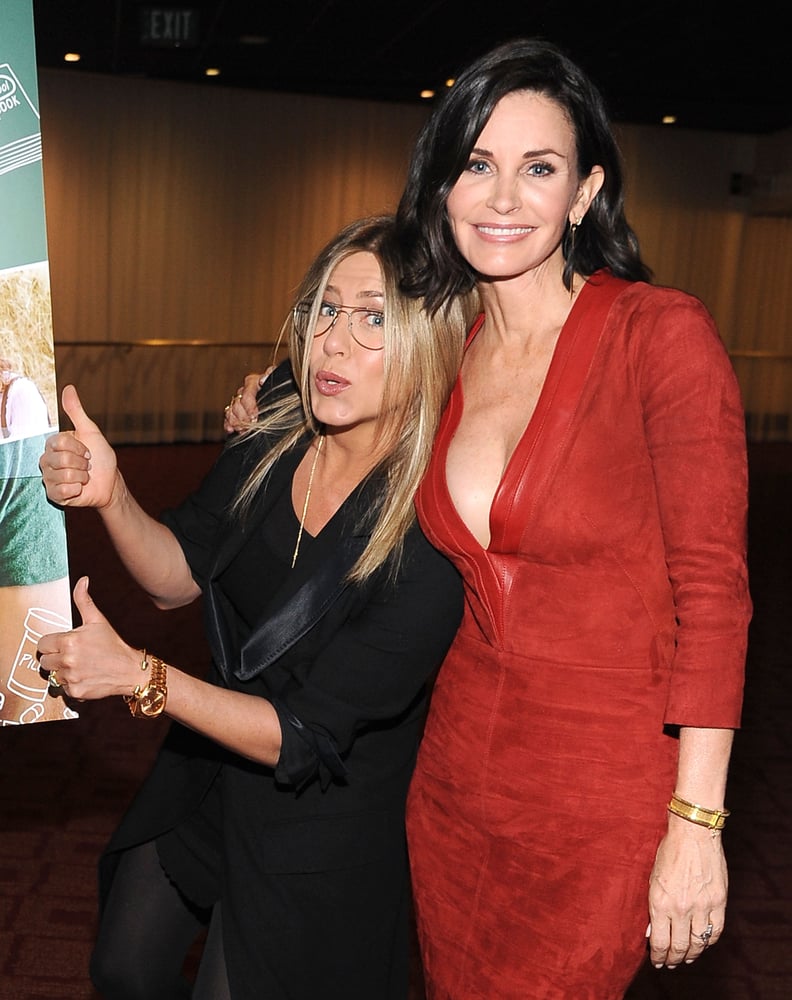 April 2015: Jennifer Aniston Supports Courteney Cox at the Just Before I Go Premiere
Cox made her feature directorial debut with this 2015 film, and her pal Aniston was right there to support her at the premiere!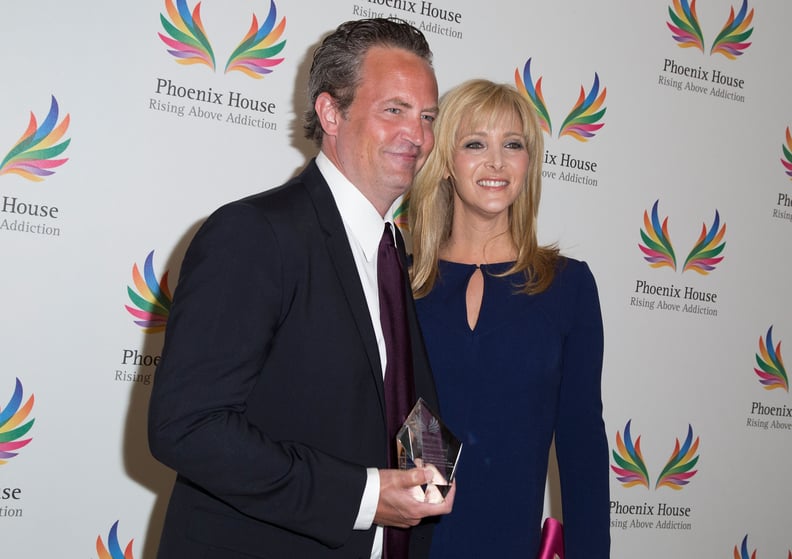 June 2015: Matthew Perry and Lisa Kudrow Appear at a Phoenix House Event
Kudrow presented Perry with the 2015 Phoenix Rising Award, honoring his work with the organization, which works with young people to overcome addiction.
February 2016: The Cast Reunites For NBC's All Star Tribute to James Burrows
For this 2016 special honoring Burrows — a legendary TV director who worked on Friends, among many others — the entire cast had a rare reunion (minus Perry, who was in London working on a play at the time).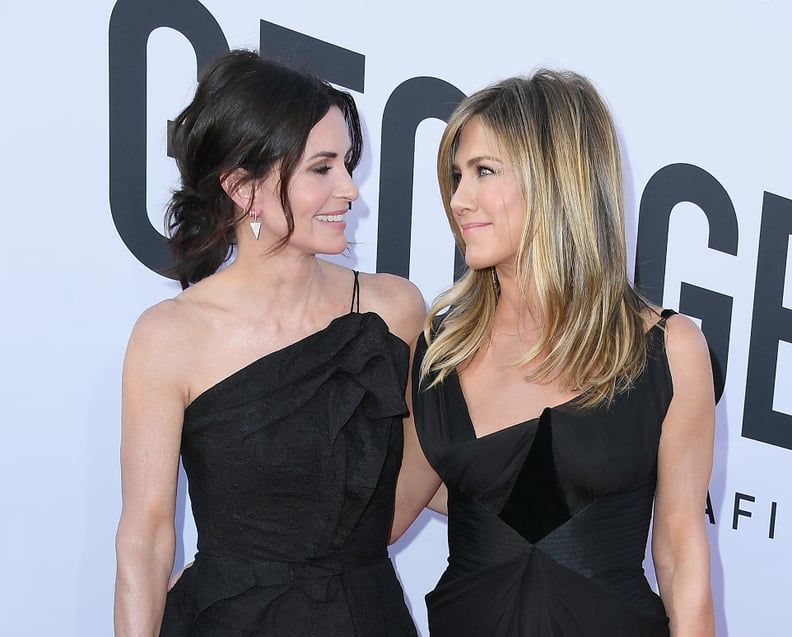 June 2018: Courteney Cox and Jennifer Aniston Pose at the AFI's Tribute to George Clooney
The real-life BFFs were each other's dates to the American Film Institute's 2018 Lifetime Achievement tribute to George Clooney.
October 2019: Jennifer Aniston Breaks Instagram With a Reunion Pic
Aniston finally joined Instagram in October 2019, and she literally broke Instagram with her first picture: this sweet and grainy selfie of the full Friends group!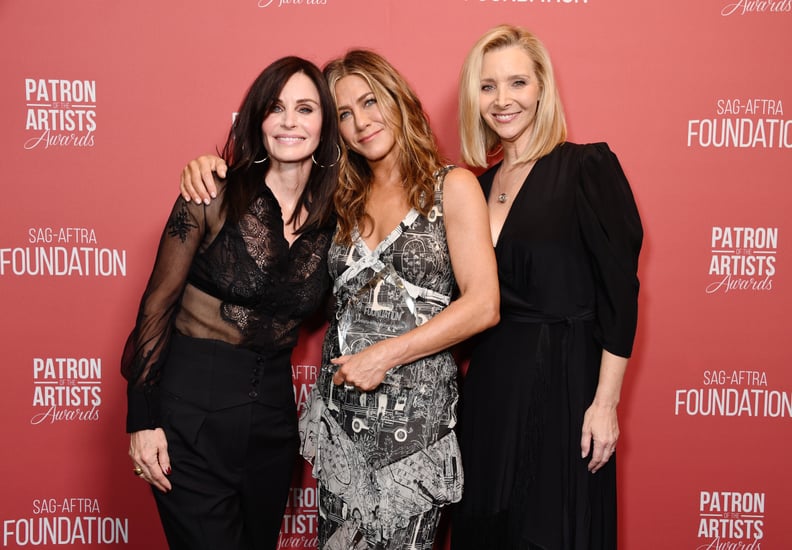 November 2019: Courteney Cox, Jennifer Aniston, and Lisa Kudrow Pose at a SAG-AFTRA Event
The trio of Friends ladies all attended the SAG-AFTRA Foundation's 4th Annual Patron of the Artists event in late 2019, where Aniston was receiving the Artists Inspiration Award.
January 2020: Girls' Night Out
Aniston shared this cute girls' night picture with Cox and Kudrow, proving that Friends really are forever!