Gabby Windey and Rachel Recchia Both Named Bachelorettes
We May Lose It If "Bachelorette'"s Gabby and Rachel Have to Compete For the Same Men
Watch out! This post contains spoilers.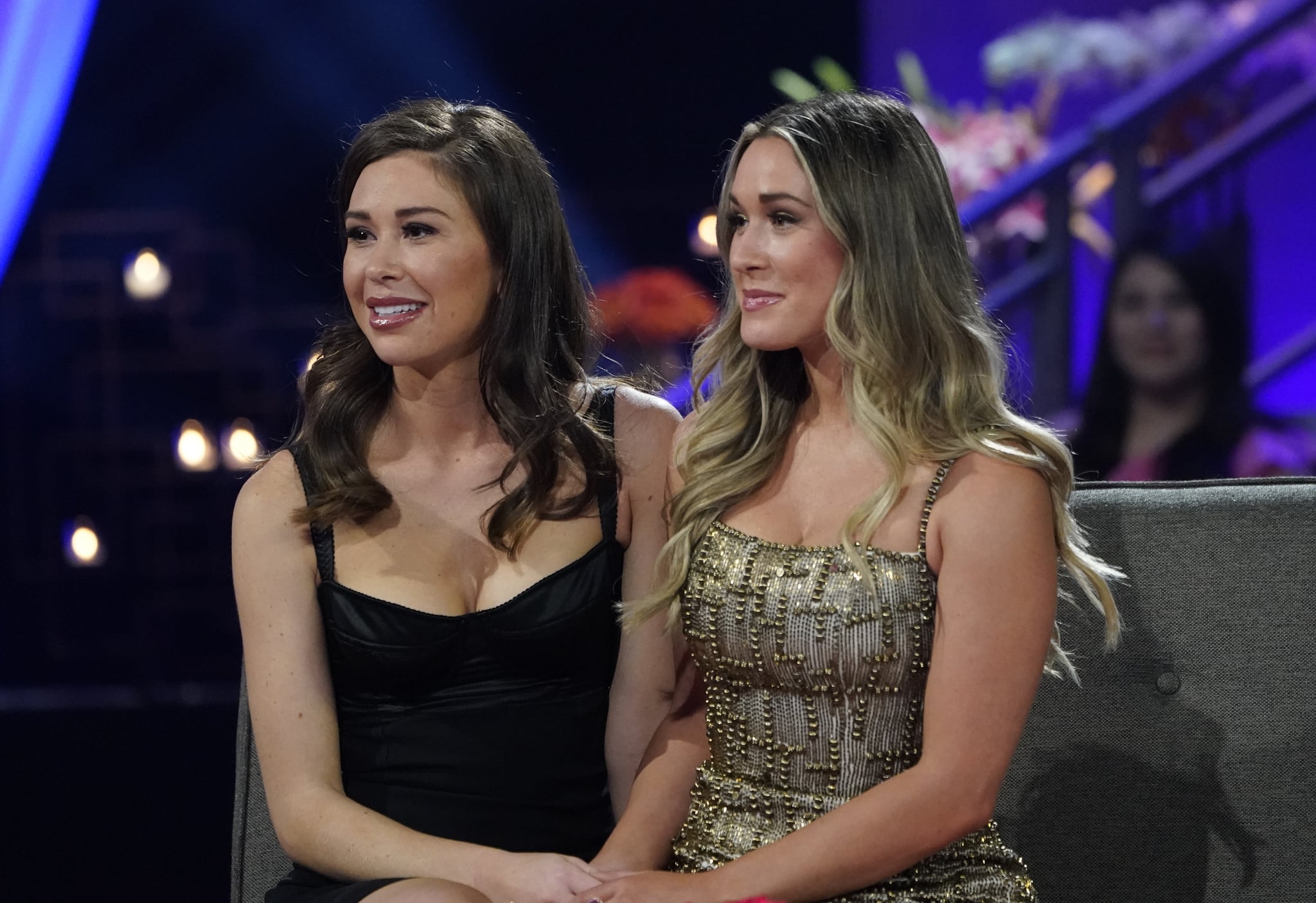 Image Source: ABC / Craig Sjodin
Every year, ABC teases the "most dramatic finale in 'Bachelor' history," and this year, it actually measured up to the hype. Clayton Echard's season ended in a roller coaster that left top two contestants Gabby Windey and Rachel Recchia devastated. In case you missed it, Echard told Susie Evans, who was in the top three, that he'd slept with both Windey and Recchia during their Fantasy Suite dates, and she she sent herself home as a result. During part one of the finale, the former football player told his top two that he was in love with both of them, had slept with both of them, and had been in love with Evans.
Behind the scenes, Windey told cameras, "Wrong f*cking answer" and decided she didn't want to continue on with the journey. Follow me on this ride, all right? Windey ended up deciding to give Echard another chance, as did Recchia. They went on to meet "The Bachelor" lead's parents, who were equally dumbfounded as to why he'd made the moves he did. They also questioned how he could be in love with three women at once. In the end, he broke Windey and Recchia's hearts and went after Evans, who declined his proposal. He officially became the first lead in the dating show to leave with nobody. But plot twist: during the "After the Final Rose" special, Evans revealed that she wound up giving him another chance and that they're now dating. Whew — not much to say there.
Windey and Recchia rose above the drama and lifted each other up during the season's final days — and during "After the Final Rose," "Bachelor" host Jesse Palmer announced that they would both be the leads of "The Bachelorette" in a joint season.
"I'm so happy for her, I truly am. It's crazy; this is insane. I'm excited to do this journey with you. We did it once together, and we've been through the most crazy experience together," Recchia said on Tuesday night. Windey said, "I'm a girl's girl through and through, so having a friend by my side — there's nothing I could ask more."
Both women were understandably upset throughout the finale because they felt that Echard had betrayed their trust and also forced them to compete against one another. But how does having them on the same season of "The Bachelorette" help overcome those feelings? Windey and Recchia asked Palmer exactly how a joint season would work, and he admitted he had no idea.
There are a lot of questions regarding the logistics of having two leads, but all I know is that they deserve to have 30 guys each rather than be put in a situation where they're fighting for the same men or having men compare them. This marks the third time "The Bachelorette" has had two women share the same contestants, and it didn't work any of the previous times. Fans might remember Kaitlyn Bristowe's season in 2015, which kicked off with the men deciding whether they wanted to see her or Britt Nilsson as the lead. Clare Crawley abruptly ended her season in 2020 after deciding that she only wanted to pursue a relationship with her now-ex, Dale Moss. Tayshia Adams became Bachelorette in Crawley's stead, but instead of getting a new group of guys, the producers had Crawley's remaining men stick around and added a few new ones. That switch didn't go over well with those who were only interested in Crawley.
Windey and Recchia deserve the highest-quality men after Echard. If 60 men total — or 15 men per woman — don't show up to the mansion, the upcoming season will be a miserable watch. "I love Gabby and Rachel but there's no way this doesn't pit these two against each other. Every guy is gonna be asked the same question 'who do you like more!'" Barstool's Francesca Mariano tweeted. "Bachelor" creator and producer Mike Fleiss responded, "Not true! You'll see…"
Not true! You'll see… #TheBachelorette https://t.co/OfSGEtRUSX

— Mike Fleiss (@fleissmeister) March 16, 2022
Soon after, "The Bachelorette" shared cast photos of 35 contestants on Facebook. "We are giving you an early look at the men who may be on this season of 'The Bachelorette'!" the post said. It's unclear whether these are all the contestants Windey and Recchia will have, or whether more will be announced at a later date. I'm still very skeptical, as no additional details have been shared. Please, producers: no funny business.
Windey and Recchia's season of "The Bachelorette" premieres on July 11.