10 Things You Missed at Harry Styles's Fine Line Show at The Forum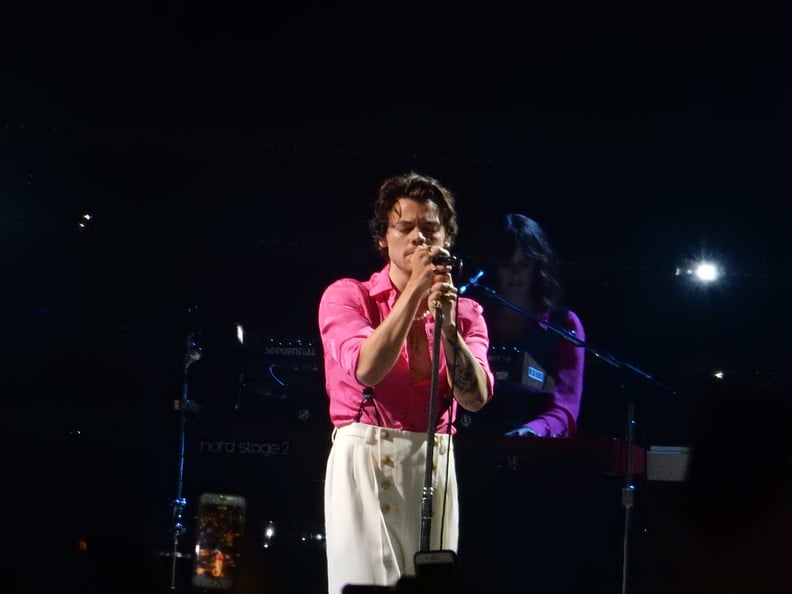 Hedy Phillips
Hedy Phillips
Whew. That's all I've got to say about Harry Styles's Fine Line show at The Forum in Los Angeles. When the British singer announced that he'd drop his second album, Fine Line, on Dec. 13 and perform the whole thing live on stage that very same day, I, to put it mildly, lost my sh*t. When I say I cried over a plate of tacos, I'm not exaggerating. And at that point I hadn't even heard the music, but I know how Styles operates and I know what his live shows are like, so I knew this was going to be one very special night.
Special is an understatement. Styles performed in the beautiful pink and white outfit from his album cover and wowed the crowd with every single one of his new songs. But he didn't stop there. Not only did he include a few of his older hits, like "Sign of the Times" and "Kiwi," he also welcomed a very special guest to the stage. For all that and the other incredible moments you might have missed during this once-in-a-lifetime show, keep reading.
01
He Performed the Whole Album From Front to Back
It's rare to hear a musician perform an entire album from beginning to end. What's so special about it is that albums are laid out in a specific order for a reason — to tell a story. That doesn't always work for a live show, though, so there's naturally some shuffling and skipping. But when you get to hear that story how the artist wants it told? Magic.
02
Stevie Nicks Joined Him on Stage
The dynamic duo struck again when Harry Styles invited his friend Stevie Nicks to the stage to perform "Landslide" with him. The two sounded particularly flawless together during this mini break from Styles's repertoire.
03
He Sang "Wonderful Christmas Time"
Want to know what my favorite Christmas song of all time is? "Wonderful Christmas Time." Want to know how amazing it was to hear my favorite singer perform my favorite Christmas song when I absolutely wasn't expecting it? I think my exact words were, "Holy sh*t, how could this possibly get any better?"
04
And Then He Made It Snow in LA
Oh, it got better — he made it snow inside The Forum. Yes, while Harry Styles sang Paul McCartney's "Wonderful Christmas Time," confetti snow fell from the rafters to coat the entire place in festive white.
05
He Performed This Absolute Bop For the First Time
In case you missed it, there's a new bop in Harry Land, and it's called "Treat People With Kindness." Goooooodness gracious, let me tell you that this song absolutely slaps live in concert, and I can't wait to hear it 7,000 more times on tour.
06
The "Sunflower, Vol. 6" Effects Actually Happened
Please do yourself a favor and first listen to Harry Styles sing "Sunflower, Vol. 6" so you understand these effects I'm talking about. The man really went there and did it all live, and honestly I respect the commitment to his craft.
07
Eroda Came to Life
Eroda was alive and well throughout the whole evening, helping lucky fans score last-minute tickets to the show and even sharing footage from Harry's performance of "Adore You" with the internet.
08
This Moment
Do you know whom Harry Styles loves? His fans. He even fell to his knees in thanks, and we all thanked him right back.
09
We Still Got the Whale at the End of the Show
No Harry Styles show is complete without the whale — that moment when he ever so forcefully spits water out before waving to the crowd and running off stage. Sounds gross, but it's iconic, and I never want him to stop doing it.
10
He Still Hasn't Given Up on "What Makes You Beautiful"
"What Makes You Beautiful" may be old, it may be One Direction, but this song is still where it all started, and I am forever thankful that Harry Styles hasn't yet taken it off his set list. I walked out of the last show of his last tour worried that I would never hear my favorite One Direction song live again, and I am so glad that he's still performing it.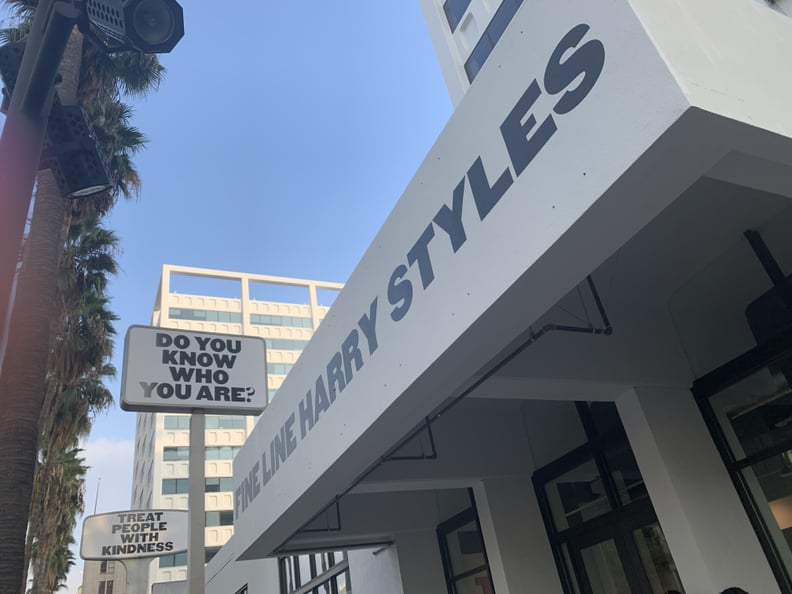 Bonus! The Magic Continued With a Pop-Up Shop in LA
Harry Styles partnered with Live Nation Merchandise to carry the magic of his Fine Line show at The Forum into a pop-up shop in LA, with other locations in New York and London. The shops, which are open until Dec. 19, feature exclusive Styles merchandise, as well as fun photo ops (the LA location even has the backdrop Styles used while performing "Adore You" on The Late Late Show). The walls are covered in Styles's latest photos and his quintessential phrase, "Treat people with kindness." It's one of those events that all fans should get to if they can!