We Talked to a Healthcare Worker About COVID-19 on TV
One of the first questions I asked Taylor Meyer is whether she's a fan of shows like Grey's Anatomy and The Good Doctor. The nurse practitioner from Boston, MA, was effusive in her praise for both series, noting that medical dramas are a large part of why she wanted to go into medicine and that they're still a source of inspiration for her. "These shows encapsulate everything that I truly feel so strongly and passionate about as a healthcare provider," she shared, adding that they've always been able to capture the life of essential workers in a way that spoke true to her.
But even as a huge fan, Meyer won't be able to bring herself to watch the current season of her favorite shows. As an essential worker in the emergency department, she's used to seeing the trials and tribulations of her work on screen, but with all of us still living through the COVID-19 pandemic right now, it's a little too soon for her. "I live and breathe it every day in the emergency department," she explained. "In order to keep going to work, I have to watch what I expose myself to."
It's a sentiment that most people have contended with as society has done its best to figure out what a new normal means in the face of lockdowns, social distancing, and Zoom weddings. While fall TV is generally where we all get our regular doses of escapism, there's still a need for most titles to keep in touch with the reality of the world today. In a time when production delays have caused some shows and movies to pause indefinitely, while others have implemented increased health and safety measures to allow actors to safely continue working, the people behind the camera have had to figure out how to bring the new normals of a COVID-19 world into their stories. And none have a more crucial need to reflect those challenges with grace than shows that center on the lives and work of essential workers on the front line.
While we've seen shows and movies that portray the everyday man side of COVID-19, which center stories on people social distancing from their loved ones and learning to cope with their new way of life, few have delved into the perspective of those working the front lines of the pandemic. Considering how some people feel about watching COVID-centric stories on screen, you might be OK with that. But for shows that have made their mark by centering on the lives of healthcare workers and highlighting the trials they face regularly, this isn't a storyline they can avoid.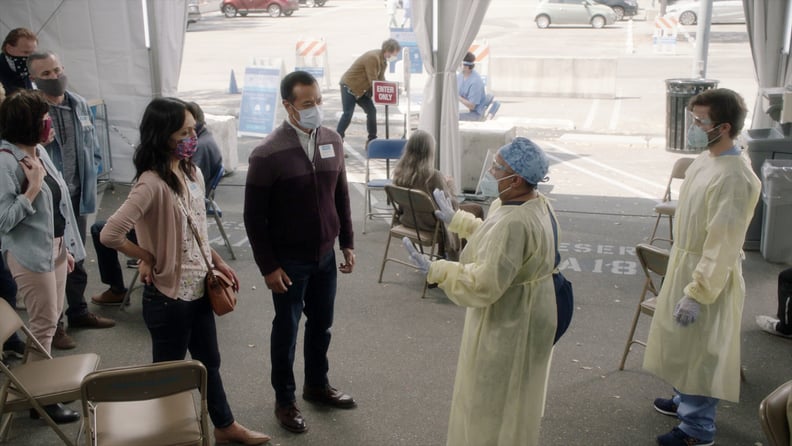 Back in July, Grey's Anatomy executive producer Krista Vernoff said, "There's no way to be a long-running medical show and not do the medical story of our lifetimes."
"The doctors come in and we're the first people they're talking to about these types of experiences they're having. They are literally shaking and trying not to cry, they're pale, and they're talking about it as war — a war that they were not trained for," she continued. Vernoff added that she feels like Grey's "has an opportunity and a responsibility to tell some of those stories," and even though the emotional toll of the storylines is bound to be heavy, she said that "our conversations have been constantly about how do we keep alive humor and romance while we tell these really painful stories."
Normally, that's what fans are looking for when it comes to their medical dramas — we want our outrageous theatrics to come with a bit of reality so we can feel properly invested in the lives of those on our small screens. There's a reason that shows like Grey's Anatomy use medical consults — they want to make their storylines as impactful and honest as possible. And while that can be great for the average viewer who doesn't have to face the front line in real life, it doesn't quite serve as an escape for those who do.
"Working on the front line during [the start of the pandemic] was extremely challenging," Meyer admitted. "While so many other practices and doctor's offices were shutting down, [the emergency department was] seeing all the patients with COVID during that really scary time, which was a lot to take on."
The nurse practitioner mentioned that working these days is a notable change from how things were during the first surge back in March, since everyone is "a lot more prepared in a lot of aspects." Meyer noted that in the beginning, "we really didn't know if we were even safe," but now she's able to feel safer with the department having the necessary equipment and knowing more information about the virus. But that doesn't stop any of it from still being "very, very scary."
"There's still so many people suffering from this in a very extreme way," she said. "And so I think the anxieties are still there, the fear of what's to come is still there. I try to be there for my patients in any way possible that I can. And I wouldn't be able to do it without the amazing team of providers that I do work with."
It's this that Meyer hopes medical dramas remember while getting in their impossible surgeries, heartbreaking TV moments, and comic relief. "I think what these shows have always portrayed is that it's not just one provider caring for a patient, it's a team of people that are picking each other up and are there to help each other," she said. "So I would hope they show that we all have a role in this, that we're all affected by this, and we can all help save each other by just wearing a mask, washing our hands, socially distancing, all the things that doctors and research are proving to be effective."
"We're all very much affected and we all need to do our part to keep each other safe, to keep each other healthy. And that's not just for the doctors in the ERs, it's for everyday people."
And while she reiterated that she hasn't been able to watch any of the recent episodes of Grey's, The Good Doctor, or anything similar, she felt that having those shows incorporate the pandemic could show people exactly what it's like to be on the front line. "I can only imagine that they're showing the stress of it and the fear of it," Meyer added. The Boston nurse confessed that she hoped viewers would take away the fact that "COVID has affected everybody's life" and while we may have all "been in our own world and our own busy lives, and maybe thinking that our little actions don't affect someone else [before the pandemic hit], we're all very much affected and we all need to do our part to keep each other safe, to keep each other healthy. And that's not just for the doctors in the ERs, it's for everyday people."
Of course, Meyer recognizes that medical dramas tend to exaggerate for the sake of TV, but she noted that the use of medical consults proves that the shows have tried to capture what the real-life experience is like — and for that, she appreciates them. "I'll say that I'm so grateful for all these shows because they've always spoken true to me, and how much I love what I do and why I do what I do," she said. "I think they've always been very sensitive about whatever medical topic they're covering in the moment, and I think their portrayal can help people that don't understand the severity of [the pandemic] or what it really looks like. So, yeah, I'm thankful [for] how sensitive I'm sure they're being with how they portray it because this is hitting differently for everybody."