Grey's Anatomy Is Already Planning to Tackle the Coronavirus Pandemic in Season 17
Production for Grey's Anatomy next chapter hasn't begun yet, but we're already getting a peek into what the minds behind the magic are planning for season 17. To the surprise of absolutely no one, ABC's medical drama will be tackling the real-life woes of the current pandemic. That's right, the show's next season will be shining a light on COVID-19.
On Tuesday, July 21, Entertainment Weekly reported that Grey's executive producer Krista Vernoff revealed the show's plan to address the pandemic during the Television Academy's "Quaranstreaming: Comfort TV That Keeps Us Going" virtual panel. "There's no way to be a long-running medical show and not do the medical story of our lifetimes," Vernoff said.
The executive producer participated in the panel alongside Grey's stars Chandra Wilson (Dr. Miranda Bailey) and Kevin McKidd (Dr. Owen Hunt). She explained that the show's writers meet with real-life doctors to hear their stories each year, but this time around, the conversations have been different because healthcare workers are dealing with COVID-19.
"This year, it has felt more like therapy," she said. "The doctors come in and we're the first people they're talking to about these types of experiences they're having. They are literally shaking and trying not to cry, they're pale, and they're talking about it as war — a war that they were not trained for. And that's been one of our big conversations about Owen, is that he's actually trained for this in a way that most of the other doctors aren't."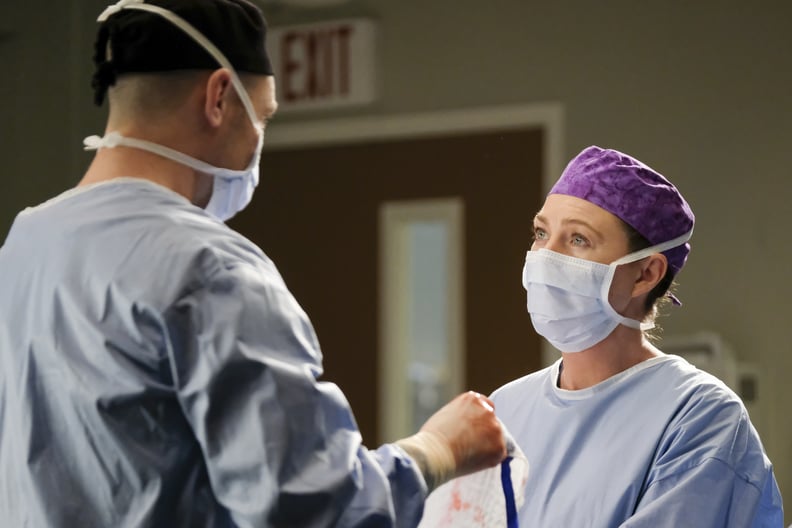 Vernoff added that she feels like Grey's "has an opportunity and a responsibility to tell some of those stories," and even though the emotional toll of the storylines is bound to be heavy, she said that "our conversations have been constantly about how do we keep alive humor and romance while we tell these really painful stories."
Grey's production was abruptly shut down back in March because of the pandemic, which led to season 16 ending four episodes early. The season ended with the exit of Justin Chambers and a chaotic mess of open-ended situations. As planning continues for the next season, here's hoping the hanging storylines from last season — like Teddy cheating on Owen with Koracick and the storyline about the human trafficking victim that DeLuca attempted to save — will get some closure!