iLe and Ivy Queen Deliver "Algo Bonito" Feminist Music Video
iLe Taps Ivy Queen to Help Topple the Patriarchy in Her Latest Video "Algo Bonito"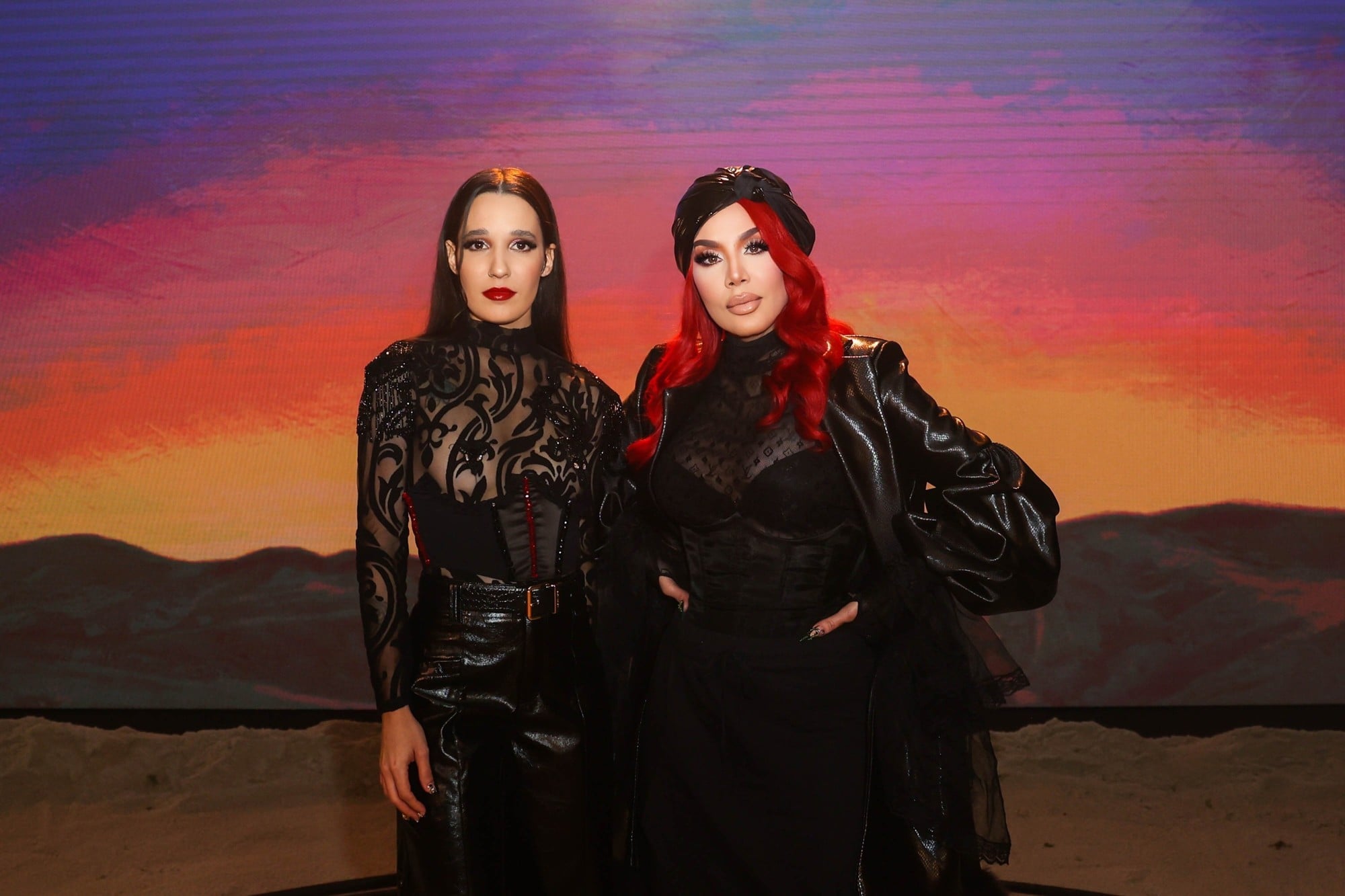 There's a scene in the music video for iLe and Ivy Queen's single "Algo Bonito," released on Mar. 2, where iLe stares down three anonymous men in a western standoff fashion. Dressed in all black, her hands holstered on her hips, she dispatches all three con solo una mirada. It's become clear that, while iLe's music has always been a medium for her progressive and feminist values, the track off her latest album "Nacarile" isn't pulling any punches. As she tells POPSUGAR, "Las mujeres están hartas." Translation: women are fed up.
According to the singer, it was this patriarchal frustration that became the seed from which "Algo Bonito" would sprout. "I was just feeling frustrated with the day-to-day of being a woman," iLe says. "You know there were so many things happening that just had me feeling this sense of rage. The concept for the song really came out of wanting to vocalize that."
"I was just feeling frustrated with the day-to-day of being a woman."
That desire to "desahogar" or let it all spill out is understandable. Over the past few years, women around the world have seen their rights and safety come under attack. Whether it was the criminalization of abortion in different states and countries or the minimal gains in wage equality, it's frustrating and disappointing to realize you're still fighting the same fights you were decades ago, and, in some cases, losing ground. This is especially true in iLe's native Puerto Rico, where, in 2021, the government declared a state of emergency due to increases in femicide and gender-based violence. But since then, despite continued pressure from activist groups across the island, the stark reality remains: women are not safe in Puerto Rico.
"It's sad and upsetting that they don't seem to care," the singer says.
But rather than just accept a nonresponse as a response, iLe decided to vent and shake the pot even more with a song aimed right at the root of the issue: the patriarchy. This isn't the first time iLe has used her art and platform to call attention to the dangers of patriarchal norms. Her single "Temes" (TW: video contains depictions of sexual assault) is a cerebral takedown of gendered power dynamics and toxic masculinity that asks the simple question: "Why do you fear me?" But "Algo Bonito" is a different beast.
Rather than opening with the soft riff of a guitar, the song opens with a subtle yet thudding dembow rhythm. The singer created the skeleton of the bassline herself using audio creation software before sending it off to longtime collaborators Ismael Cancel and Trooko (Jeffrey Penalva) so that they could add their little "toquesitos (touches)."
"I wanted it to sound like a march," recounts the singer. With the percussive elements in place, iLe had the perfect canvas to write a rousingly feminist call to arms. It was then that the first inklings of a collaboration started to take root. But it was her brother and fellow musician, Gabriel Cabra Joglar, who first suggested the idea of bringing in "La Caballota," the legendary Ivy Queen. But while now it seems like a no-brainer, iLe admits she was a bit intimidated at first.
"It can be strange to work with someone you admire so much," she says. At a recent show the singer opened up about how, as one of the only women in the early reggaeton scene, Ivy served as the model for a chorus she would write a song on Calle 13's acclaimed debut album. The song, "La Aguacatona" would be the world's introduction to iLe's unique artistry. Yet, despite this connection, the two artists had never met before, which only added to the pressure of securing the feature.
"I thought, 'What if she doesn't like the song,' or 'what if she doesn't think I'm cool enough,'" iLe recalls with some amusement. "But it turned out great. She ended up loving the song as soon as she heard it."
With the collaboration set and both verses recorded, the two icons met for the first time while filming the video. Directed by Puerto Rican filmmaker Claudia Calderon and featuring an all-woman crew, the video utilizes a minimalist approach with hints of magical realism, contrasting the stark figures of iLe and Ivy against surreal backdrops.
This high contrast style perfectly complements the singers' defiant lyrics as they flip patriarchal turns of phrases into affirmations of feminine empowerment:
Cada vez que tiran los canones/se pone pesado mi artillería
Todo que me ataca lo devoro/como leona de caceria
Ya me tienen las huevas hinchadas/si protesto me llaman subversivo
Y se que me rabia te incomoda/ porque me prefieres compasiva
And when it comes to taking the patriarchy to task, iLe couldn't have chosen a better partner than Ivy Queen. Over a career that has spanned decades, Ivy Queen has not only held her own in a genre dominated by the male voice and gaze, but she also helped shape it. Never one to hold her tongue, iLe knew that an Ivy Queen feature meant "La Diva's" biting lyrics and many flows would be on full display.
"I told her just to say it how she wanted to say it, and if we needed to change something or dial something back we could have that conversation later. But once I heard the verse, it was clear that from the beginning [the feature] could have only been her."
It's true. There is only one Ivy Queen. But there is also only one iLe. And with "Algo Bonito," they've shown us what happens when two forces in Puerto Rican music and culture come together to celebrate their strength, bond over their shared experiences, and inspire the next generation to continue the fight despite the sometimes frustrating setbacks.
"The patriarchy affects us all. And sometimes it's hard to make progress because it's so entrenched — women can also spread patriarchal ideas," says iLe.
But at the end of the day, she knows that the only way to move forward is by not accepting the setbacks and to keep knocking on the door until she hears "algo bonito." So, what's the "something pretty" iLe is waiting to hear? "Oh, so many things. That abortion will be legalized and that we get the respect and empathy that we deserve."