From Ivy Queen to Karol G: How Reggaeton's Feminist Wave Grew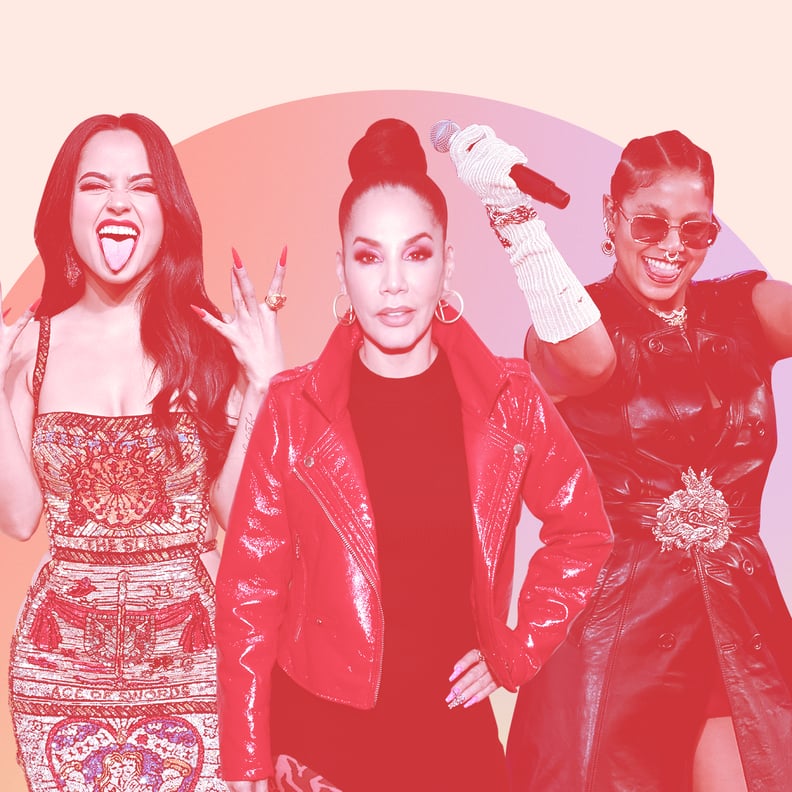 Getty | Axelle Bauer-Griffin
Getty | Bannett Raglin
Getty | Dia Dipasupil
Photo Illustration: Michelle Alfonso
Getty | Axelle Bauer-Griffin
Getty | Bannett Raglin
Getty | Dia Dipasupil
Photo Illustration: Michelle Alfonso
If you google "reggaeton," how many women artists will you see on your results page? Not a lot. To understand how and when the reggaeton genre started to make room for women artists, we have to start at the beginning — even before Ivy Queen, the Queen of Reggaeton. The origin story of reggaeton is complex and intricate: a male-dominated genre that is now gaining female momentum for women artists, globally. Nevertheless, its history has been ignored by the general public. Or is it just unknown to many? Thanks to resources like Spotify's "Loud" podcast, narrated by Ivy Queen, and the work of academic scholars, it doesn't have to be. Let's dive into how this Latino musical genre has been pushing the inclusivity boundaries of gender and sexuality.
Before Reggaeton, There Was Rap en Español
Many fans consider the start of reggaeton to have begun with the era of Daddy Yankee and Ivy Queen, around the late '90s and early 2000s. Yet it was in the '80s with Vico C, El General, Francheska, and Lisa M that the genre started to make noise. Specifically, it was Lisa M who had a ripple effect on women in the movement. Back in 1989 in Puerto Rico, a 14-year-old girl named Marlisa Marrero Vázquez was Vico C's backup dancer. Motivated by the women rapping in the States, she was inspired to do it in Spanish. One day, Vico C gave her a shot on stage, where she sang her first song, "Trampa." And so, Lisa M the rapper was born.
The following year, Lisa's team of writers and producers sampled El General's "Tu Pum Pum" into a merengue rap about control over her body and sexuality. Originally, the song was about a woman's private parts, but in Lisa's version, she calls out a man's small privates. In the fourth verse of the chorus, she sings, "Ay bendito, ay bendito, soy chiquito, ay bendito," ("Oh my god, oh my god, I'm small, oh my god"). She also embraced women's sexuality in the 1991 merengue rap song "Everybody Dancing Now," with lyrics such as "Me excita la forma de tus movimientos, me hierve por dentro el deseo sexual" ("The way that you move excites me, the sexual desire burns inside me"). Notwithstanding, instead of being granted access to the world of rap, the market only opened the pop doors for Lisa. As explained by Raquel Z. Rivera, Wayne Marshall, and Deborah Pacini Hernandez in the book "Reggaetón," "Meren-rap was a studio experiment rather than a grassroots cultural phenomenon like Puerto Rican underground, and it was short-lived." Not just meren-rap, but the context of society was not ready for Lisa's direct, sexual lyrics.
"It was a (societal) context that wasn't ready to talk about these topics like women as sexual beings, that we have the same rights to enjoy our sexuality, of having complete power over our bodies," explains Dr. Carla Santamaria, an expert in reggaeton studies. She's a professor at Brooklyn College with specialties in urban Puerto Rican music, decolonial theory, and popular culture. Being a young adult in Puerto Rico at reggaeton's pinnacle, Dr. Santamaria's love of the genre itself became a pursuit to study it academically.
Rated "R" by the Senate of Puerto Rico
In 2002, the older generation saw reggaeton as detrimental music to the younger generation. Dr. Petra Rivera-Rideau, an associate professor of American studies at Wellesley College, focuses her research on race and popular Latin music, specifically reggaeton. Dr. Rivera-Rideau spoke with POPSUGAR and broke down the two key elements of the Puerto Rican antipornography campaign of 2002: its effect on young girls, but not boys; and race and class. In her book "Remixing Reggaetón: The Cultural Politics of Race in Puerto Rico," Rivera-Rideau recounts how this campaign aimed to remove pornographic content from the media (radio and television). To assess the amount of pornographic content, the Senate would carry out hearings on reggaeton music videos. The main concern was the effect reggaeton had on young girls' sexuality and self-esteem, exclusively.
"Sex and race discrimination against Black women is a historical and systemic problem, and that the antipornography campaign reinforced it with the idea that upper-class, mostly white girls were worthy of protection and deemed respectable, while the working class and mostly Black or nonwhite girls were not."
Determining what type of woman in society is deemed respectable became an extra layer to the conversation. Dr. Rivera-Rideau shares, "Sex and race discrimination against Black women is a historical and systemic problem, and that the antipornography campaign reinforced it with the idea that upper-class, mostly white girls were worthy of protection and deemed respectable, while the working class and mostly Black or nonwhite girls were not." Dr. Rivera-Rideau explains how the blame was placed on music-video dancers, being judged as "nasty" by the public while producers justified their representation of strippers. "There was this constant understanding or discourse happening that there are some women who dance perreo, and they're not respectable. And there are some women who don't, and we need to protect the ones who don't from these women of ill repute," she says.
When asked about criticism against reggaeton from older generations, Dr. Santamaria shares that like other forms of expression in popular culture, it's a matter of context. "If we want our youth of the marginalized 'barrios' (neighborhoods) to sing about violins and angels, and how nice everything is, then we have to construct an equitable society, which we don't have," she says. "The popular culture simply reflects our social reality."
Make Way For Ivy Queen
In 1991, The Noise, a club in El Viejo San Juan, was a place where Puerto Rican rappers and MCs would go freestyle. But it was also a place where no woman had ever been welcomed to perform. Ivy Queen from Añasco, Puerto Rico, changed that. As mentioned in Spotify's "Loud" podcast, people would comment on her baggy jeans and her bold voice that was deeper than most women's. But what set her apart was what would make her an unforgettable icon. None of the criticism or snarky remarks stopped her from rapping.
Ivy's debut was with "Muchos Quieren Tumbarme" on DJ Negro's stage in The Noise. In a 2020 interview with Chente Ydrach, she recalls this moment in her career. Although she was not facing DJ Negro and singing toward the wall, she didn't hear any "Y Fuera" ("Get off the stage!") from his megaphone. With this, the song became an anthem, and Ivy carved a space for herself in the rap industry. In 2003, Ivy dropped another hit titled "Quiero Bailar," which focuses on women owning their sexuality and their bodies. The chorus translates to: just because she is "perreando" (dancing doggy-style) with a guy doesn't mean she's going to have sex with him. It was a controversial claim at the time and still is today, given the proliferation of women artists who rap sex-positive lyrics. In rap battles with men, Ivy would throw shade about their small privates, like Lisa M, to claim her presence in the rap scene. Since then, Ivy has proven women's presence in the genre, and her contributions are unparalleled; however, the landscape of reggaeton has evolved.
The New Female Era of Reggaeton
The qualities of a reggaetonera today differ greatly from that of the pioneers of the genre. We have seen many women rappers follow in Ivy Queen's footsteps, including Karol G, Tokischa, Becky G, Natti Natasha, and more who have diversified the "música urbana," or urban music genre. There have been numerous homages to the pioneers of reggaeton in the musical industry. Karol G's 2021 song "Leyendas" starts with "Quiero Bailar" and features legends such as Wisin y Yandel, Nicky Jam, Zion, Alberto Stylee, and Ivy Queen. In the same year, Villana (also known as Villano Antillano) was invited to be part of the annual spectacle for Banco Popular in Puerto Rico. The up-and-coming trans trap artist performed "Muchos Quieren Tumbarme," the Ivy Queen anthem.
In recognition of Lisa M, Karol G and Shaggy released "Tu Pum Pum" (2018) featuring El Capitaan and Sekuence. In the song, Karol G references El General with "Si no sabes hacerlo no, no sientas pena. Llama al General a que te enseñe a mover la cadera" ("If you don't know how to do it, don't feel sorry. Just call El General so he can show you how to move your hips"). Lisa M was also recognized in the 2021 special from Banco Popular with Melina León performing "Everybody Dancing Now." These recognitions demonstrate how far reggaeton has come, from an underground movement in the early 2000s to a part of the mainstream media today.
The Latin music industry, including reggaeton, has paid dust to dark-skinned women artists like Amara La Negra and Tokischa. In fact, there's a reason we have fewer of them in the female sector of Latin music. Dr. Rivera-Rideau brings up how systemic racism and patriarchy are intertwined, thus perpetuating anti-Blackness in selectively picking artists with "the Latin look," defined by having a lighter complexion, straight or wavy hair, and European features. Even though the roots of the genre come from Black communities, white-passing Latinxs carry the advantage.
On the last weekend of July 2022, Bad Bunny gave three performances of his latest album, "Un Verano Sin Ti," at the Coliseo of Puerto Rico José Miguel Agrelot, or "El Choli," as the locals call it. This party-slash-concert housed 18,749 people on the first night in the main venue, while 52 bars and 13 town plazas across the island provided viewing parties for the show. This was a moment to share the spotlight with rising women Puerto Rican artists in the urban music genre, such as Young Miko, Villana, RaiNao, and more. From the same town as Ivy Queen, Young Miko drops trap songs like "Puerto Rican Mami" and slow dembow like "Bi." In the latter, she has iconic lines such as "Que todas quieren ser bi, desde que salí." The verse is particularly ambiguous since it can be interpreted as meaning both "everyone wants to be bi[sexual] since my music came out and everyone wants to be bi[sexual] since I came out." She is an openly lesbian rapper who is authentic in her lyrics and has been greatly supported by the LGBTQ+ community and the rest of the island.
As reggaeton's momentum continues to expand across the globe, the hope remains for the music to create a more inclusive industry and society. A society that includes the LGBTQ+ community and women as equals and normalizes women (and others) who claim autonomy about their sexuality. If society continues to promote and award misogyny, thus supporting a patriarchal structure, then the only material that can flourish is that which follows said social norms. Yet the growing success of artists like Bad Bunny, Karol G, and Tokischa who are breaking barriers and stereotypes respectively in the Latin music industry could represent significant cracks in the fabric of social bias and discrimination and lay down a new foundation for women's place in reggaeton.