"Marry Me" Isn't Based on J Lo's Real Life, but the Similarities Are Striking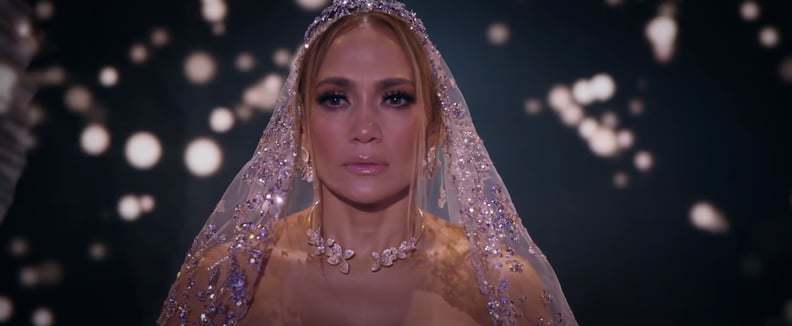 YouTube | Universal Pictures
YouTube | Universal Pictures
Throughout her professional career, Jennifer Lopez has acted in a number of rom-coms. The singer-actress dominated the 2000s with several now-iconic movie staples like "The Wedding Planner" (2001), "Maid in Manhattan" (2002), "Shall We Dance?" (2004), and "Monster-in-Law" (2005), to name a few! Now, she's back on the movie scene, starring in the upcoming rom-com "Marry Me." The movie centers around Latina music megastar Katalina "Kat" Valdez (Lopez), who's set to marry the love of her life, singer Bastian (Maluma), on stage during their upcoming concert, only to discover Bastian has been cheating on her right before the big event. So, at the start of the concert, she picks a random person, Charlie Gilbert (Owen Wilson), out of the crowd and spontaneously marries him instead. The remainder of the film focuses on Katalina and Charlie's unlikely connection and how their lifestyle differences surprisingly bring them closer together.
The plot has all the makings of another J Lo rom-com hit, but the recent events in Lopez's personal life alongside the timing of "Marry Me"'s release may have fans wondering if the movie is based on Jennifer Lopez's real-life relationship with her ex, Alex Rodriguez. So, is it? Short answer: no. But the coincidences in the film hit too close to home to ignore.
The Similarities Between "Marry Me" and Jennifer Lopez's Relationship With Alex Rodriguez
Kat Valdez's life strongly parallels J Lo's in that they're both Latina, incredibly popular singers, and have had high-profile romantic relationships that went sour publicly. Lopez, similar to the character Katalina, was recently engaged to be married before calling it off. Lopez started dating former Yankees baseball player Rodriguez in March 2017, and then they got engaged in September 2019. The two quickly became one of Hollywood's rising power couples, publicly showing their love for each other on talk shows and social media and at professional events.
But not long after their engagement, in April 2021, allegations that Rodriguez had been DMing another woman circulated in the media. Amid this speculation, the pair announced they were splitting up, though they did not attribute the decision to any infidelity on Rodriguez's part (so those rumors remain unconfirmed). "We have realized we are better as friends and look forward to remaining so," Lopez and Rodriguez said in a statement about their decision (via "THR"). "We will continue to work together and support each other on our shared businesses and projects. We wish the best for each other and one another's children."
Somewhat mirroring Kat's decision to jump into another relationship after discovering her fiancé's dalliances, just a month after breaking up with ARod, J Lo reconnected with her ex-fiancé Ben Affleck, and the pair have been dating since July 2021, according to "Entertainment Tonight." Bennifer is officially back, and it's the 2000s all over again!
Jennifer Lopez's Quotes About Her Connection to "Marry Me"
Though the plot of "Marry Me" shares similarities to Lopez's recent life events, it is in no way based on her. Regardless of this, the singer-actress was personally affected by its storyline.
Lopez spoke candidly with "Vanity Fair" about the film's impact, saying, "This movie was very personal for me . . . I really understood this life. Kat Valdez is a recording artist. She's been famous and in the business for a long time. She's had some ups and downs in her personal life. Kat's strong and confident. She's a businesswoman. She's a boss. But she's also just a regular person who gets lonely, and who needs love, and wants to feel like she has a home."
So, while "Marry Me" is not explicitly based on the highs and lows of J Lo's life, her personal connection to the film will nonetheless make it special to watch.
Catch "Marry Me" in theaters or stream it on Peacock on Feb. 14, 2022. Until then, watch the trailer below!