Jemima Kirke Sasha Lane Conversations With Friends Interview
Jemima Kirke and Sasha Lane on the Messy Bonds of "Conversation With Friends"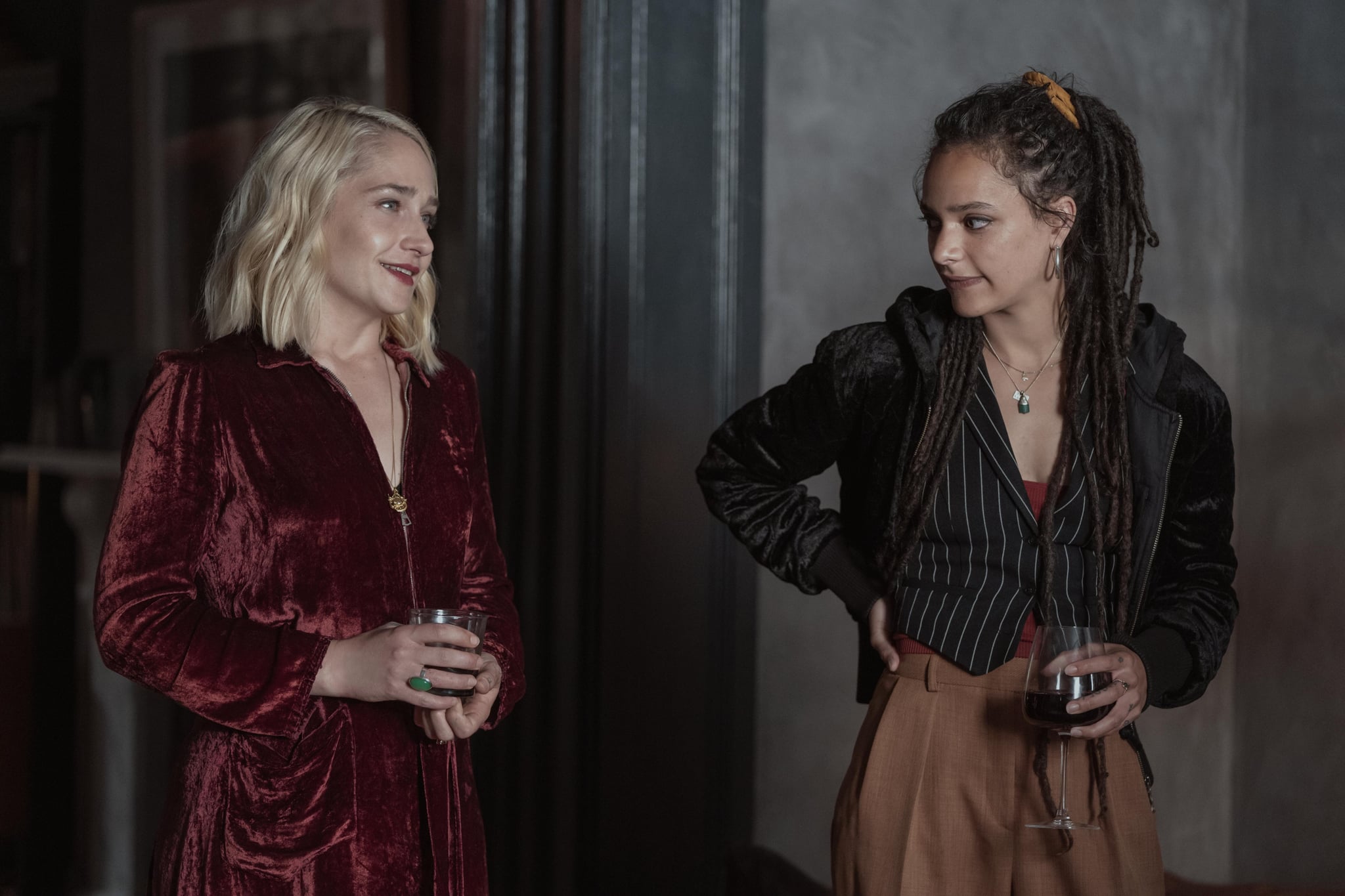 Hulu's "Conversations With Friends" transports viewers to Dublin, Ireland, and a literary scene populated by pretentious 20- and 30-somethings trying to figure out the best way to live and love and make art. There's Bobbi, played by Sasha Lane, a young American college student who performs poetry with her best friend and ex-girlfriend Frances (Alison Oliver). And there's Melissa, played by Jemima Kirke, a successful-ish writer in a struggling marriage with Nick (Joe Alwyn), a floundering actor. Melissa and Bobbi's immediate connection incites the events of the story, but viewers don't spend a ton of time with them together on screen. Lane and Kirke tell POPSUGAR how they made their character's connection feel real.
The show gave the pair ample opportunity to hang out during filming and forge a bond for themselves and their fictional characters. Often, Alwyn and Oliver would be filming a conversation in the foreground, with Lane and Kirke having their own chat in the background. Since the words they were saying wouldn't be making it into the show, they used it as a chance to get to know each other better.
"Freaking Jemima would just bring up the most outlandish stuff," Lane recalls. "And that's when you get the laughing. . . . Instead of thinking in character, we just kind of were like very vulgar. And then it's like, 'Oh, they feel like they're having a great time.'"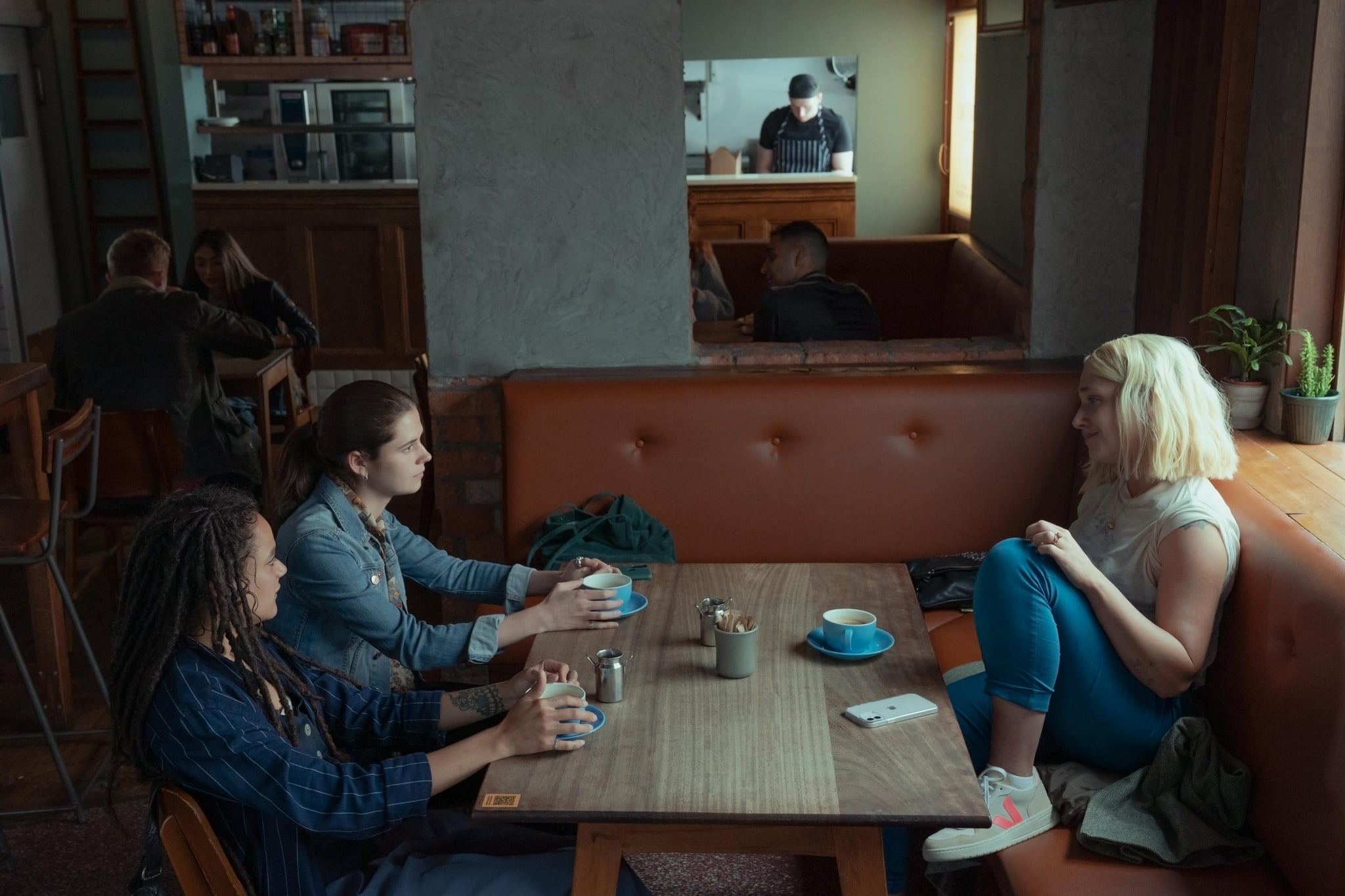 Kirke says, "It was in those moments that we sort of fostered our relationship, not just as Bobby and Melissa, but as each other, because we would talk about what is going on in the moment, about what we're doing." They would joke about why the camera was looking at them, what else was going on during shooting, or share gossip and dramatic stories.
According to Lane, Bobbi is drawn to Melissa because she's "refreshing" compared to the withdrawn Frances. "Melissa seems bold and kind of put-together in a sense of like, she has a hint of a 'F*ck you' to her," she says. "Bobbi likes that because . . . the one thing about Frances that is kind of disappointing to her is how much she internalizes everything and how much she does not want to be anywhere at any time always." Melissa is a "firecracker," and, Lane adds, "She's hot."
"I think that we're both a relief to each other from our main relationships," Kirke explains of the attraction between the two. "Bobbi is a relief to Melissa because she's not only similar [to her] and more outspoken and more precocious than Nick." Bobbi and Melissa can be "less careful" in their relationship.
But Kirke thinks Melissa is also using Bobbi as "a bridge to Frances," who's become entangled with Nick. Kirke says that Frances and Melissa's relationship is "extremely complicated right from the start" because Frances sees through Melissa's "act."
"She's a threat in a certain way. And I think that Bobbi is a way to get to her," she says of Melissa's motivations. Melissa and Bobbi's relationship remains an open issue throughout the series, upsetting Nick and Frances both with how close they are. And Melissa isn't afraid to use Bobbi to hurt Frances back when it suits her.
One huge difference between "Conversations With Friends" the TV show and "Conversations With Friends" the Sally Rooney novel is Bobbi's background. The show makes her American, and Lane says the culture clash Bobbi experiences is very real. One huge difference between the US and Ireland? "You can bring your babies to bars," she says.
"That is the key difference. And I'm not kidding," Kirke — who's British but grew up in New York City — adds. "Like, I mean, it sounds funny, but it's actually true because that little detail is representative of a whole other way of child rearing that's just very different from America."
"Conversations With Friends" premieres all eight episodes on Hulu on May 15.