Why Did the Grammys Bleep Justin Bieber's Performance?
Breaking Down the Bleeps in Justin Bieber's Grammys Performance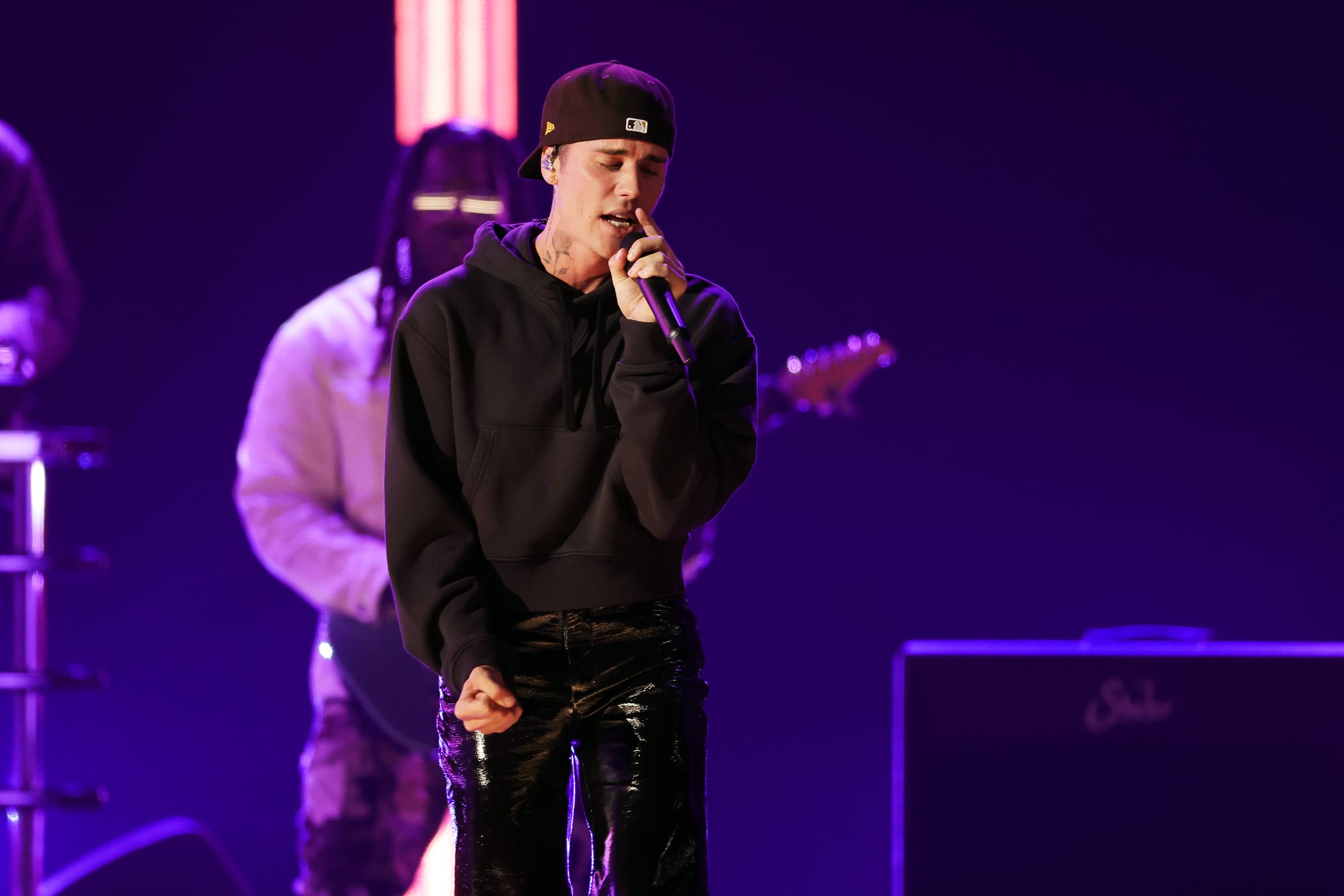 Image Source: Getty / Rich Fury
Justin Bieber sure delivered an unforgettable performance at Sunday night's Grammys, though we're not entirely sure what he was singing about. The singer intended on a slowed-down rendition of "Peaches," his hit song with Daniel Caeser and Giveon. But because he decided against a clean version, viewers at home watched a staging filled with awkward pauses and practically only half of the original lyrics.
Now, the track itself isn't necessarily explicit — it's about how much Bieber loves his wife, Hailey, after all — but "badass b*tch" and "sh*t" do come after every line in the chorus. (The song alone was nominated for four Grammys, while Bieber racked up a total of eight nominations this year.) Perhaps the musician forgot he'd be censored or he simply couldn't be bothered to nix the curse words? Or maybe he wanted to incite chaos to get back at the Grammys for his numerous snubs.
Regardless, Grammys censors struggled to keep up and ultimately bleeped perfectly clean words like "peaches" while missing actual curse words. Viewers found the resulting performance to be quite hilarious, but many did wonder what phrases were actually meant to be redacted.
Why was Bieber bleeped at the Grammys?
In FCC terms, the curse words in "Peaches" would be labeled as fleeting expletives, which are non-scripted profanities or obscenities broadcast on live TV (or radio). That means the FCC could fine networks like CBS for airing such profanities, though there is some controversy surrounding the agency's arbitrary regulation. The FCC has never released clear guidelines on what words or visuals are barred from live TV, but based on previous notable examples, the words "f*ck," "sh*t," and "assh*le" are fine-able, whereas "b*tch" and "ass" are OK.
Here's a quick lesson in media history to understand how we got here: Back in 2004, the FCC cracked down on the use of fleeting expletives following Janet Jackson's "wardrobe malfunction" at the 2004 Super Bowl and celebrities like Cher and Bono's repeated F-word usage in their award show acceptance speeches. However, in 2010, networks like Fox and CBS challenged the FCC's policy, and a federal appeals court ultimately lifted the ban on regulating fleeting expletives due to its vague, unreliable parameters and effect on free speech, though it made clear it wasn't preventing overall federal regulation of broadcast standards.
To this day, broadcasters try their best to limit expletives to avoid fines from and issues with the FCC, which explains the strong effort in censoring Bieber's Grammys performance.