Madison Bailey Talks Outer Banks's "Crazy" Second Season and Her Bond With Rudy Pankow
After making a wildly popular debut on Netflix, expectations are high for Outer Banks's second season, and Madison Bailey is getting us even more hyped for the series to return. While recently catching up with the actress about her partnership with Hydro Silk (she actually uses the brand's eyebrow razor on set, BTW!), Bailey gave us a little taste of what's in store for Kiara and the rest of the Pogues, and it sounds like we're in for quite the wild ride.
Production for season two of Outer Banks is currently underway, with the cast and crew back on set and filming in South Carolina. In light of the pandemic, they're following extra safety precautions, including getting tested three times a week, wearing face masks, and practicing social distancing. "It's basically shenanigans, but with masks," Bailey told POPSUGAR, adding that the cast is also prohibited from interacting with the hoards of fans who often gather on set to see them in action. "That's the part that's different about last season: we have fans now that actually love the show and want to watch us film . . . you want to run up and hug and take pictures and do all of that, but you can't."
Having grown such a huge following since the series premiered back in April, Bailey said there's "a little bit of pressure" for her and fellow cast members Chase Stokes (John B), Madelyn Cline (Sarah), Jonathan Daviss (Pope), and Rudy Pankow (JJ) to be on their A game every single day. "We have to be so on it, and we want this season to be just as great as last season," Bailey said. "The chemistry feels so great, and we just jumped right back into it."
"There's a lot of crazy things happening in season two."
Bailey admitted that she hasn't read the entire season two script yet, but she's crossing her fingers that viewers will get to learn more about Kiara's wealthy upbringing. "I'm excited and hopeful to touch more on her home life and where she really comes from and why she does hang out with the Pogues," the 21-year-old star said. "I think we're going to get that answer this season — more about the divide of where I come from versus where I'm hanging around." While delving into Kiara's backstory, though, it seems a boatload of other drama will be going down following the Royal Merchant's gold being discovered and subsequently shipped off to the Bahamas. "There's a lot of crazy things happening in season two," Bailey teased. Ooh man, we sure hope that directly translates to Ward and Rafe actually serving time in jail for trying to cover up Sheriff Peterkin's death.
If Kiara does happen to get wrapped up in any of those aforementioned "crazy things," you can count on Bailey's stunt double taking her place in front of the cameras. Who's her stunt double, you ask? Oh, no big deal — it's actually her real-life older sister, Katie Harden, who has a background in gymnastics and stands in for Bailey to act in any scenes that err on the side of dangerous, such as jumping fences, running for long distances, swimming, and riding in a car at high speeds. "I love having my sister on set," Bailey said, adding that it contributes to the "sense of family" that already exists behind the scenes. "The writer and creator, [Josh and Jonas Pate], are twin brothers. The director's kids are in the show, and the VP's kid is in the show, so having my sister there feels really nice."
The entire cast — both blood relatives and not — has formed a family-like bond that's undeniable and always on display on social media. Fans particularly can't get enough of Bailey's friendship with Pankow, which actually began before the two first suited up in their beaded necklaces as Pogues. Bailey told POPSUGAR how she and Pankow met on the flight to her final Outer Banks callback — Pankow instantly recognized her because they shared a mutual friend, he DM'ed her on Instagram (yes, on the plane), they quickly hit it off, and the rest is history. "We both have this rambunctious energy to do random things and say random things all the time and not take anything too seriously," Bailey said of her and Pankow's friendship. "Based off that, we vibed immediately because we were just joking around and having a good time."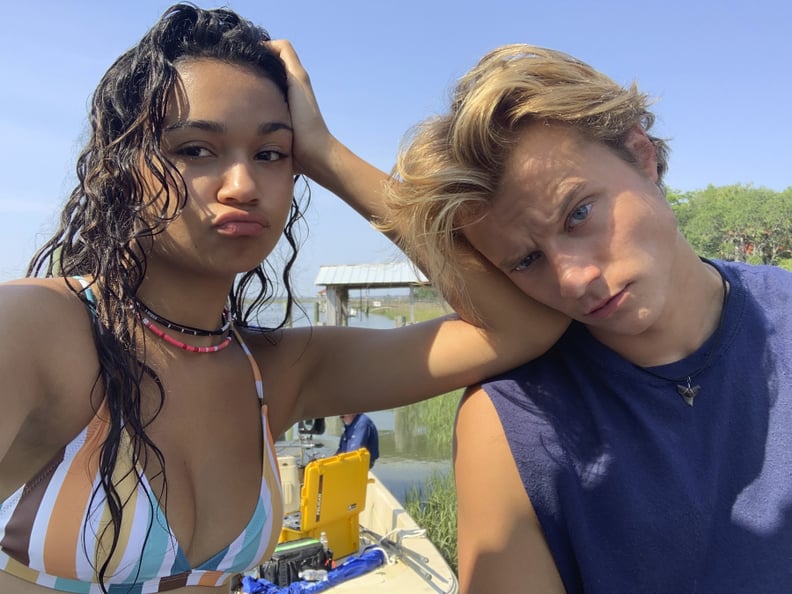 In fact, most of the cast tends to joke around pretty frequently on set, which Bailey admitted makes it tricky to stay focused in some instances. "It is very hard when we're doing a serious scene, and then the boys are cutting up in between scenes, and me and Maddie are trying to get it together," she said with a laugh, noting that Daviss and Stokes are the biggest pranksters. Jokes aside, the cast always manages to pull it together, because at the end of the day, they all really are besties in real life. "We're all very, very similar to our characters, and we're just telling our friendship basically, which is very real and very easy to perform."