MC Lyte's "I Am Woman" Event Was a Hip-Hop Family Reunion
Jati Lindsay
Jati Lindsay
My understanding of hip-hop has always been rooted in fellowship. Seeing the way it brings people together is such a magical experience to witness. Walking into the Kennedy Center with my mom on Friday night for MC Lyte's "I Am Woman: A Celebration of Women in Hip Hop" felt like I was on my way to a family reunion. I watched all the aunties and uncles pour into the theater in their flyest gear — from bamboo earrings and Kangol hats to Adidas tracksuits and sneakers — all ready to let loose and bask in a glorious celebration of women in hip-hop.
The event, which was part of the Kennedy Center's 50th anniversary, was the epitome of sisterhood. I grinned ear to ear at the sea of Black women laughing, dancing, and rapping along to the lyrics of performers like Trina, Remy Ma, Tierra Whack, Da Brat, Monie Love, and Yo Yo as they took over the venue. There's nothing more beautiful than watching the women in the genre give other women their well-deserved flowers.
"Although they're coming to be entertained, it's also the notion that we want to celebrate these women [in hip-hop]."
It warmed my heart even more to see the men in hip-hop pay homage to their sisters in music: there were virtual tributes from legends like Nas, LL Cool J, Fat Joe, Common, and Will Smith. Icons like Queen Latifah and Missy Elliott also shared some moving words in honor of all the femcees who helped make hip-hop what it is today. It felt good to be in a room surrounded by so many people, especially women, who were unapologetic about their love for hip-hop.
Ahead of the event, POPSUGAR spoke to MC Lyte about what the evening's festivities would entail. "We're looking to have a really good time, like a block party," she said. "We want people dancing and getting into the performances. Although they're coming to be entertained, it's also the notion that we want to celebrate these women [in hip-hop]."
The entire night was about women getting their due on a stage many have never graced before. MC Lyte succeeded in making sure every honoree and performer had their moment to shine, so here's hoping there will be many more celebrations for the rest of our female giants in hip-hop.
Keep reading for the rest of MC Lyte's interview, in which she touches on her career, today's female rappers, and what it truly means to be a woman in hip-hop.
On Today's Female Rappers Carrying the Torch For Hip-Hop
Hip-hop pioneers like MC Lyte have helped pave the way for today's crop of female talent. While many are making strides in music, Lyte praises those who are building up their careers in other ways as well. "I think what they've done is exceptional. Each one that comes [along] takes it a little bit further, in terms of everything that being a female emcee encompasses, and much of that is having a business mind," she says. "So Megan Thee Stallion, Cardi B, Nicki Minaj, City Girls — I call them frontline runners, because they're in the mainstream. They're holding the attention of millions right now, but they also understand that there's a business that has to happen behind the scenes. And if business isn't taking place, then they're not going to be on the front of the stage much longer . . . so, yes, definitely, they inspire me to keep going."
On How She's Sustained Her Career
If you're familiar with MC Lyte's career, you know she invented being booked and busy. Since her powerful solo debut in 1988 with her album "Lyte As a Rock," the hip-hop icon's brand has grown tremendously. She's served as the announcer for dozens of Hollywood events, including the BET Awards, Emmys, Grammys, and NAACP Image Awards; starred in films like "Girls Trip" and "Sylvie's Love," as well as TV shows like "Power," "S.W.A.T." and "Queen of the South"; and serves as a motivational speaker, philanthropist, and CEO of Sunni Gyrl, Inc.
Needless to say, MC Lyte always has her hands full with something, which she attributes largely to the team she has supporting her. "It all comes down to a really great team of people, because if I'm in the front, then I need backup," she says. "There's so much more that goes on with an artist that, unfortunately, fans really never see. . . . But in all honesty, I have to attribute all of my success to my team, because I wouldn't be anywhere without them."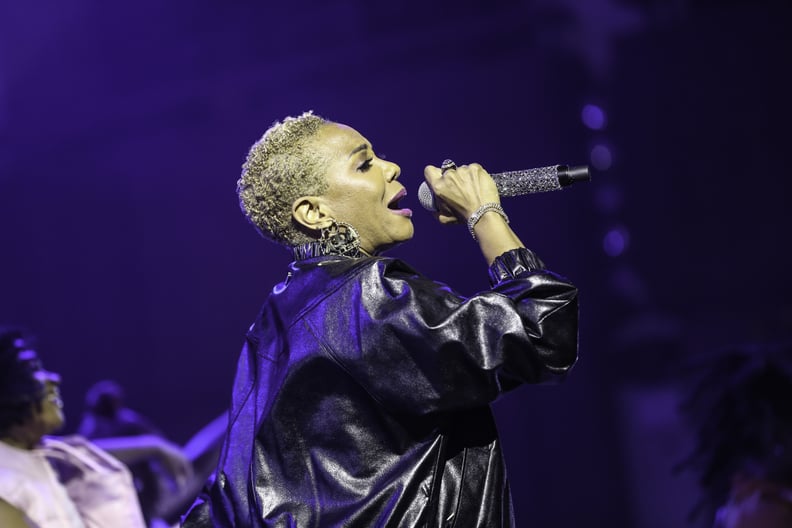 On How Artists Can Have Long Careers
Breaking into the music industry today is a different ballgame than it was back in the '80s and '90s — but according to MC Lyte, there are still some tried-and-true methods artists can lean on to stay relevant for years to come. "If your intention is to inspire and move others to be their greatest, then I would say to make sure what it is that you're pushing and promoting can honestly do that — help someone," she says. "And also, get a good group of people that really have your back. They may not know everything, but as long as they're willing to learn, and their minds are open, you can actually build your team with people that you know."
On What It Means to Be a Woman in Hip-Hop
Hip-hop has always been a large part of MC Lyte's livelihood. She's regarded as one of the most influential artists in the genre, and considering how difficult it is for women in hip-hop to reach that level of fame, that's not a title she takes lightly. She wears it as a badge of honor. "It means everything," she says. "It means that I get to speak for a multitude of women who enjoy hip-hop. I always say the artists within hip-hop are the spokespeople. Or you could look at us like we're the politicians and we have groups of people who believe in us, like to hear from us, want to know what we're thinking, and want us to be able to speak up for them. So, for me, being a woman in hip-hop, I love it. I get to create this lane of my own. I'm not in competition with anyone except myself, and that's what happens when you can just be you. When you try to be somebody else, it doesn't work out too well. But when you're yourself, where else can you go but up?"