Megan Thee Stallion's "She-Hulk" Appearance May Set Up Her Return to the MCU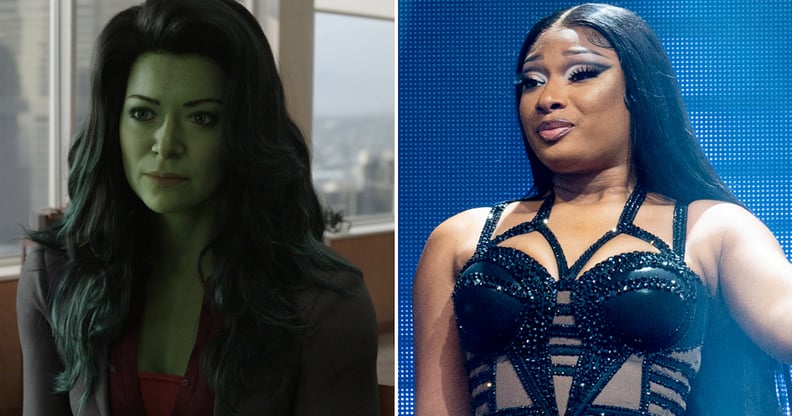 Disney | Getty / Shirlaine Forrest / WireImage
Disney | Getty / Shirlaine Forrest / WireImage
Megan Thee Stallion has a pretty significant cameo in the third episode of "She-Hulk: Attorney at Law." For most of the episode, which was released Sept. 1, viewers only hear about Megan. Jennifer Walters, aka, She-Hulk (Tatiana Maslany), is pretty busy dealing with her newest client, the Abomination, aka Emil Blonsky (Tim Roth). Meanwhile, her coworker Pug (Josh Segarra) is dealing with a difficult client of his own: Jennifer's old coworker Dennis Bukowski (Drew Matthews).
It turns out Dennis is the victim of a mystical scam: he thought he was dating Megan Thee Stallion, when really he was dating an Asgardian woman with the powers to shape-shift who got him to buy her expensive presents. A lot of the episode makes fun of Dennis for thinking that Megan Thee Stallion would actually date him or need him to buy her things.
Near the end of the episode, with Jennifer's help, Pug wins his case for Dennis by painting Dennis as the type of guy who's easily scammed. A shot of the courtroom reveals that one very important person was in attendance at the proceedings — the actual Megan Thee Stallion.
Just when it seems like that's a wrap on Megan's time in the MCU, she reappears in the end credit scenes. Jennifer signs Megan as her newest client, and the pair dance and twerk in her office.
This short scene raises a huge question: is Megan Thee Stallion a superhero in the MCU? Jennifer is the head of the superhuman law division, so if she's signing Megan as a client, that seems to imply that Megan has some sort of superpower situation of her own. Don't be surprised if Megan returns in a later episode of "She-Hulk" or another Marvel series.
Megan recently spoke to The Cut about how she's expanding her career into acting. Recently, the rapper also appeared in an episode of "P-Valley." She told the outlet that she's inspired by fellow rappers turned actors Queen Latifah and Ice Cube. "When I look at them, it inspires me to take it further than just music," she explained. "I don't feel like I'm only going to be an actress — I feel like I'm also going to be a director and I'm also going to be a producer." We can't wait to see where she goes from here.