This Detail in "Jedi: Survivor" Teases a Possible Cal Kestis Cameo in "Obi-Wan Kenobi"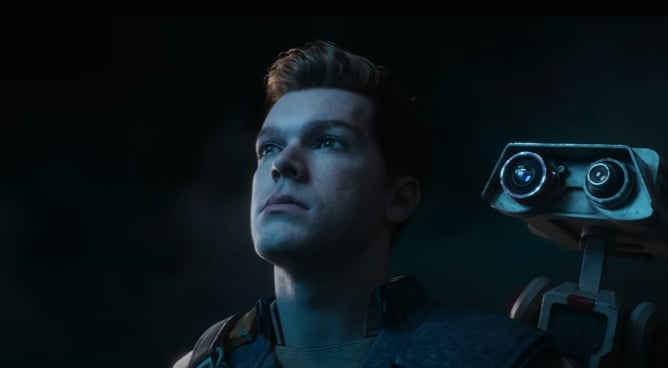 YouTube | EA Star Wars
YouTube | EA Star Wars
Both "The Mandalorian" and "The Book of Boba Fett" are filled with cameos from characters like Luke Skywalker, Ahsoka Tano, and Cad Bane, so we're wondering whether "Obi-Wan Kenobi" will be the same. The show already surprised us by bringing in Vivien Lyra Blair as a 10-year-old Princess Leia, so we should expect the unexpected, right? With such a big galaxy, it would be a missed opportunity if it didn't bring back a few beloved characters.
One theory that's been floating around online is that "Obi-Wan Kenobi" could include the live-action debut of Cal Kestis, who is the protagonist of the 2019 Star Wars video game "Jedi: Fallen Order." The live-action Star Wars shows usually feature cameos from the movies or animated series, so why Cal? Well, he has a surprising connection to Obi-Wan.
Who Is Cal Kestis?
Similar to Obi-Wan, Cal is being hunted by the inquisitors, who are a group of imperial officers who are on a mission to exterminate every Jedi who survived Order 66 as well as every other Force-sensitive person in the galaxy. "Jedi: Fallen Order" takes place five years before the events of "Obi-Wan Kenobi." However, its sequel, "Jedi: Survivor," will take place at the exact same time as the series, meaning it's totally plausible Obi-Wan and Cal could run into each other either in the game or in "Obi-Wan Kenobi."
Who Could Play Cal Kestis in "Obi-Wan Kenobi"?
Cal was modeled after "Shameless" actor Cameron Monaghan, who also voices the character in the video games, so he could totally bring Cal to life in "Obi-Wan Kenobi."
Will Cal Kestis Appear in "Obi-Wan Kenobi"?
Cal hasn't been confirmed to appear in the show, but Rupert Friend, who plays the Grand Inquisitor in the series, hinted at a possible cameo in a May 19 interview with Entertainment Weekly. "One of the things I'm loving about seeing the Star Wars universe unfold and expand is that crossover thing," Friend said. "It's seeing characters who are in a limited world, are crossing over into a movie or back into a game, even. And I think that the characters are so thoroughly created and so exciting to watch that the world lends itself to that sort of crossover."
That's not all, because even Ewan McGregor himself may have teased Cal's appearance during a May 5 appearance on "Jimmy Kimmel Live!" McGregor was talking about how the world of Star Wars has expanded so much through the years that now it's not just movies or TV shows, but "computer games, novels, cartoons, books, comics," and more. "All the storylines have to sort of match up," he said. "You can't have some fact in the video game that doesn't match up to the movie."
Both actors made sure to mention video games, so you can't blame fans for thinking Cal could appear in "Obi-Wan Kenobi." There are still three episodes left of the show, so it seems we'll just have to wait and see if this theory turns out to be true.