Only Murders in the Building: Who Dies in the Flash-Forward?
Only Murders in the Building Teased a Different Murder in the First Episode, and We Have a Theory

Image Source: Hulu
We're only a few episodes into Hulu's Only Murders in the Building and we're already intrigued by the mystery of who killed Tim Kono. The Arconia resident's murder is the central storyline of the show as Mabel (Selena Gomez), Oliver (Martin Short), and Charles (Steve Martin) try to get to the bottom of his death, but it's not the only murder that takes place in the building. In addition to Zoe's death 10 years prior, the flash-forward in the very first episode teases even more dark times are in store for the apartment complex.
In case you need a refresher, the scene takes place two months before the events of the series. As police storm the building, Oliver and Charles can be seen frantically running down the stairs trying to make their way to Mabel. However, once they open the door to her apartment, they find her completely bloody kneeling over a dead body. "It's not what you think," she tells them as they look on in horror.
So, how exactly do Mabel, Oliver, and Charles get to this point? And more importantly, who is the dead body? Well, for starters, the dead body Mabel is leaning over is wearing a tie-dye hoodie, so that likely means the person who gets murdered is the infamous "tie-dye guy" mentioned in previous episodes. Though the series hasn't officially revealed who "tie-dye guy" is, set photos from filming actually spoiled the answer a while ago.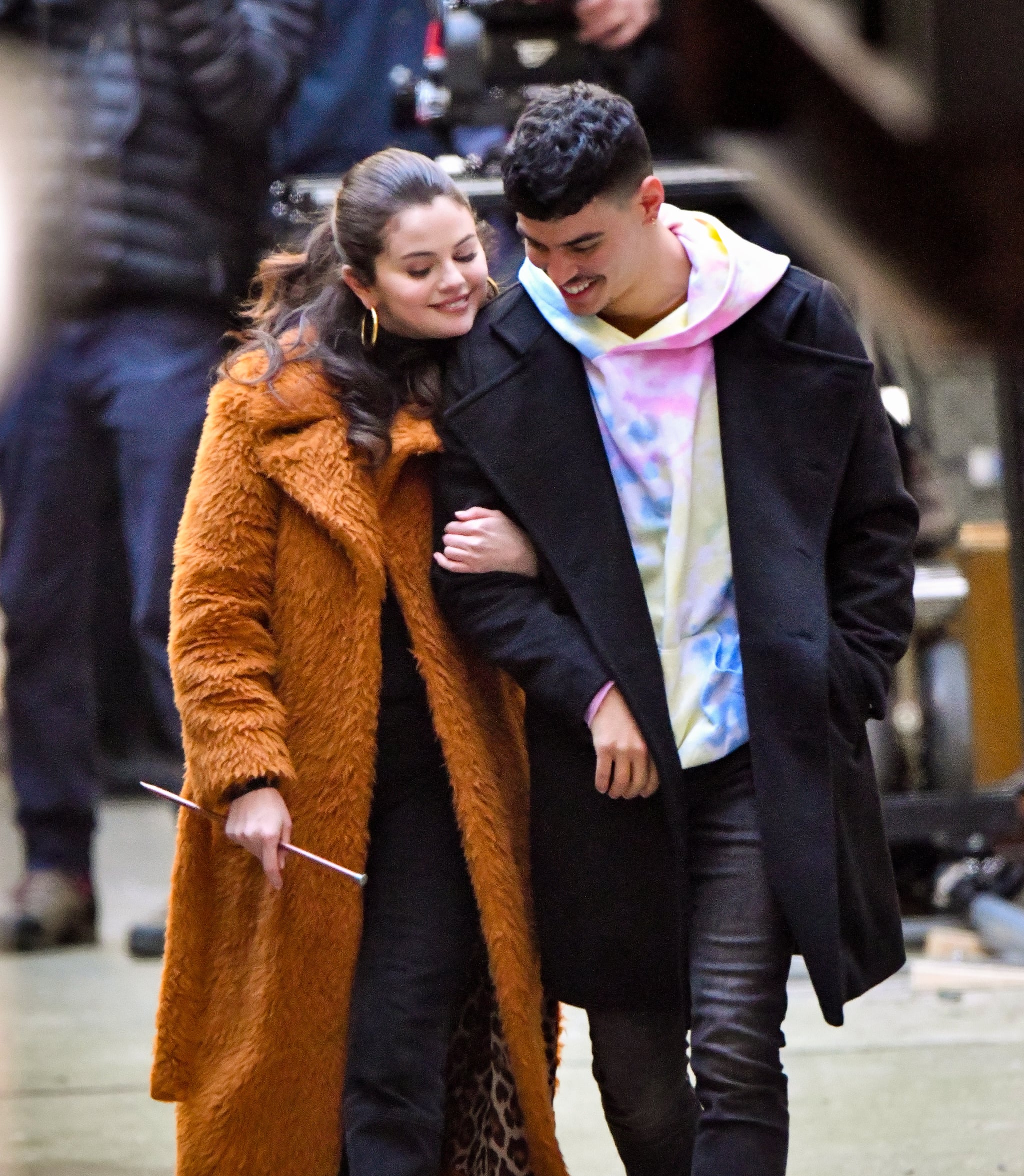 Image Source: Getty / James Devaney
In February, Gomez was spotted filming a scene with actor Aaron Dominguez, who is donning — you guessed it — a tie-dye hoodie. Based on his previous casting announcement from November 2020, Dominguez is playing Oscar, aka Mabel and Tim's friend who was wrongly accused of killing their friend, Zoe. Assuming the body we see in the flash-forward is actually Oscar, the story could go two different ways. Oscar could seek revenge on Mabel and she stabs him in self defense. It's also possible that someone is going after all the Hardy Boys and Oscar gets caught in the middle. Perhaps the killer was actually targeting Mabel and Oscar jumps in to save her.
Of course, the dead body in the flash-forward might not be Oscar at all. After all, we only see the tie-dye hoodie. Someone else could have easily put it on. Whether or not Mabel actually committed the murder, what we do know is that she seemingly takes the fall for it. In set photos from April, Gomez could be seen wearing the same bloody outfit from the flash-forward as police escort her outside in handcuffs. One thing is for sure: we are very curious to see how the story unfolds.