"P-Valley"'s Katori Hall on the Spectacle of Season 2: "Everybody Can Clock That the Show Is Good"
We're way beyond the days of calling "P-Valley" a TV series just about strippers. Katori Hall's acclaimed Starz drama reached breakout success after its first season aired in the summer of 2020, largely because it created a raw yet empowering space for strip-club culture to be seen in a way that's rarely displayed on television. But the show accomplished so much more than that in season two.
"P-Valley" took braver steps with its second installment to depict issues far too complex to be contained inside a small-town, neon-lit club, aka The Pynk — including poverty, politics, sexual identity, systemic racism, domestic violence, misogyny, and a pandemic. "The second season is crafted better in terms of dramatic construction," Hall tells POPSUGAR. "That feeling of, 'Oh my God, what's going to happen next?' Being overwhelmed, I think, is very much a part of the feeling of season two."
"'P-Valley' is about being Black as f*ck."
Since its explosive series premiere, "P-Valley" has captivated its audience with the fictional world of Chucalissa, MS, and its little strip club that could. Way down deep in the Mississippi Delta, the show centers on the complicated lives of its core ensemble — Mercedes (Brandee Evans), Uncle Clifford (Nicco Annan), Hailey (Elarica Johnson), Keyshawn (Shannon Thornton), and Lil' Murda (J. Alphonse Nicholson) — in addition to other intriguing characters — like Diamond (Tyler Lepley), Derrick (Jordan Cox), Andre (Parker Sawyers), Patrice Woodbine (Harriett D. Foy), and Grandmuva Ernestine (Loretta Devine) — all while focusing on its main narrative: being Black and Southern in America.
"'P-Valley' is about being Black as f*ck," Hall says frankly. ". . . The show is predominantly about Black women who happen to be strippers, but the identity of being Black and female and poor has always been the lens that we've told our stories through. Obviously, there's a queer lens [too], and that's always been at the top of our show in terms of what our approach is. But I think that people are just realizing that's something that was part of the recipe from the very beginning."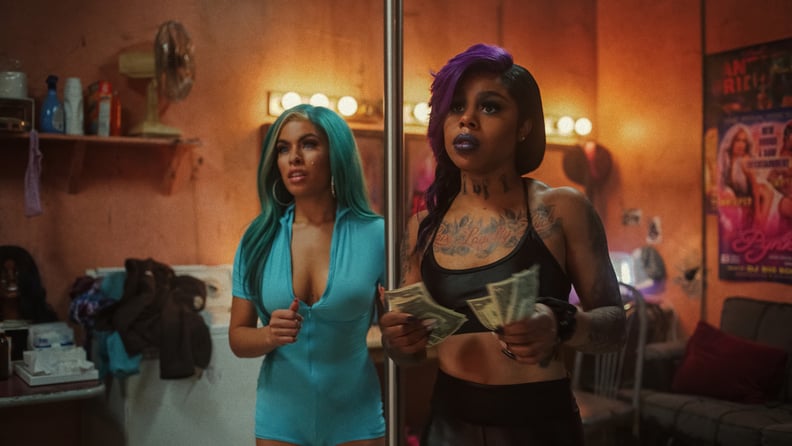 "P-Valley" never cut corners when it came to its storytelling in season one. The show built a sound arc off of Hailey's (aka Autumn Night/ Lakeisha Savage) troubling past and her dramatic escape to Chucalissa, as well as the domestic struggles of Mercedes's and Keyshawn's family life. But one of "P-Valley"'s biggest accomplishments so far has been breaking glass ceilings for Black and queer people on screen and defying stereotypes about masculinity, all thanks to nuanced characters like Lil' Murda and Uncle Clifford (the gender-nonconforming star of the show).
"P-Valley"'s fearless attitude earned it a reputation for honoring Black humanity and good melodrama shortly after its debut. But after a two-year hiatus, the show returned on June 3 like it still had something to prove. The X-rated Pussyland car wash in lieu of The Pynk in episode one should've been the first clue that viewers were in for a wild ride this season. And the unpredictable actions of newcomers Whisper (Psalms Salazar), Roulette (Gail Bean), and Big Bone (Miracle Watts) kept us hooked. But the imaginative fairy-tale motifs set the stage for "P-Valley" to really up the ante this season.
Season two's storylines were packed with thought-provoking themes, passionate performances, intoxicating symbolism, and, of course, gravity-defying pole-dancing scenes — the show is TV gold. "The fact that every Sunday we're trending [on Twitter] . . . There are so many people who are entering the Pynk Posse," Hall notes. "They have those difficult conversations with each other. The show, particularly this season, really has struck a chord and discombobulated a lot of people, for better or worse."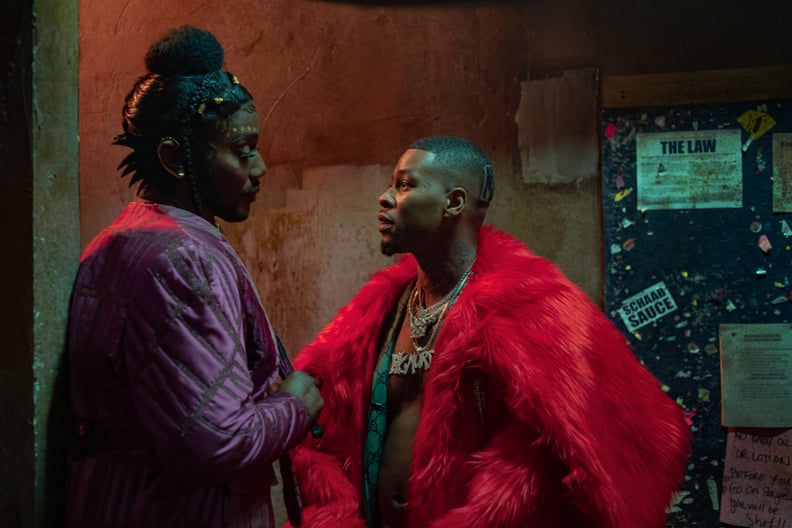 "No matter who you are, what color you are, your gender, sexuality, everybody can clock that the show is good."
Like many shows rooted in realism, "P-Valley" isn't afraid to hold a mirror up to society, no matter how uncomfortable the reflection is. Since season one, the show's unapologetic approach, particularly when it comes to showcasing Black experiences, is what has slowly attracted mainstream attention from critics. Hall credits the "watercoolerness" of the show to "the fact that we are very bold in what we choose to write about and how we write about it." She adds: "We're at an interesting moment in 'P-Valley' history because we started out as this more niche program where it, obviously, was [geared] towards Black viewers . . . However, the show is damn good. No matter who you are, what color you are, your gender, sexuality, everybody can clock that the show is good."
Hall also points out that "P-Valley"'s audience is expanding beyond conversations on Black Twitter. But even as interest in the show grows, sharing Black stories is still her top priority. ". . . Something that I know I will always do, I am writing for us," Hall says. "And if somebody else who is not us wants to come to The Pynk and join the party, they're more than welcome. The doors of The Pynk are always open."
Despite its stellar reviews, "P-Valley" has yet to pique the interest of institutions like the Television Academy. Hall argues that the idea of being "slept on" is part of the struggle Black content creators must deal with — it, unfortunately, comes with the territory. However, the "P-Valley" creator is unbothered by the show's lack of major award nominations (though she says she wouldn't mind receiving an Emmy or two). "I will say, we're not trying to get validation at all," Hall remarks. "I have learned in this little life of mine that if that is what you are striving for in this industry, you will be duly disappointed. At the end of the day, my validation comes from the fact that our Pynk Posse feels so seen and reflected . . . To me, that's the Emmy. But if the Emmys want to give us the Emmy, that's cool, too. But we shall see about all of that."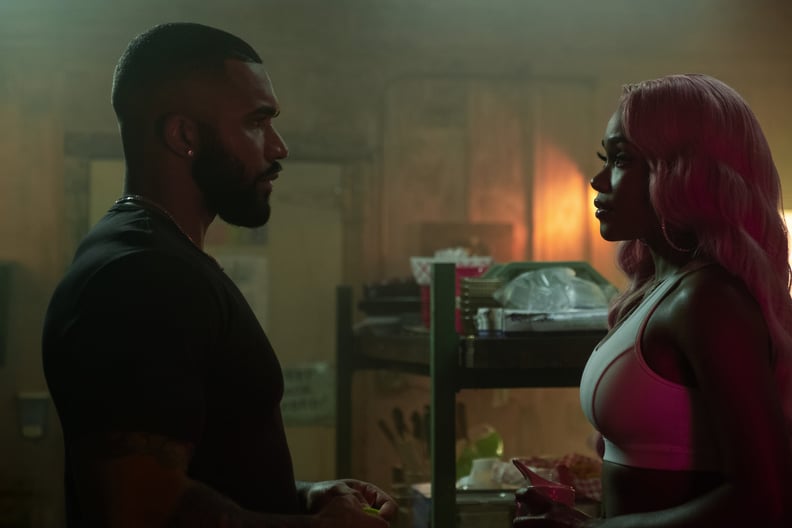 "P-Valley" season two gave viewers much to unpack, and its final episode, titled "Mississippi Rule," that premiered on Aug. 14 was no different. The season finale offered closure with Mercedes's retirement from The Pynk and Lil' Murda and Uncle Clifford's now-public relationship. However, shockers like Keyshawn's arrest, Hailey skipping town with The Pynk's money (and possibly twins on the way), and Diamond getting double-crossed by Big Bone leave the door wide open for more "P-Valley" tales to continue.
At this time, Starz hasn't renewed the series for season three yet, and Hall remains tight-lipped on her immediate plans for the show, but she's still thinking about the future. "I have thoughts as to what I want to do with the characters, in terms of their next chapters as individuals and as people in relationships, but obviously things can change once we get into the writers' room and just start talking out ideas," she shares. "But I'm very hopeful for all of the characters, even though there's some darkness that still needs to be dealt with for certain people."
In the case of other strip-club dramas, sex may be the prize that sells. But "P-Valley"'s wide range of riveting chronicles has made a brilliant spectacle of its untamed storytelling, which can only be found "down in the valley where the girls get naked." So if you didn't know anything about "P-Valley" before, you ought to know something now.