"Raising Kanan"'s Sascha Penn Breaks Down All the "Sins and Secrets" Exposed in the Season 2 Finale
There's a street war brewing in "Raising Kanan" that's caused a family and its empire to fall apart. Now, it'll take a whole lot of manpower and trust to put it all back together.
"Raising Kanan"'s epic season two finale titled "If Y'Don't Know, Now Y'Know," which aired Oct. 23, put a lot into perspective for Kanan (Mekai Curtis), Raquel (Patina Miller), Lou (Malcolm Mays), Marvin (London Brown), and Jukebox (Hailey Kilgore). Between the shootouts that may (or may not) have resulted in the deaths of Jukebox's mother Kenya (LeToya Luckett), Lou's artist Zisa (Paulina Singer), and Unique's (Joey Bada$$) right-hand man Worrell (John Clay III); Raquel getting snaked by her plug and out of a distribution deal; and heat from the mob coming down on everyone, things are in complete disarray.
"Let's just say that pretty much everyone who took a bullet in the finale is in dire straits."
By the end of the episode, we damn near lose Marvin and Raq, but luckily Unique swoops in to save the latter from taking a bullet to the head. However, the damage has already been done. The Italians are cleaning house after Raq and her family oversteps their boundaries. And it seems they won't rest until Southside Jamaica, Queens is free and clear of Raq's drug business. Meanwhile, there are family relationships that need serious mending — which will certainly set the framework for season three's dramatic plot as "Raising Kanan" digs deeper into its origin story.
According to "Raising Kanan" creator and showrunner Sascha Penn, the crossroads and cliffhangers at the end of season two will become the show's focal point as the story progresses. Though he declines to confirm or deny if everyone who took a bullet in the finale is, indeed, dead — "Let's just say that pretty much everyone who took a bullet in the finale is in dire straits," he says — Penn does disclose other losses that'll be addressed in season three. Particularly, the broken relationship between siblings Raq and Lou, as the former makes it very clear where she stands with her younger brother in the finale after he discovers she bought out his record label: "I own you, n*gga."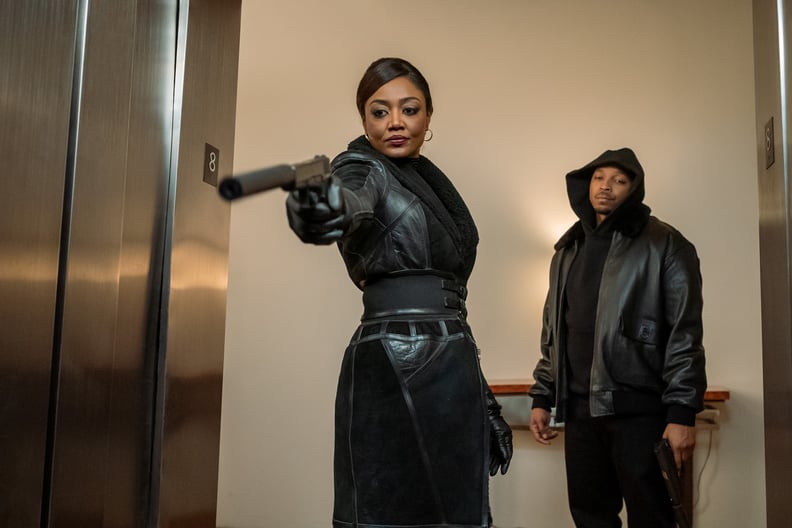 "The seeds of their conflict were obviously sewn at the end of season one," Penn tells POPSUGAR. ". . . I think over the course of season two we saw consistent sort of fractures in their relationship — [Lou] asked [Raq] for money, this constant back-and-forth about the label, and his lack of focus [on the family business] . . . it's a pretty real break that they have there. I mean, you can't say that to somebody (Raq's quote above) and expect that that's something that's going to blow over in a couple of days. It does feel like the culmination of everything that's happened prior to that."
Another relationship that's become more strained throughout "Raising Kanan" season two is Raq and Kanan's. Compared to last season when Raq entrusted Kanan with killing Detective Howard (Omar Epps), aka his biological father, the two are entirely at odds now, as Kanan realizes he's been repeatedly lied to by his mother about, well, almost everything — from the true identity of his father to everything that's really happening with the family business.
As Penn puts it, all of Raq's "secrets and sins" are exposed in the finale, so she and Kanan will have to start from square one to get back to the way they were. "Their relationship obviously is incredibly complex," Penn adds, "and I think in season three they have real, real tension that they need to try to figure out."
"We will definitely explain how the two of them could go from who they've been to who they become."
Now that viewers have seen the breakdown in Kanan and Raq's mother-son bond, the former's ruthless persona that we first met in "Power" is becoming more clear. And the same goes for Jukebox as season two further delves into some of her trauma — from reconnecting with her estranged mother and coping with her first love's death, to grappling with her sexuality and identity. While season one of "Raising Kanan" focused on creating the foundation for a new part of the Power Universe, season two concentrates on the troubling events that contribute to who these characters become in the future.
"I think [that shift] started to happen a little bit [in season two]," Penn explains. ". . . When you're telling an origin story, obviously you're trying to explain how this character becomes later. And to your point, Jukebox and Kanan could not be more ruthless so, definitely, we're starting to get a sense of that — even that sort of conversion scene for Jukebox in season two, which was pretty brutal. We're starting to get a sense of the building blocks of who they become."
Penn continues, "One thing I see all the time on social media is, 'How did Kanan and Jukebox fall apart to the point that Kanan kills her the way he does in "Power"?' And what I would say is, look, there's still a lot of story to tell between them. That question will be answered — it's not going to be answered tomorrow, but it will be answered. We will definitely explain how the two of them could go from who they've been to who they become."