Rosalía Wears a Giant Bed Comforter During Her "Saturday Night Live" Debut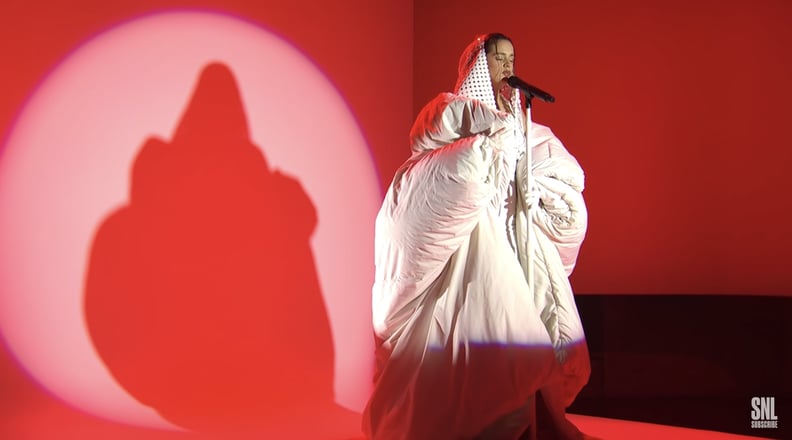 YouTube | Saturday Night Live
YouTube | Saturday Night Live
Ahead of the release of her third studio album, "Motomami," Rosalía made her "Saturday Night Live" debut during the sketch comedy show's March 12 episode, hosted by Zoë Kravitz. Fresh off making her US talk show debut on "The Tonight Show With Jimmy Fallon," the Catalan singer-songwriter kicked off her set with a performance of her latest single, "Chicken Teriyaki." But it was her performance of "La Fama" featuring The Weeknd that fans can't stop talking about. Many viewers compared Rosalía's oversize down coat and perforated headdress to a bed comforter and nonslip shower mat. "She had her chicken teriyaki now it's time for bed #SNL," one user tweeted. "This is actually what I'm wearing in bed right now watching #SNL," another person wrote.
Both tracks are set to appear on Rosalía's "Motomami," a follow-up to 2018's "El Mal Querer," arriving on March 18. The 28-year-old Grammy winner recently told Rolling Stone that the theme of feminism is at the core of her forthcoming project. "I think it's the most personal and confessional album that I've made so far. I've always considered myself a storyteller. 'Motomami' is the most personal story I've told," she said. "In my head, 'Motomami' makes sense as a concept, as a feminine figure building herself. So, that's how it goes: It's almost like a self-portrait, when an artist makes a self-portrait in the context of the modern world."
Check out Rosalía's "SNL" debut ahead.
Rosalía Performs "Chicken Teriyaki" on "Saturday Night Live"
Rosalía Performs "La Fama" on "Saturday Night Live"