These Behind-the-Scenes Photos of the Schitt's Creek Cast Have Me Weeping Like a Bébé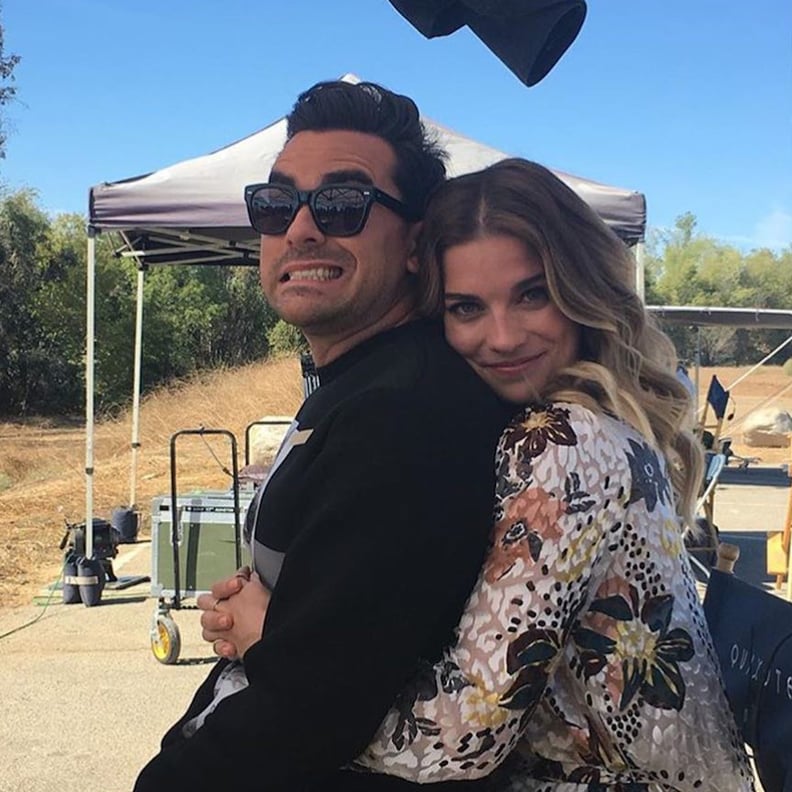 Ever since the curtain closed on Schitt's Creek's sixth and final season, I've been trying my darnedest to hang onto the series for dear life. My attempts to fill the giant, disgruntled pelican-shaped void left by the show's departure led me to stumble upon the Instagram accounts of Lucky Bromhead and Ana Sorys, the makeup artist and hairstylist, respectively, behind some of Schitt's Creek's best looks. Both insanely talented women worked in some capacity on all six seasons of the Canadian sitcom and have shared tons of prime behind-the-scenes content of the cast through the years.
From funny pictures of Catherine O'Hara (Moira Rose) goofing off on set to videos of Annie Murphy (Alexis Rose) and Dan Levy (David Rose) singing and dancing along to music between scenes, Lucky and Ana have blessed fans with some seriously A+ footage. If you, too, are experiencing Rose family withdrawals, take a look through some of the best snaps ahead to see just how close the Schitt's Creek squad is even when the cameras aren't rolling. So, how about a seventh season, Dan?
This Mid-Photo-Shoot Video of Annie Murphy Modeling Like a Queen
This Picture of the Rose Siblings Showing a Rare Display of Affection
These Chaotic Pictures of Catherine O'Hara Apparently Breakdancing on Set
This Snap of Annie, Sarah Levy, and Emily Hampshire Looking Like the Three Musketeers
This Picture of Dan Levy That's a Mood on So Many Levels
This Downright Stunning Snap of Annie on David and Patrick's Wedding Day
This Life-Giving Video of Dan Dancing and Singing to Beyoncé
This Sweet Snap of Annie and Dustin Milligan
This Clip of Catherine Honestly Looking Pretty Creepy
This Snap of Lucky and Catherine Both Emulating Moira Rose
This Shot of Eugene Levy and Catherine During the Famous Wedding Scene
This Adorable Selfie During a Season Wrap Party
This Frame-Worthy Snap of Dan in One of Moira's Wigs
This Picture of My Favorite Jazzagals Looking Cute
This Photo of the Cast Hanging Out in a Bus, Featuring Eugene Looking Like a Total Boss
This Mirror Picture of Lucky, Ana, and Catherine in the Hair and Makeup Trailer
This Snap of Annie Likely Holding a To-Go Café Tropical Smoothie While Hugging Sarah
This Snap of Catherine Providing Some Lighting For Her Touchups
This Couch Photo That Puts All Other Couch Photos to Shame
This Up-Close Picture of My Favorite Friendship Duo
This Picture of Dan and a Dog That I Wish I Could Photoshop Myself Into
This Downright Hilarious Pic of Catherine That Warrants No Explanation
This Fun Clip of Ana, Dan, and Annie Bopping Along to "Freedom! '90"
This Dazzling Video of Catherine in a Sparkly Dress
This Photo of Eugene in Full-On Dad Mode
This Dreamy Picture of Moira's Unicorn-Like Wig
This Celebratory Season 5 Wrap Selfie
These Relatable Photos of Annie on Set
This Highly Fashionable Photo of Annie in a Blanket Skirt
This Photo of a Glorious Wig That Moira (Unfortunately) Never Got to Wear
This Up-Close Look at Catherine Having Moira's Signature Red Lip Applied
This Photo From the Day the Cast Shot the Show's Very Last Scene
This Hilarious Snap of Catherine Trying on Her Clara Mandrake Wig
This Up-Close Shot of the Final Product