Surprise! Selena Gomez Dropped a New Music Video, and All We Can Do Is "Look at Her Now"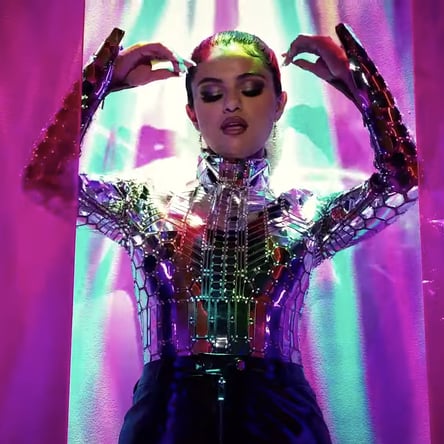 Selena Gomez knows how to surprise her fans! A mere day after the release of her emotional new single "Lose You to Love Me," the singer dropped a surprise second track that's decidedly more upbeat. While the first single is a melancholy farewell to a rocky romance, "Look at Her Now" is a club jam that celebrates moving on to bigger and better things. "Of course she was sad / But now she's glad she dodged a bullet (Mm)," Gomez sings as she dances around, spotlighted by flashing neon lights and surrounded by a crew of backup dancers. "Took a few years to soak up the tears / But look at her now, watch her go."
The song details a relationship torn apart by "fast nights" and a "new life," and if it's really about the singer's tumultuous relationship with ex Justin Bieber, it's safe to assume that Gomez isn't letting the past bring her down. "I felt having these two songs released back to back completed the story of how one can rise no matter what challenges life brings," Gomez said in a statement. "Turning off the noise and living your life on your terms."
It's been nearly five years since the singer released her studio album Revival and this isn't the first time Gomez released new music without an album attached. But the "Look at Her Now" singer previously confirmed that her album was done during a Tonight Show appearance in June, so we're crossing our fingers that this is just the beginning of her musical return. Jam to the colorful "Look at Her Now" music video above, get all the outfit details, and then reacquaint yourself with Gomez's video reel while we get ready for more.
"Look at Her Now" Instagram Announcement
"Look at Her Now" Music Video