These She-Hulk Halloween Costumes Will Have Your Friends Green With Envy
The series "She-Hulk: Attorney at Law" will introduce MCU fans to Jennifer Walters, a lawyer whose life changes when she receives a blood transfusion from her cousin — who happens to be Bruce Banner, also known as the Incredible Hulk. She gains the Hulk's powers, and Banner takes it upon himself to train her in the art of being a superhero. Walters, however, isn't entirely thrilled about her new powers — particularly when she's asked to join forces with other superheroes to fight against a greater evil.
Walters, played by Tatiana Maslany, is a great pick for a Halloween look this year. You'll definitely need some green body paint and a long, flowing, dark-green wig, and to complete the look, there are a few different scenes in the show to choose from. Superheroes have always been popular options for Halloween — from kid-ready costumes to more adult-friendly ideas like Supergirl, Thor, and the Scarlet Witch, there are plenty of options. But dressing as the She-Hulk is a newer, fresher take on a classic superhero moment, so it's a perfect pick for 2022.
"She-Hulk: Attorney at Law" begins streaming on Disney+ on Aug. 18. Ahead, check out some ideas for She-Hulk–inspired Halloween costumes, and watch the trailer below.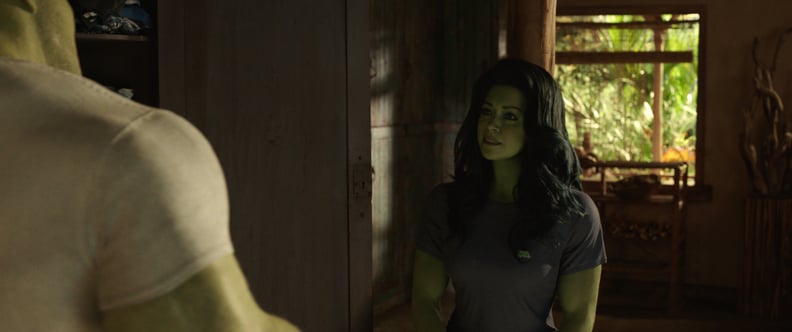 She-Hulk Halloween Costume: The Training Look
Walters is frequently seen working out and sparring with her cousin in the series, so one great "She-Hulk" costume would be matching some green skin-friendly paint with spandex shorts and a gray T-shirt.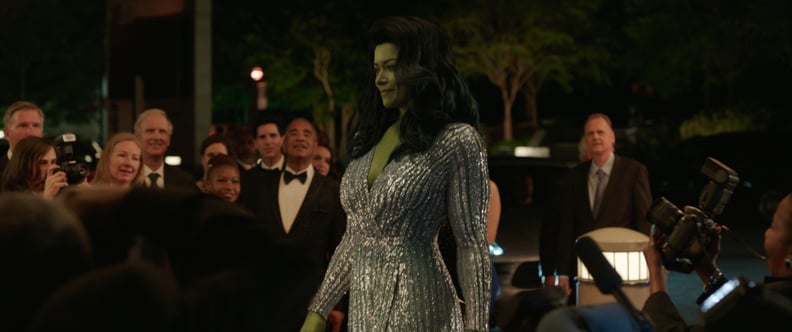 She-Hulk Halloween Costume: The Party Look
This "She-Hulk" costume is a way to mix glamour with superhero fun. Pair green body paint with a sparkly green dress, and you'll be the belle of the Halloween ball.
She-Hulk Halloween Costume: The Attorney at Law Look
This costume might be the easiest to recognize: pair a button-down, a blazer, and dress pants with a severe updo and some green skin-friendly makeup, and you'll embody the lawyer-slash-superhero character at the center of the "She-Hulk" story.