Sylvester Stallone Announces Family Reality TV Show
Sylvester Stallone Confirms Family Reality TV Show With Super Bowl Ad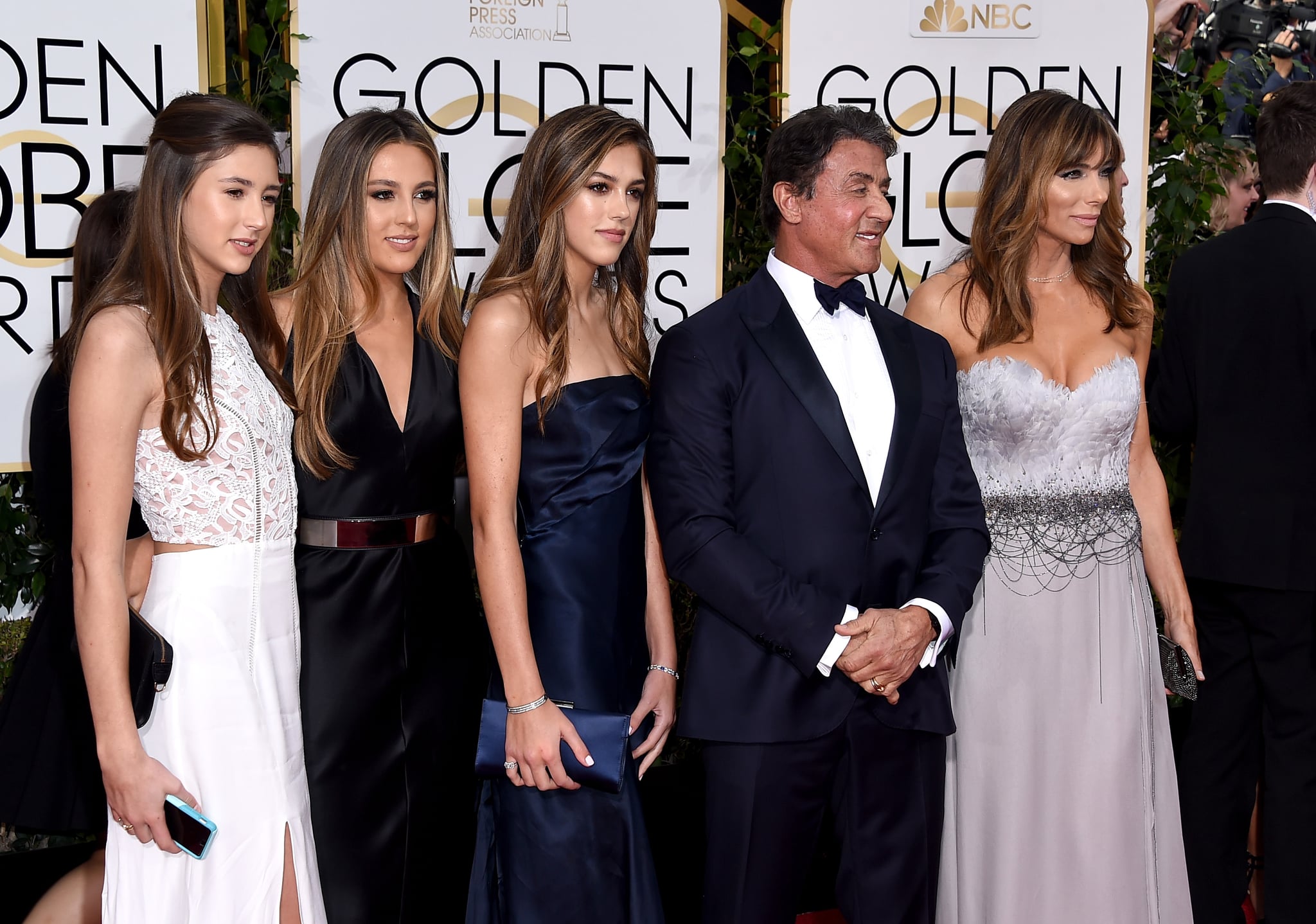 Image Source: Getty / John Shearer
Sylvester Stallone and his family are bringing their lives to the small screen. On Feb. 2, Paramount+ confirmed that Stallone will star in an eight-part docuseries called "The Family Stallone" alongside his wife, Jennifer Flavin Stallone, and their three daughters, Sophia, Sistine, and Scarlet. The announcement came in tandem with a Super Bowl commercial released by Paramount+ that features the Stallones climbing on an icy "mountain of entertainment."
"OK, this mountain has three faces," resident Paramount+ character Dora the Explorer says. "The northern face, the southern face, and . . ." "Reno 911!" star and cocreator Thomas Lennon then responds, "The Sylvester Stallone face." The camera then pans to Stallone, who is climbing a large, treacherous-looking mountain. "Is that Dad?" asks his youngest daughter, 20-year-old Scarlet. "He always does this," 26-year-old Sophia says, watching her father plummet from a cliff. "He's fine," she adds, with 24-year-old Sistine saying, "He does this. This is normal."
Per a press release, Paramount+ offered a few more hints about what viewers can expect from the Stallone family's series. "To the world, he's the man, the myth and the legend — but to his daughters, he's just Dad," it says of the patriarch. "While he headlines box office smash hits, at home he is focused on building for the future and raising three independent and ambitious women." Meanwhile, Jennifer is described as a "savvy businesswoman," while Sophia is hosting a podcast and "still finding her path in life and focusing on her passions," Sistine is an "actress and model," and Scarlet, just starting college, has been "set on following in her father's footsteps and becoming an actress since she was a child."
Reps for Stallone did not immediately respond to POPSUGAR's request for comment.
Stallone married Jennifer in 1997. The couple made headlines when she filed for divorce from Stallone in August 2022, only to reconcile a month later.
In a November 2022 interview with The Hollywood Reporter, Stallone said that this tumultuous point of their marriage will definitely be featured in their series. "Of course it's part of the show," he said before briefly reflecting on his marriage. "It's the John Lennon thing: 'Life is what happens when you're making other plans.' Hopefully, you're involved with people who understand the foibles of life and the fragility of it and how rare a real good relationship is."
In addition to Sophia, Sistine, and Scarlett, Stallone has a son named Seargeoh from a past marriage to Sasha Czack. He and Czack also share a son named Sage, who died in 2012.
"The Family Stallone" will premiere in spring on Paramount+. Watch the Super Bowl ad below.
"The Family Stallone" Super Bowl Ad